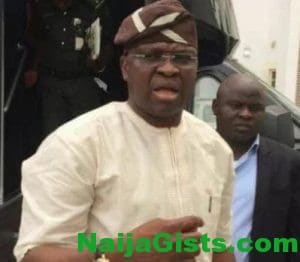 October 15, 2017 – Fayose Buys New Kia Rio Cars For Ekiti State Officials Arrested By EFCC Over Diversion Of N680Million From State's Bailout Fund
Ekiti man of the people Ayo Fayose has honoured 2 officials of his administration who spent two weeks in the custody of the EFCC for alleged diversion of over N680 million from the state's share of bailout funds.
Fayose on Sunday presented the Commissioner for Finance, Chief Toyin Ojo, and the Accountant General, Mrs. Yemisi Owolabi, with new Kia Rio cars after a thanksgiving service to mark the third anniversary of his administration.
He said he was honouring the two officials "for their loyalty to the state" in the face of a fresh onslaught by the anti-graft agency.
The two government officials were arrested in Abuja on September 28 while attending the governor's declaration to run for President in 2019.
The governor also held a welcome party for Ojo and Owolabi last Thursday, which he declared as "half-work day,' to allow civil servants attend the occasion.
But majority of workers shunned the event.
At yesterday's event, Fayose said: "We have to reward you for enduring intimidation, mental and emotional torture and illegal incarceration for the sake of our state. The Constitution of Nigeria does not empower the EFCC to arrest state officials over alleged graft.
"That function belongs to our House of Assembly. We will sue the EFCC to court for this illegality, pursue the case to a logical conclusion and get damages for this ill-treatment.
"The Constitution of Nigeria is supreme and has over-riding influence over any government parastatal, such as EFCC."