Crime News
Ibadan Federal College' Provost Jailed Over N3.3 Million Fraud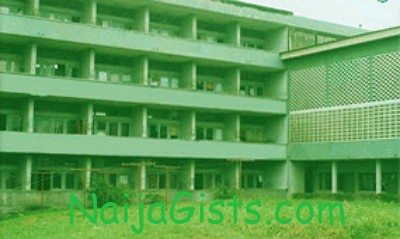 Jan 29, 2013 – Provost Of Federal Cooperative College, FCC Eleyele Ibadan Jailed Over N3.3 Million Fraud
A day after Nigerians expressed outrage over the light sentence given to a former director of the Police Pension Fund,John Yakubu Yusuf over a N27billion theft, a court in the Western Nigerian city of Ibadan has demonstrated the partiality of justice in Nigeria, with the jailing for four years of the Provost of the Federal Cooperative College, Eleyele, Ibadan over a N3.3million fraud.
The provost Ruth Aweto, was jailed without the option of fine by the state High Court sitting in Ibadan. Justice Mohammed Talba of the Federal High Court Abuja gave Yusuf two year jail sentence, with the option of fine.
Also sentenced to four years imprisonment without option of fine was the Bursar, Adekanye Komolafe.
The duo were sentenced by Justice Moshood Abass who found them guilty of four out of the eight-count charge of fraud leveled against them by the Independent Corrupt Practices and other Related Offences Commission (ICPC).
The judge, however, said the sentence would run concurrently on each of the four-count charge.
The convicts between October 2005 and January 2006 were said to have conspired to mislead the Federal Government by submitting a defective budget proposal for the year 2006.
In the budget proposal, the convicts claimed that 41 casual workers were permanent staff of the college and entitled to N7million rather than the N3.7 million they were genuinely expected to collect.
Delivering his three-hour judgment, the judge said the prosecution had proven that both principal officers of the college betrayed the trust vested in them by government.
"You have used your positions to mislead and defraud the government of the money put under your custody for the smooth administration of the college," he said.
The convicts had told the court that they agreed to present and submit the misleading budget proposal of N7million based on the fact that an interview had already been conducted for the said 41 casual staff.
The said interview was purportedly conducted under the leadership of one Mr Ubedie in preparation for the conversion of the casual workers to full staff of the college.
The convicts, however, admitted not returning the balance of N3.3million to the coffers of the government, saying it was used to off-set the outstanding salaries of 2004.
Abass, however, said that the convicts failed to show any document or give the name of a superior officer of the Federal Government who might have given them the authorisation to convert the balance as claimed.
The convicts committed an offence contrary to Section 26 (1) ( c ) and punishable under Section 17 (1 ) ( c) of the ICPC Act 2000.
The judge said that although the offence carried a five-year jail term without an option of fine, he took into consideration the fact that they were both first time offenders.
[PMnews]