Crime News
Federal Polytechnic Of Mubi Massacre: Jonathan Orders Killers Arrested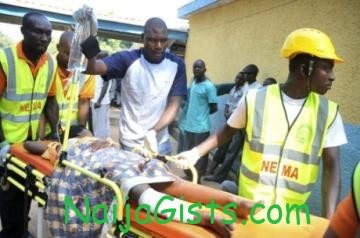 Oct 3, 2012 – Federal Polytechnic Of Mubi Killings: Jonathan Orders Arrest Of Killers
President Goodluck Jonathan on Wednesday ordered Security Agencies to fish out and bring to book those behind the Independence Day massacre of students of Federal Polytechnic Mubi, Adamawa State University, the School of Health Technology, Mubi and the University of Maiduguri, UNIMAID.
Reuben Abati, Special Adviser on Media and Publicity to the President revealed this while briefing journalists on the killings on Wednesday.
"The President has directed Security agencies to investigate the matter and get to the root because this kind of incidence, where people are called out and shot is really shocking", said Abati who added that the president described the killings as tragic, sad, barbaric and shocking.
He also revealed that the Minister of Education, Professor Ruqayyatu Ahmed Rufa'i, briefed the Federal Executive Council FEC on the killings during its meeting on Wednesday.
Reports indicated that some yet to be identified gunmen on Monday night invaded an off-campus residence of the students and called out the names of their victims who they either shot or stabbed to death.
Reports indicated that the killings may be a fall out of students' union political rivalry.
In another development, the Senate has condemned the killings of 26 innocent students and 20 Others in Mubi, Adamawa State and urged that those responsible should be brought to Justice immediately.
The resolution followed a debate on a motion moved by Senator Jubrila Bindo, on the brutal killings on Monday.
In an extensive debate on the motion, Senator Abdul Ningi noted that the ugly incident can be traced to complete absence of political leadership in states, saying that the political class are to blame for unrests in the country especially when political Leaders failed to play their role effectively.
Ningi also complained that security agencies are overstretched and called on Nigerians to rise-up to champion the right course for the nation, especially now that the value of human life is absent in the minds of people.
Ruling on the motion, Senate President David Mark said the issue should not only be examined from a political perspective, maintaining that every state government has some level of responsibility towards providing security for their citizens.
Mark also pointed out that the incident is an opportunity to test capital punishment to serve as deterrent to others.
After broad deliberations, the Lawmakers observed a minute silence to honour the deceased.
In another development, the senate temporarily stood down the request of President Goodluck Jonathan for the approval of 7.9 billion dollars for pipeline projects.
Senate Leader , Victor Ndoma-Egba disclosed this during plenary today and appealed that the request which comes under the Medium Term External Borrowing Plan (2012-2014) be kept aside until they get appropriate briefing from the executive (PM reports)