Columns
Founding Fathers of Nigeria: Their Biographies, Achievements & Life History
Dec 17, 2011 – Founders of Nigeria: Their Biographies, Achievements & Life History
Nigeria as a Nation is blessed today because of the sacrifice and determination of these top 10 heroes of our times.
With a deep sense of appreciation for their efforts, www.Naijagists.com has put together this article.
Below are the top 10 founding fathers of Nigeria (founders of Nigeria)and their biographies
The founding fathers of Nigeria are:
---
Sir Herbert Macaulay

He lived from 1864 to 1946
Biography and Life History of Herbert Macaulay
HERBERT MACAULAY, a politician, a nationalist and founder of Nigerian nationalism was born in Lagos on 14th November 1864, the son of a school principal. He trained as a land surveyor and civil engineer in Plymouth England.
After his graduation , he returned to Nigeria to Nigeria in 1893, he worked with the colonial government, and later resigned to establish a private practice in Lagos. Subsequently, he began a campaign against colonial rule and discrimination, and in 1922, he founded the Nigeria National Democratic Party, which won all the seats to the Legislative Council.
He was later to become the first president of the National Council of Nigeria and  Cameroon's formed by Dr. Nnamdi Azikiwe in 1944.
Sir Herbert Macaulay died in Kano on 7th May 1946 in the course of leading the party on a nation wide campaign tour.
---
 Dr Alvan Ikoku

He lived from 1900 to 1971
Biography / Life History of Alvan Ikoku
DR. Alvan Ikoku, an educationist and a politician was born at Amanagwu in Imo State, Nigeria on  August 1st, year 1900 to a wealthy merchant family.
He is a trained teacher who later obtained his degree in Philosophy.
In 1931, Ikoku resigned to establish his own college called the Aggrey Memorial College, named after the eminent Ghanaian educationist, Dr Aggrey.
Alvan Ikoku was actively involved in the activities of the Nigerian Union of Teachers and he became its National President in 1955. He also participated in politics, serving  both in the Eastern Nigeria House of Assembly  as well as the Legislative Council in Lagos.  While in government, he applied his influence to foster the interests education. He died on 18th November 1971.
---
Dr Nnamdi Azikiwe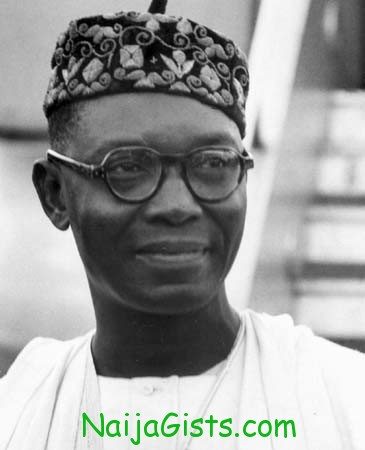 He lived from 1904 to 1996
Biography / Life History of Nnamdi Azikiwe
Dr. Nnamdi Azikiwe, a politician, and one of the founders of modern Nigeria was born at Zungeru, the son of a clerk. Dr. Azikiwe was educated in Nigeria and the United States of America.
In the year 1937, Dr. Azikiwe founded a newspaper, the West African Pilot, and later co-founded the National Council of Nigeria and Cameroons, a political party which he was the secretary and later president.
He was elected into both the Western and Eastern House of Representatives, and later became Premier of the Eastern Region (1952-59). At the Federal level, he served as Senate President, Governor-General (1960-1963) and later President (1963-1966).
Dr. Azikiwe is best remembered for his commitment to the Nigerian nation.
He passed away on the 11th May, 1996.
---
Chief Obafemi Awolowo
He lived from 1909 to 1987
Biography / Life History of Obafemi Awolowo
Chief Obafemi Awolowo, a Nigerian nationalist and a political leader,  was born in Ikenne, a town in Ogun State.
Obafemi Awolowo is the son of a farmer, Awolowo trained as a lawyer.
He became involved in politics in the 1940's and organised the Action Group in 1951. He was elected Premier of Western Nigeria from 1954 to 1959, after which he became the opposition leader in the Federal House of Representatives.
An unyielding advocate of federalism and socio-economic programmes, he was arrested in 1962 for allegedly plotting to overthrow the government. Imprisoned in 1963, he was freed three years later by General Yakubu Gowon, head of Nigeria's military government, who appointed him the Federal Commissioner for Finance and Deputy Chairman of the Federal Executive Council, a position he resigned in 1971. In 1979, he ran unsuccessfully for president. Obafemi Awolowo passed away on the 9th of May year 1987
---
Sir Ahmadu Bello
He lived from 1909 to 1966
Biography / Life History of Ahmadu Bello
Sir Ahmadu Bello, the late Sardauna of Sokoto and a Nigerian political leader, was born on June 12, 1909 in Rabbah, Sokoto State.
His father Ibrahim, the Chief of Rabbah was a grandson of Usman Dan Fodio, the founder of the Sokoto Caliphate. Sir Ahmadu Bello trained and worked as a teacher, and later became the district head of Rabbah and Secretary of the Sokoto Native Authority.
In 1949, Sir Ahmadu Bello co-founded the Northern People's Congress, and was successively regional Minister of Works, of Local Government, and of Community Development. In 1954, he became the first Premier of Northern Nigeria, a position he held until 1966. His greatest legacy was the modernization and unification of the diverse people of Northern Nigeria.
He was murdered in January 1966 military coup.
---
Sir Abubakar Tafawa Balewa
He lived from 1912 to 1966
Biography / Life History of Tafawa Balewa
Sir Abubakar Tafawa Balewa, the first Prime Minister of of independent Nigeria (1960-1966) was born in Tafawa Balewa, a town in Bauchi State, and was educated as a teacher.
He later became a politician, and was elected to the Northern Region's House of Assembly in 1947, and in 1951, to the Federal House of Representatives. He was a founder and until his death, the deputy president of the Northern People's Congress.
Tafawa Balewa became Prime Minister  in 1957, and at independence in 1960, he remained in the post. Sir Tafawa Balewa was widely admired for his simplicity and humility. He was murdered in January 1966 military coup.
---
General Murtala Ramat Mohammed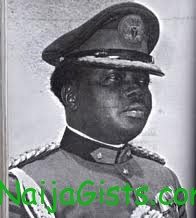 He lived from 1938 to 1976
Biography / Life History of Murtala Mohammed
General Murtala Mohammed, an army general, Head of State (July 1976 – February 1976), and first national hero, was born 8th November 1938 in the Kurawa Quarters of Kano City.
Murtala Mohammed enrolled into the Nigerian Army after high school, and trained at  Sandhurst Royal Academy,  the Catterick School of Signals, and the Joint Services' Staff College, all in England.
General Mohammed served in the Nigerian contingent to the United Nations' Peace Keeping Force to Congo, and on his return, returned to the Signals Corp of the Nigerian Army. During the Nigerian civil war, he was the first General Officer Commanding, Second Infantry  Division. After the civil war, General Mohammed returned as head of the Signals Corp, but later served as a Commissioner in the military government. On 29th July, 1975, he was named Head of State and Commander in Chief of the Armed Forces following a military coup.
General Mohammed's short reign had a major impact on subsequent developments in the Nigerian nation. On assumption of office, he reformed the civil service and other major institutions. His government outlined a political program that included the creation of seven more states, the drafting of a new constitution, and the organization of state and national elections as a prelude to a return to civilian rule on 1 October 1979. A committee on a new federal capital was appointed, the findings of which culminated in the change of the Federal capital from Lagos to Abuja. His government also ran a dynamic foreign policy.
He was assassinated  on the 13th of February, 1976 in an abortive coup.
---
All the other founding fathers of Nigeria are:
Alhaji Aminu Kano
Mr Joseph Tarka
He died on March 30, 1980
Chief Dennis Osadebay
Let us unite as a nation in order to leave a good legacy for the upcoming generations.
God bless Nigeria !