Columns
Fuel Subsidy Beneficiaries Should Make Refunds & Face Prosecution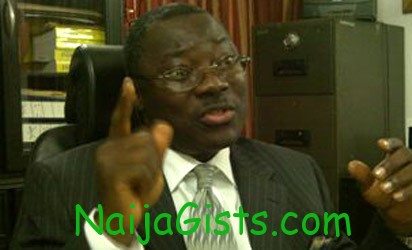 *Tayo Oyetibo, SAN
April 26, 2012 – Fuel Subsidy Beneficiaries Should Make Refunds & Face Prosecution
Mr. Tayo Oyetibo, a senior advocate of Nigeria, is a notable lawyer. He has contributed meaningfully to the development of law and jurisprudence in the country. naijagists.com
In this interview, he spoke on current national issues especially on revelations on embezzlement of pension funds as well as other corrupt practices that have almost rendered the nation comatose.
He also queried the call for the convocation of a sovereign national conference as condition precedent for another amendment of the constitution, pointing out that it was not possible under a sovereign nation like Nigeria as well as House of Representatives committee report on fuel subsidy.
Excerpts:
Steven Oransanye's panel has recently recommended that the Economic and Financial Crimes Commission (EFCC) and Independent Corrupt Practices Commission, (ICPC) among other Federal Government agencies be scrapped. How do you react to this?
I did not have a clear picture of what the panel or committee was doing. The argument put forward by the committee was the fact that an institution is week. However, this does not call for the creation of new one. The argument, appears to be logical but there are always exception to a general proposition.
The exception is when you have a special situation like corruption which has been identified as hydra-headed disease that has eaten deep into our fabrics. To determine the situation, one cannot but disagree with the recommendation of that committee.
I want to look at it from a different perspective and that is using the principle of law that says that special things derogate from general, general things do not derogate from special. Corruption is a special problem for Nigeria, so when you make a general recommendation, you must identify special problem which require special answer. That was what led to the emergence of ICPC and EFCC. What else do you do?
For me, it would be wrong for the president to give effect to such a recommendation. I would rather urge him to deal with special situation with general situation so that he can remain as one man who was urged to abolish an institution that has been created to fight corruption in Nigeria but rejected it. He will make history if he rejects the recommendation, he will also make history if he gives effect to it. So he has to chose which of the two history he wants to make.
No doubt, corruption in the country has become a phenomenon, what would you suggest as a way out?
One may take philosophical view of a suggestion that the two bodies should be merged. I say philosophical because there is an argument of wastage of resources in terms of duplication of institution and efforts. So, if you talk of merger in such a way that will not whittle down the powers of the two institutions but rather strengthen them.
Still on corruption, the issue has impacted negatively on the nation's economy and recent probes have moved into the oil sector. As a legal practitioner, are you in support of the argument that capital punishment should be applied for offenders or those fond wanting?
It was only yesterday I was discussing with somebody that each time I open the pages of newspapers and I read on the rate at which billion of Naira is stolen, it baffles me. It is no longer an issue of stealing million. One wonders where the money they steal is in Nigeria.
The most painful aspect of it was the recent revelation about pension fraud, the money that belongs to the people who have worked for the nation and retired. Aged men and women who should be enjoying the fruits of their past labour were suffering but somebody sitting somewhere else receiving his normal salary was not satisfied with what he earns, and decided to steal such fund.
They now deprived the aged one of the benefit of the fruit of their past labour while serving. As a lawyer, one should not pass judgement even before hearing the other side but I think by any standard, those who embezzled pensioners money, some of them suppose to die. If you look at it, life has also been snuffed out of many of the pensioners in the pursuit of their pension funds. The act of those who committed this atrocity is shameful.
Nigerians have been reacting to the conviction of the former governor James Ibori of Delta State by a London court after he was adjudged as innocent of the same offence in Nigeria. Does this have any implication on the judicial system in the country?
It is not always good to use the judiciary as scapegoat or the whipping boy, when things like this happened. We have instances also in developed countries where sensational cases, criminal cases are taking to court. If there is no sufficient evidence the accused will be set free. Judges do not decide case on sentiment and it is unfortunate situation that people don't appreciate this.
These Judges who sit in their chambers are called upon to decide matters. Judges do not look on sentiment or rely on the public opinion to decide his case. Some people believe that once you can raise or develop a particular line of thought in the media, then this will likely influence the judgement of the court.
No, this is far from the truth. The judge will look at the fact presented to him, he will look at the evidence presented to him and the charges brought before him. It is in this area you need an experience prosecutor for criminal cases.
An accused may be set free on a set of charges, yet there will be another charges upon which he will be convicted on the same set of fact. I have come across some charges in court and I laugh. You will be forced to ask question as to why a prosecution would file certain type of charges.
So, if an accused gets away with such case, it is the judiciary that will be blamed. No one will talk about the prosecutor, you are not going to talk about the investigation that is wishy-washy. They will not look into the fact that should be looked into.
And if you present an incomplete set of facts before a judge, he will have no option than to set free the accused person. That is what the law says. You can only convict according to the law not according to the public opinion. For instance, if you look at the extensive work that the prosecution in England did over the Ibori's case, you will know how much they spent on that case alone.
You can imagine that it is not the money of the United Kingdom that was taken away, it the money of Nigeria, yet they spent a lot of money on investigation, building up the case, gathering materials. Here, you just call somebody who has no experience, you give major case to him based on sentiment.
What is the result you get? That is the problem. So, while I am not absolving some Judges of some of the allegations of corruption levelled against them, I still say on several occasions, many of the failed trials were due to the prosecution. It is what you present to a judge that he rules on. A judge that presented his decision upon public opinion is not worthy of being on the bench.
People have argued that rather than Ibori , it was Nigeria and the judiciary that is on trial. What would be your take on this?
I would tell you to some extent Nigeria should sit back on self re-appraisal. Ibori and the money in question is not British money, it is Nigeria's money. Here was a man who has been convicted abroad, he was able to manipulate his way and found himself in position of power in Nigeria.
The end has come and it has been proved that indeed, he (Ibori) was actually convicted not once but twice in UK. The constitution says that if you have been convicted, you will not be qualified to contest any elective post, unless you are pardoned.
Yet the man contested first time, second time and nobody detected it. However, I will also lay the blame on the door step of British government. They are found of releasing information to the public that there is going to be attack here or there, why did they not release the information that Ibori was convicted in their country.
Why they did not share that information with Nigeria government just as they share information about security now? Why did they not share the intelligence information with Nigeria intelligents that he was an ex-convict until now?
It cost lot of the British tax payer money to prosecute his case in the first instance. If they had shared the information they would have save themselves from all the resources they spent on his case. It is clear that the world is a global village.
What is happening to Nigeria now has impacted negatively one way or the other on the United Kingdom, whereas if they had released that information, all the money they spent in the United Kingdom would have been saved.
Here in Nigeria, he was charged to court and he was discharged. Why didn't EFCC appeal the judgement that freed him at the High Court? This is the case that ought to have been fought to Supreme Court level. This is food for thought.
The High court is just one tier, we still have a Court of Appeal and Supreme Court, so if anyone raises question about judiciary that does not represent the entire judiciary. I lost a case in the High Court, the Court of Appeal and I went to the Supreme Court and I won.
You raise tenacity of purpose that you believe in the course. These are things we have to re-examine ourselves on. I wouldn't know why that judgement was not appealed by EFCC. The commission knew it has the right of appeal. It is not the judiciary that should be use as scape goat.
I am sure that if that 117 count charges was appealed, the Supreme Court would have been able to see what was wrong with the judgement of the lower courts. The law is clear, the judgement of the court whether rightly or wrongly is valid until it is set aside. If a judgement is made against you and you did not appeal, you seems to be satisfied with the judgement, the EFCC has its own fault.
What would be your reaction on calls for convocation of a Sovereign National Conference (SNC) that would lead to the production of a new constitution or amendment of the 1999 constitution?
In this country we are fond of laying emphasis on issues that have been over beating. People have been talking about Sovereign national conference over the years, from Babangida's regime. If anybody wants to be current he will talk about National Conference. What is national conference on the face of constitution?
If you look at the constitution, Section 1, in particular states that this Constitution is supreme and its provision shall have binding force on all authorities and persons throughout the Federal Republic of Nigeria. Section 2 says the Federal Republic of Nigeria shall not be governed, nor shall any person or group of persons take control of the Government of Nigeria or any part thereof, except in accordance with the provisions of this constitution.
Also, Section 3 goes on to say 'If any other law is inconsistent with the provisions of this constitution, this constitution shall prevail to the extent of the inconsistency. So, where did you see the issue of national conference there. Let not deceive ourselves, it is not possible.
We cannot have a sovereign national conference under the statutory legal regime. Are you going to set aside the constitution? The constitution is the grund norm, it is the organic law upon which all other laws are founded. All other super structures are based on the constitution.
You cannot erect a stand structure and remove the foundation, it will collapse. Even, if we are going to have a conference it must be within the purview of the constitution. I don't deceive myself even in anything I do I always like to be realistic.
If we want to have a conference, we have to look at what constitution provides for. So, for everything you want, you can alter the constitution, it is allowed, you can amend. There is nothing you have to do that does not fall within the purview of constitution.
What will be your reaction to the judgement of the Supreme Court on the 180 days limitation for conclusion of hearing of election petition?
One area of interpretation that may need to be looked at is the issues of 180 days, over which an election petition must be heard. The Supreme Court by the judgement presumed that if there is an order for a trial at the appellate court, high court or election petition tribunal, it must be heard within 180 days.
The position of the Supreme Court was not however the intention of the lawmakers who couched the law. There was a time-line calculated by the lawmakers on how many days you need to file your petition, how many days you need to file your reply, how many days for petitioner to reply, to start for pre-trial, days you need to file your written address before 180 day was arrived at.
I was a consultant to the committee that worked on the law. That was not the intention of the committee, that was not the intention of the amendment. The 180 days was arrived at by the committee based on how many days will take the petitioner or what it requires at the fist trial.
That is, the tribunal. How many days the petitioner needs to file, the respondent to reply to the petition, the petitioner to take out pre-trial application , then the pretrial period, the numbers of the day each party will use to bring the evidence, then written addresses which are followed by judgement.(vanguardngr)