Hot Gists
Funke Akindele Adopts Step-Children: Her Infertility Problem, Lost Twins And Painful Still Birth Story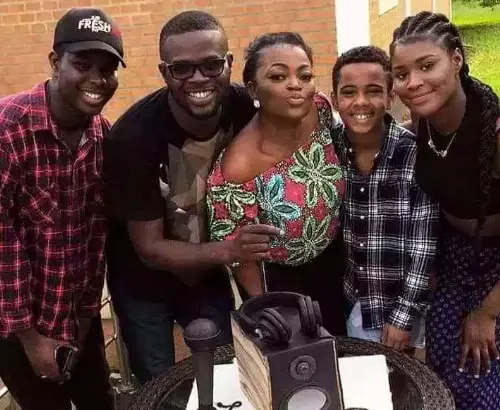 Funke Akindele Adopts Husband, JJC Skillz's Children: Her Infertility Problem, Late Twins, Painful Still Births & Many Lies She Told Her Fans
Popularly called Jenifa, Funke Akindele one of the top Nollywood actresses of this generation. She is, by a long stretch, the most successful Yoruba-Nollywood actress in the past 10 years. Funke Akindele has starred in multitudes of movies in both the English and Yoruba movie scenes of Nollywood. Her versatility is one in a million. She has won several top awards over the stretch of her career.
In May 2016, Funke got married to music producer/rapper, AbdulRasheed Bello, popularly known as JJC Skillz. Their marriage is one of the top celebrity marriages in Nigeria. There has been a lot of rumours and false information going round, regarding Funke Akindele's personal/marital life. Follow this article with rapt attention to get a full picture of this super-talented actress' personal and professional life.
While Funke has been married for over 2 years now, she's yet to be blessed with the fruit of the womb. Some time in November, 2017, a report spread like wildfire across the Nigerian media-scape. The report posited that, Funke Akindele secretly gave birth to a set of twins in the UK and the twins died at birth. This rumour was strongly dispelled by Jenifa. According to her, she was at no time pregnant, talkless of secretly giving birth. Funke Akindele-Bello has no child of her own yet!! We hope that changes for her soon.
The actress whose full name is Akindele Olufunke Ayodele Bello, was born in Lagos on the 24th August, 1977. She is fondly called Jenifa by her fans. Her ongoing Television series, Jenifa Diaries, is one of the top-ranked TV series in Nigeria today. It is being aired on several media channels/TV stations across the country
She is a trained Lawyer. She obtained her Law degree from the prestigious University of Lagos. Before securing admission to study Law at the University of Lagos, she attended MAPOLY in Abeokuta, where she studied Mass Communication and duly obtained her OND.
The talented star actress started her sojourn in Nollywood, by starring in a movie titled, I Need to Know. The movie sponsored by the United Nations Population Fund, lasted for four years, between 1998 and 2002. Hence, Funke Akindele started her career in the Nollywood movie industry 20 years ago. She has since gone on to rack up more than one hundred movie features.
Funke's versatility is not only limited to acting. While she's an exceptional actress, she's equally an excellent script writer and producer. The ongoing hit TV series, Jenifa Diaries, is, without doubt, her best production so far. This movie series propelled Funke Akindele to the top of the Nigerian movie scene.
Jenifa has been recognized for her exceptional performance in movies; as an actress and producer. She's won several major movie awards in Nigeria. From 2009 to date, Funke Akindele has won several top awards including African Magic Viewers Choice Awards (AMVCA), Nigerian Entertainment Awards (NEA), African Movies Academy Awards (AMAA) and many more.
The most interesting part of this super-talented actress is, however, her personal/romantic life. While Funke Akindele has enjoyed a flawless career in Nollywood, her romantic/marital life hasn't been as successful. She's been married twice (one failed marriage and the current one). Her present marriage has been one of the most important things in her life.
Funke Akindele Twins And The Still Birth Story
Towards the end of last year, 2017, a report emerged regarding the birth and death of Funke's twins. The report claimed Funke Akindele secretly gave birth in London, to a set of twins. The damning portion of the report, however, was the part which claimed the twins died shortly after birth.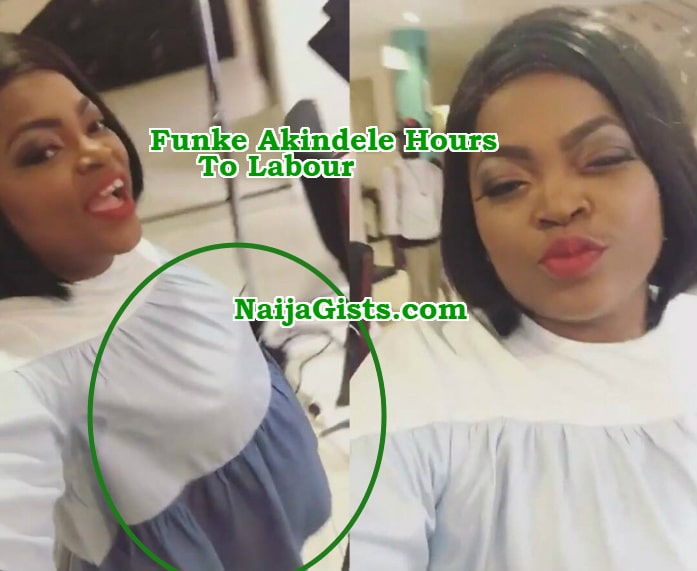 Although Funke Akindele dismissed this as a rumour, her hospital photo gave her away.
Sources in the know said she gave birth to twins in London but lost the babies few hours later. It is one of the most painful moment of her life, hence the denial.
Although she has no child of her own yet, her husband, Abdul Rasheed Bello, has three children (two sons and a daughter) from his previous relationships.
She has decided to adopt her stepchildren ( Josiah, Benito and Tamira Bello) as her own children. Her stepdaughter,  Tamira Bello, the first child of  of JJC Skillz is currently studying at Birmingham University in the UK. Tamira shares a strong bond with her stepmun, Funke Akindele, and they spend a lot of time together.
Funke Akindele Husband
As we've pointed out earlier, Funke Akindele has been married once before. Her marriage to JJC Skillz is her second attempt at marital life. In 2011, she got married to Alhaji Oloyede Al Ma'aruf. Their marriage, however, lasted for only one year.
In 2016, the star actress got married to London-based Nigerian rapper, JJC Skillz, whose real name is Abdulrasheed Bello. They got married at a secret wedding in London. The couple, so far, have no child between them.
JJC Skillz was born April 4, 1977, in Kano state, Nigeria. He moved to the United Kingdoms at an early age of 14 and lived there for over twenty years before moving back to Nigeria. The music producer and his wife, Funke Akindele, currently live together in Lekki, Lagos.
Funke Akindele  Step-Children
JJC Skillz's first child, Tamira Bello is 21-year-old. The second born (first son), Benito, is 18 years old. The baby of the family (last born), is 13 years old.
Funke Akindele Movies
The beauty of this woman lies in her professional versatility. Funke Akindele is a multi-talented artiste, who took Nollywood by storm. She has successfully played various lead roles in comedy, classic and epic Nollywood movies. Furthermore, she is an excellent script writer/producer. Her most prominent production, Jenifa Diaries, has won her several top awards in the Nollywood movie industry.
Funke Akindele-Bello started her acting career in 1998. She featured in a situation-comedy (sitcom) TV series, I Need to Know, between 1998 and 2002 and 7 years down the line, she caught her big break in Nollywood with her hit movie, Jenifa.
Jenifa, as the actress is fondly called, is one of the few Yoruba actresses, who feature regularly in English movies. In fact, she has produced many top English movies, including Jenifa Diaries. Overall, Funke Akindele-Bello has starred in over one hundred movies in Nollywood.
Below are some selected (top) Yoruba and English movies of Funke Akindele-Bello.
No rival (Yoruba)
Trip To Jamaica (English)
Iyawo Ajoji (Yoruba)
Moms at War (English)
Emi Abaata (Yoruba)
Broken (English)
Maami (Yoruba)
Jenifa's Diary (English)
Isoken (Yoruba)
Married But Living Single (English)
Omo Ghetto (Yoruba)
Gone To America (English)
Dirty Diamond (English)
Koloransi (Yoruba)
Jenifa (English)
I Need to Know (English)
Between 2009 and 2018, Funke Akindele has won many awards for her excellent performance in both Yoruba and English movies. She won AMAA Best Actress Leading role (2009), for her role in Jenifa. She has since won many more.
Funke Akindele's Net Worth
Funke Akindele also has numerous sponsorship deals, as well as a charity foundation known as Jenifa Foundation. Her net worth has been estimated to be in the region of 250 million Naira.