Nollywood
Majid Michel Family Life: Wife, Children, Parents, Siblings & Other Interesting Facts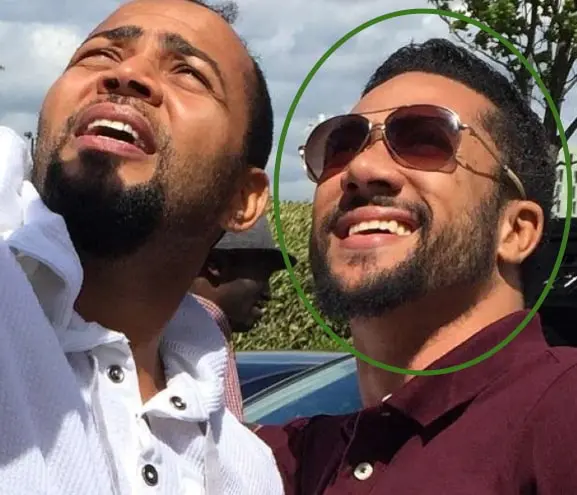 With Ramsey Nouah
Majid Michel Family Life: Wife, Children, Parents, Siblings & Other Interesting Facts
Nollywood is to Nigeria, as Ghallywood is to Ghana! Nigeria shares a lot of similarities amid few differences with her West African neighbour, Ghana. In fact, Ghanaians and Nigerians often see each other as brothers. These two countries are so close to the extent that, their respective movie industries are more or less incorporated as one. Many Ghanaian actors now feature regularly in Nollywood movies and vice versa. One of the top Ghanaian actors who has made their marks in Nollywood is Majid Michel.
Majid Michel was born September 22, 1980 in Cantonment, a settlement located in the outskirts of Accra. Ghana. He acquired his primary education at Saint Theresa Primary school in Accra. After his primary education, he moved to Cape Coast and was enrolled at the much-heralded Mfantsipim high school (a secondary school owned by Methodist church).
If you are familiar with the Nollywood movie industry, you must have seen Majid Michel in some of the movies. He is, comfortably, one of the best actors in the Ghanaian movie industry. He has won several movie awards in the midst of numerous nominations. While this star actor is quite popular on the big screen, not much is known about him behind the scenes. We bring you exclusive insights into the personal life and career of this handsome Ghanaian actor.
Majid Michel Wife
Bad news for the crushers!! This handsome actor is happily married. The star actor is married to a beautiful lady, who goes by the name Virna. Majid got married to Virna about 13 years ago and their love keeps waxing stronger every year. According to the handsome actor, he loves Virna more than anything in this world. He described his wife as his source of inspiration.
Majid and his wife, Virna, are blessed with three beautiful kids (daughters); Zara, Kiera and their last daughter.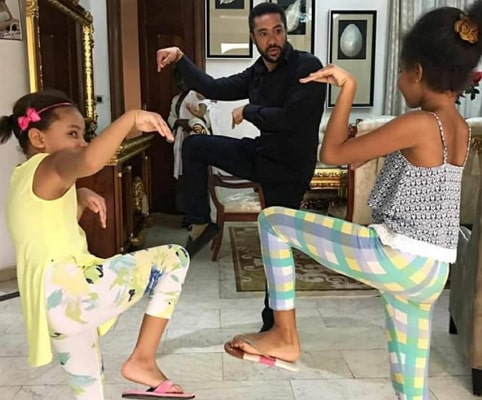 Is Majid Michel Dead?
No, the handsome actor is not dead! The Ghanaian-born actor is very much alive and doing fine. However, in 2010, Majid Michel revealed he received death threats from some Nollywood actors, who felt he's getting more movie features than them.
While the 38-year old actor is still very much alive and in good health, his loving mother is no more. Majid Michel's mum died 4 years ago.
Majid Michel Movies
Majid Michel is a pure talent. He started performing in the world of make-believe (acting) way back since he was a kid. He was always outstanding in school dramas during his primary and secondary school days. His good looks and outstanding talent made him a cynosure of all eyes; hence, he was always assigned the lead role in school plays.
Majid started his career in the Ghanaian movie industry in 2000. However, it took him 9 years before he got his first Nollywood feature. He starred alongside Genevieve Nnaji in a movie titled Emerald. He made his second major appearance in Silent Scandal. The romance-themed Silent Scandals set Majid up for a glittering career in Nollywood. However, his rise to prominence in the Nigerian movie scene was cut short in 2010, when Majid decided to leave Nollywood, so as to focus on his acting career.
Although the Ghanaian actor was economical with the truth about what actually truncated his career in Nollywood, he attributed it to the enormous envy from Nigerian actors.
Over all, Majid Michel has featured in many top Ghallywood and Nollywood movies, numbering well over 50. Outlined below are some of the top Nollywood movies Majid Michel has featured in.
Dr. Duncan (2018) – starred alongside Segun Arinze
Passion (2016) – starred alongside Tonto Dike and Genevieve Nnaji
Amuma (2015)
Bishop Jerry (2015)
Being Mrs Elliot (2014) – produced by Omono Oboli
House of Gold (2013)
30 Days in Atlanta (2014)
Somewhere in Africa (2011)
Guilty Pleasures (2009)
Emerald (2009) – 'starred alongside Genevieve Nnaji
Silent Scandals (2009) – 'starred alongside Genevieve Nnaji
Majid has been nominated for several awards in both Nollywood and Ghollywood. He won the 2012 African Movie Academy Awards (AMAA) for Best Actor in a Leading Role, in the midst of six other nominations between 2009 and 2018.
For the past three years, Majid Michel's movie features has dwindled significantly, he now works more as a movie producer. His lesser appearance on the big screen was attributed to a factor; his decision to take up less romantic roles in movies. This decision was reportedly informed by Majid's new, refurbished soul, as a born again Christian.
What Happened to Majid Michel?
The Ghanaian star actor, who is a known Casanova in movies, reportedly became a born again Christian towards the tail end of 2016. He was subsequently anointed and ordained as a pastor by a local church evangelist.
Majid made some revelations regarding his past. Among these was his open confession live on TV, where he admitted to being a chronic masturbator (which he considers a sin). This confession came as a shock to many of his fans.
The star actor further stressed that, his transformation into a born again Christian made him reject many romantic movie roles, which was his forte. This, according to him, was the prime reason behind his reduced appearance on the big screen.
Majid Michel Parents
The Ghanaian actor is of two racial origins; Africa and Asia. His father, Micheal Michel Erawoc, is Lebanese, while his mother, Paulino Olympio, is Ghanaian. Unfortunately Majid's mother, Paulino Olympio is late.
Majid Michel Siblings
Majid's Lebanese father, Michael Michel Erawoc, gave birth to an army of kids. Altogether, he fathered a total of eleven kids (Majid and ten others) and they all grew up under the same roof in Accra, Ghana. Majid has ten siblings, four sisters and six brothers.
His six brothers are Isaac, Sputnic, Reggie Michael Jr, Shawki and Aro. His sisters, on the other hand, are two fewer than the boys; they are Isabella, Roberta, Juliette and Georgette. All ten of them, including Majid lived and grew up in their father's house in Accra, Ghana.
Majid Michel Brothers
The Ghanaian star actor, as stated above, has a total of six brothers. He grew up in the midst of all his six brothers in Accra, Ghana.
Although, there isn't much information on the internet about Majid Michel brothers, a rare picture of one of his younger brothers surfaced about a year ago. According to unconfirmed sources, Majid's younger brother (whose picture surfaced) lives overseas.