Hot Gists
General Yakubu Gowon: How I Escaped Death On Navy Helicopter Crash In Bayelsa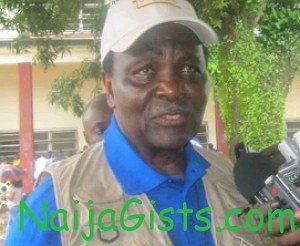 Dec 20, 2012 – General Yakubu Gowon: How I Missed Flying With Yakowa On Bayelsa Crashed Navy Helicopter
Former military head of state, General Yakubu Gowon (retd) yesterday revealed how he narrowly missed flying in the same helicopter that killed Governor Patrick Yakowa and five others last Saturday in Bayelsa State. Gowon made this known to newsmen in Kafanchan, Jema'a Local Government Area of Kaduna during a special service session to mark the 50th birthday of Apostle Emmanuel Nuhu Kure of Throneroom Ministry, Kafanchan.
Gowon said: "As we were with the aide of the president to pay our condolence, they were arranging a Navy helicopter to take us to Yenogoa (with Yakowa). But another helicopter was arranged for me, and five others. And that was it. "So when I heard about this accident, it really pained me. And I want to say, well, you can never tell with some of these things. It was an accident. Don't impugn any meaning to it. Don't say that it is plan to get rid of some people or something like that.
"It is an accident, yes it was an accident. There was this young pilot of the helicopter, who came to me after another helicopter was found for us, and he said to me, 'sir, but I was ready to take you to Yenagoa, as part of my duty today'. And I said to him, 'don't worry there will be another time. I really hope I will have the pleasure of flying with you again'. "These were nice innocent people. Something, probably mechanical, went wrong to have caused the accident. So it was not a plan to get rid of the governor for whatever reason people want to guess.
"When, last Sunday, I saw the Governor (Ramalan Yero), who was newly sworn in, I said 'I hope you will continue with the good work that your late governor was doing. It was the two of you that were doing the work. You were working to bring peace to Kaduna State. I hope you will do something about this madness alluded to Boko Haram, which, unfortunately is being alluded to Muslims. "If Boko Haram are Muslims, then they are not the Muslims that I have worked with over the years. So don't just blame Muslims for the violence, but that particular group that none of us understand.
So, may the soul of our brother rest with our Lord. Thank you." Meanwhile, the people wailed as the remains of Yakowa arrived the Sir Kashim Ibrahim House for the wake keep yesterday. At about 5.00pm, the Hiace ambulance with registration number MKA 581AE arrived for the wake keep which had in attendance Vice President Namadi Sambo, new Governor of Kaduna, Mukhtar Yero, Governor of Bayelsa State, Seriake Dickson, former governor of old Rivers, Alfred Diete-Spiff, former governor of Bayelsa State, Dieprieye Alamieyeseigha.
As soon as the pallbearers removed the casket from the ambulance, the entire congregation started wailing. The Chaplain of the Government House, Rev. Elias Kabu narrated his last day with the late governor. He said a couple of weeks before the helicopter crash which claimed the late governor, "the governor called me saying that he wanted me to organise the annual Christmas Carol at the Government House on December 19, but here we are today instead of the Christmas Carol, we are organising a wake keep for the governor."
In his homily, the Archbishop of Kaduna Catholic Diocese, Archbishop Mathew Ndagoso Man Oso said when the news of the air mishap filtered into his ears, "we are hoping against hope that it was all rumour after all."
He said in life, there was a purpose for everything and noted that Yakowa had died because he had accomplished his purpose on earth. "God called him (Yakowa) because he has achieved the purpose for which he was made the governor," he said.
[Article by Sun News Reporter, NOAH EBIJE from Kaduna]