Crime News
Oyo Governor Ajimobi's Daughter, Bisola In Murder Scandal Over Adeola Randolph, Her Ex-Lover's Death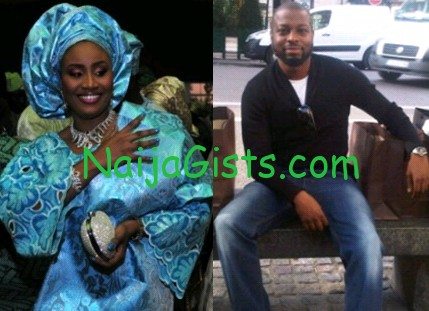 Nov 23, 2012 – Oyo Governor Ajimobi's Daughter, Bisola In Murder Scandal Over Adeola Randolph, Her Ex-Lover's Death

The daughter of the present Governor of Oyo State (Governor Abiola Ajimobi), Bisola is currently in a very messy scandal involving her ex-lover, Adeola Randolph who passed away in the early hours of February 7, 2012. naijagists.com
According to a report from National Enquirer Magazine, late Adeola Randolph family sources said it took them forever to discover Bisola's involvement in the sudden death of her former lover because the influential Ajimobi family have allegedly been pressing buttons to sweep the case under the carpet.
According to National Enquirer investigation, Abisola who got married to another man two years ago was spotted sneaking into her ex-lover's flat without her husband's consent a night before his death.
Though her ex-lover battled asthma occasionally, the security guard at Adeola's Magodo house revealed that Bisola sneaked in that fateful evening and left few hours later, only to find out that his boss, Adeola had died the following morning.
According to sources, Bisola, a married mother of one has so many explanations to do in regards to the sudden death of Adeola Randolph on the 7th of February this year.
Bisola got married in November 2010 to Kolapo, the son of a business tycoon, Chief Kola Daisi.
Though there are rumours that the deceased, a staff of a company based in Abuja called-PetroEnergy and graduated from the Coventry University in the UK had an attack at home in the early hours of the fateful day and was rushed to the hospital where he later gave up the ghost, some have said Governor Ajimobi's daughter and Personal Assistant might have some explanations to make.
According to family sources, the beautiful married mother of one was the last person spotted sneaking into the country from the United Kingdom to  pay a secret visit to Adeola's Magodo home in Lagos on February 6th, 2012, a night before his death.
Though she didn't pass the night there, she spent a considerable amount of time with her ex-lover whom she's still very much in love with even after marrying another man.
Adeola and Bisola we authoritatively scooped were lovers known to families and friends until the relationship crashed due to accusations of infidelity on both parties especially Bisola and other issues before she later got married to Chief Kola Daisi`s son in an elaborate wedding on the 5th of November 2010 in Ibadan.
Adeola and Bisola who broke up after they accused each other of infidelity secretly rekindled their love even after Bisola got married.
The lovers rekindled their affair from ordinary to seeing each other secretly.
This we gathered explained the reason Adeola invited Bisola over though they both agreed to be extra careful and thus her reason for leaving his place that night, those who were aware of the his health conditions vowed that, Adeola was hale and hearty on that night and also had enough inhalers to attend to himself. What is causing the eyebrow is the reason behind the strange visit of the Governor's daughter who`s a married woman the night before, they`ve ceased to stop talking about it.
In our facts finding mission, we got in touch with one of the aides of the State`s First lady for their own side of the story, the lady however promised to get back to us having pleaded to temper justice with mercy on the story.
Whilst we were still expecting her response, she however tried to network by finding a way of getting in touch with our editor who has been out of the country through another powerful source, just in order to stem the story, she did present the matter as if we have been on her neck but our editor sent back the middle man for them to react officially to the story but we never heard from them till we went to press.
We have set up a meeting with the deceased family and we shall let you know as events unfold.
(Story Culled from National Enquirer Magazine)
Seriously Bisola might be innocent of this alleged murder allegation.
In Yoruba land, they call something Magun or Eyo it's a charm that SOME married men put on their wives if they suspect they're cheating which often leads to the death of any man involved.
On the other hand, Abisola might be a victim of Nigeria's dirty politics.
Don't judge her yet please stay in touch as this story unfolds.