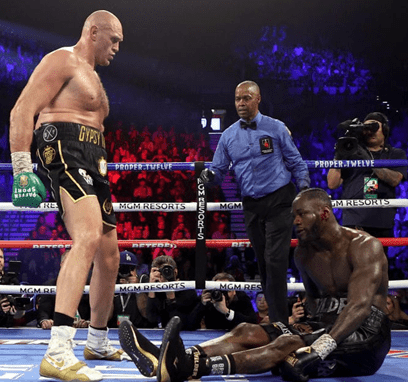 DEONTAY WILDER: BE HUMBLE OR YOU WILL STUMBLE!
The Greatest Hindrance To Success Is The Previous Success
"To belittle, you have to be little"- Kahill Gibran
A fool is simply someone that is full of himself! One of the most pathetic and tragic story in the 20th century is the sinking of the Titanic Ship in 1912. The man that built the titanic was so much filled with pride that he nicknamed it, "The ship that God himself cannot sink." On April 10, 1912, the titanic left Southampton, England on her maiden voyage to New York. It was said to carry 2,224 passengers.
The ship was touted as the safest ship ever built, so safe that she carried only 20 life boats – they wanted to validate the fact they will never need the life boats in any situation. This faulty and arrogant conclusion rested on the belief that since the ship's construction made her "unsinkable", her life boats were necessary only to rescue survivors of other sinking ships!
Four days into her journey, at 11:40 P.M, on the night of April 14, she struck an iceberg, because of the limited number of lifeboats, it became a struggle to rescue the passengers and eventually only 705 survivors were rescued! On board the titanic was the man acclaimed to be one of the greatest captains of his time, Captain Edward Smith and also one of the richest man living at the time, John Astor Jacob. Though titanic was colossal in size and gigantic in mass but her ultimate doom taught us all a humbling lesson-There is nothing in life that is beyond destruction!
Nobody ever believed that the greatest captain in the world(Edward Smith), one of the richest man on earth( John Astor Jacob) and the acclaimed 'unsinkable' ship (Titanic) would, with such awesome combinations, be doomed to perish in the floor of the Atlantic Ocean! Such is the fate of anything built on so much pride. The titanic ship was famed to be 'Immortal' but the icebergs put this erroneous belief to test!
Deontay Wilder unbeatable runs was one of the reasons for his doom in his last rematch with Tyson Fury. The 34-year-old Wilder is 42-0-1 with 41 knockouts. Only one of his wins has come via decision, and it was a unanimous one against Bermane Stiverne in January 2015. The 31-year-old Fury is 29-0-1 with 20 knockouts. With unbeatable records, it became so difficult to predict the outcome of their rematch.
Wilder was closing on longest-ever heavyweight unbeaten run and was seven wins away from legend Marciano. He was actually poised as the man on the line in making boxing history. All that is shattered now with his recent 'destruction' in the hand of Tyson Fury in their last rematch.
There are five major lessons from the fight that are worth taking note of:
#1 BE HUMBLE OR YOU WILL STUMBLE:
Pride always come before a fall! In life, it is either you have humility or you will be humiliated. Someone once defined EGO as Edging God Out! And that is what EGO does; it will always edge you out in life and reduce you to nothing! Presently Wilder has been put to wilderness. He is presently 'titleless', 'beltless' and damaged! Many people are attributing his defeat to his bursted ear drum during the fight. It is not the eardrum that is the issue; something will always go wrong with a proud mind, for Wilder, it was his eardrum. When you are proud, you will ultimately lose your balance and find yourself in demeaning conditions that you never anticipated. God resist the proud but gives grace to the humble.  C. S Lewis once said, ''Pride leads to every other vice: it is the complete anti-God state of mind.''
#2 THE GREATEST HINDRANCE TO SUCCESS IS THE PREVIOUS SUCCESS:
Wilder had gone 12 years without losing as a pro. If not properly handled, such feet can get to the head and make one seem unbeatable. For Wilder, it was a stunning end to an unbeaten streak that had seen him knock out 41 of his previous 43 opponents. Our previous success can hinder us from moving to the next level when we become so full of them. Don't build your future on your previous successes, rather let them give you more impetus to be more successful.
#3 WORK IN SILENCE AND LET SUCCESS MAKE THE NOISE:
When you talk more than you prepare for it, you will not get it! It was very obvious that Wilder's rants were becoming too much prior to the fight. Plato once said,  "An empty vessel makes the loudest sound, so they that have the least wit are the greatest babblers". Shock your enemies with your preparation and not your noise!
#4 GOD STILL INTERVENES:
The Bible says, "The horses are prepared for battle but victory is of the Lord". Deontay Wilder took his trash talk too far ahead of the much touted February 22 rematch with Tyson Fury by tweeting on his personal Twitter handle, what many boxing fans see as a mockery of God, and many believed the American will receive his punishment in due course. "I told you before our first fight that I was going to baptize you. And I did. But not even God can save you the second time around. I promise you that", Wilder's controversial trash talk Tweet reads. Many fans were appalled that Wilder brazenly discredited God not long after he met Catholic leader Pope Francis in Rome who appointed him ' Boxers' Representative and Boxing Ambassador For Peace.
#5 STOP MAKING EXCUSES:
Imagine a professional boxer like Wilder blaming his loss on elaborate pre-fight costume! Wilder said the costume was too heavy and was the reason that he didn't have his legs under him in his seventh-round TKO loss to Fury. Champions make adjustments, not excuses. Benjamin Franklin said: "I never knew a man who was good at making excuses who was good at anything else." One thing that would consistently get in your way to success is your excuses. You would need to quit making excuses to live a life that you want. There are two things to make in life- it is either you are making excuses or you are making progress. In life, it is impossible to give excuses and still have results. Someone said: "When I lost all my excuses, I found my results."
In order to maintain a healthy self-image, there are three things that must be vehemently resisted in life: "Don't ever look down on yourself", "Don't ever allow anyone to look down on you", and "Don't ever look down on anyone". Nobody, I repeat, nobody can make you inferior without your own consent. Just like in the case of Tyson Fury, an internal security will always produce an outward stability.
QUOTE OF THE WEEK: ''It is a savage madness to think you can increase your stature by making others feel smaller. '' -Gbenga Adebambo