Crime News
How I Escaped Being Raped – Bus Robbery Attack Victim Narrates Her Ordeal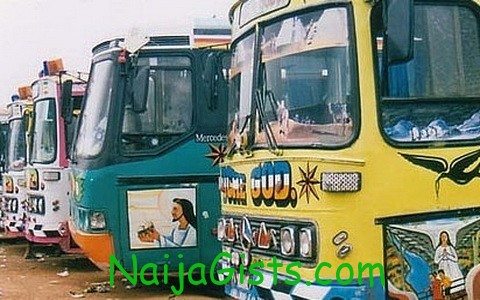 April 3, 2012 – How I Escaped Being Raped – Bus Robbery Attack Victim Narrates Her Ordeal
The Luxury bus rape incident which took place at the Oke-Odo end of Sagamu-Benin Expressway was a shock to many. naijagists.com
Some female students of Holy Rosary College, Enugu fell victim to the attack while others escaped unhurt.
A 16-year old Junior Secondary Student who escaped unhurt has come up to narrate her ordeal.
Read the detail story below
Vanguard report – The girls, 42 of them, left Enugu for Lagos on the morning of Saturday, 31st of March 2012. However, the bus developed a fault along the way and they had to wait for another bus to convey them to their destination. This wait cost them many hours and they eventually had to travel at night. They were attacked around 11.40pm by robbers who thought they were business people whom they could steal from. However, when they got to know they were students, they were angered and hijacked the bus, driving it deep into the bush where they allegedly gang raped some of the girls.
At her Ajao estate residence in Lagos yesterday, one of the victims of the attack who narrowly escaped being raped said she was undergoing her menstruation at that time and so she used her blood flow as a deterrent to one of the robbers who wanted to have his way with her.
The girl, who according to the report was still in shock while narrating her ordeal was indeed lucky.
"I was sleeping and did not know how the bus was intercepted. But what woke me up was a bark and the next thing I noticed was that we were inside the forest. At that point, I started reciting my rosary on protection. Our phones were first collected and then cash. I was just with N1200, out of which I was to buy recharge card to contact my parents on approaching Lagos. That, they collected.
We were thereafter asked to lie down. It was at that point that they discovered we were students and one of them shouted in pidgin English 'so na because of these small children we dey do all this wahala?'
Then, they started approaching us saying we should pull off our clothes. But one of them challenged the person that said so, asking if he did not realise we were children and it resulted in a shouting match between them. As the quarrel was on, another member of the gang came to me and said I should strip naked, pointing his long gun at me. I cried and begged him to have mercy on me but he didn't listen . Out of fear of being shot, I pulled my underwear, only to discover I was already soaked in blood. I did not know what got into me then, but the next statement that came out from me was that one of them had already done it and I started crying. He pointed his torch light and said ' you want talk say you never do am before?' and he went away. I do not know what would have happened to me had my menstrual flow not occurred", she said.
The report further stated that no case of rape had been reported, only that of the robbery attack. Also that no arrest had been made.
This comes as no surprise as the victims might have thought that no hope of catching the criminals would arise from surrendering themselves to public scrutiny.
An earlier report said that parents of the girls had spent the night waiting for them at the bus park, worried and only for the girls to arrive the next day with blood stains and scratches on their bodies.
My heart goes out to all the girls and their families for the trauma they must have gone through. Their ordeal was something no parent would wish on any child and I pray for healing, peace and comfort for the girls and their families.
And to the police and government, more needs to be done to protect the lives and properties of people travelling on our roads at any time, day or night.