Hot Gists
How I Escaped With My Daughter – Dana Plane Crash Survivor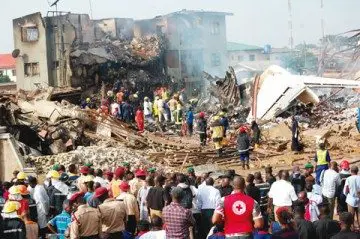 Dana Plane Crash Site
June 7, 2012 – How I Escaped With My Daughter – Dana Plane Crash Survivor
One of the survivors of Sunday's plane crash, Mr. Iloka Chima who is still under- going treatment at the Lagos State University Teaching Hospital, Ikeja, yesterday, narrated how he escaped death by the whiskers. But this was without a rear display of act of bravery, as he did all he could to also rescue his daughter even in the face of death. naijagists.com
From his hospital bed where he had a plaster of Paris, POP, on his hand, he narrated, "I was in the sitting room playing with my electronic game when all of a sudden, we heard a loud bang on the roof. At first, I looked away.
But when I started feeling the vibration of the building, I knew all was not well. The next thing I heard was my little daughter crying and calling me at the same time. As I rushed to where she was, I discovered that a beam from the building had fallen on her . I managed to carry her and rushed out.
"On the way, one of the beam landed on my shoulder. It was at that moment , I concluded that the building was collapsing. I can not tell how I managed to go out. But when I did , I discovered that it was a plane that landed on our building.
"I lost everything I had laboured for all my life. But I am most grateful to God for sparing my life and that of my entire family.
"My wife was just returning from church with one of our children when the incident occurred. Above all, I am grateful to God that my apprentice , whom I brought from the village, Uchechukwu Okoye , also survived it. Had the contrary happened, tell me, what would I have told his parents?"