NaijaGists Creativity Center
How To Relocate, Move To USA United States Of America From Nigeria…Guide To Migrating, Moving To US As Nigerian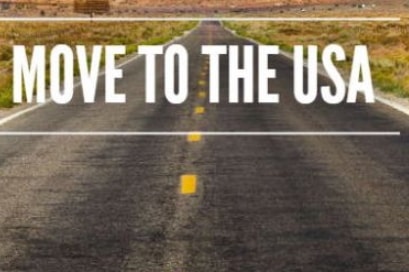 How To Relocate, Move To United States Of America From Nigeria…Guide To Migrating, Moving To US As A Nigerian
Who wouldn't like a chance to move to arguably the most developed nation in the world? According to statistics, it is estimated that there are about 400,000 Nigerians living in the United States. However, the process of relocation is in contrast to the simplicity of running the thought in your head. This is evident in the number of yearly visa rejections of applicants as well as the associated financial costs.
This article is aimed at giving you (the reader) the basic information needed in making the move from Nigeria to God's Own Country. But before we get to the matter, let's take a brief look at some facts about the United States.
Brief information about the U.S
Arguably the most desirous country for foreigners to reside in, the United States of America is a North America country with its capital in Washington DC. A former British colony until 1776 when they gained their independence, the U.S is home to a diverse population of persons from different countries. The free country boasts a great economy, education system, among others.
Types of U.S visa
There are two basic categories of visas that can be issued to any person wanting to travel to the United States. These are the immigrant visa (which you'll need) and the non-immigrant visa (for visitors or students).
Non-immigrant visa
Also called the Type-K visa, this category of visas includes business, students, tourists, and every other type of non-immigrant visa. This visa type can be obtained at either the U.S Consulate General in Lagos or the U.S Embassy in Abuja.
The USA immigrant visa
This type of visa is meant to be issued to persons seeking relocation to the United States on a permanent basis. Since this article is directed towards immigration, then this is the type we'll be focusing on.
Steps for obtaining a USA immigrant visa
Any intending foreigner seeking permanent residency in the United States must first of all file a petition to the U.S Citizenship and Immigration Services (USCIS) before making the application for the immigrant visa. If you have a relative residing in the United States, you can ask the person to file an I-130 petition for you at the USCIS office in the U.S. Alternatively, if your sponsor is an employer, they can assist you in filing an I-140 petition.
You can also file the petition in person; although you need to have remarkable skills or abilities in education, sciences, sports, or any other profession. Note that the U.S Embassy in Abuja does not receive visa petitions; you'll have to go to the U.S Consulate General in Lagos.
Pay for the visa application process and obtain the form. To do this you'll have to visit the U.S Embassy with your fees in US dollars. Pay the visa fees and collect the visa application form.
Carefully fill the immigrant visa application form and submit at the embassy.
Go for medicals. It is compulsory that all immigrant visa applicants undergo a medical examination by a doctor that has been approved by the Embassy.
Go for the Interview: The U.S Embassy will instruct you on when to appear at the Embassy for an interview. On the scheduled interview date, you are required to be present at the Embassy at least fifteen minutes prior to the interview. In addition, you are expected to come with the following documents that include your visa fee payment receipt number, your Nigerian passport number, and your visa application form number.
Wait for your application to be approved. You'll have to wait for your application to be processed. If your visa application is granted, you will have to go and pick up the immigrant visa at your earlier chosen location.
Some tips to know before relocating to the U.S
We all know how "good" things are currently in the country and the obvious desire of many Nigerians to leave the country if granted the opportunity. However, there are a few things which you might need to know before making that life-changing transition.
You need a valid resident permit if you are to stay in the U.S. While this may sound obvious it is sad that so many Nigerians after traveling to the U.S tend to remain there long after their visas have expired. Illegal residents in the U.S are known to be in the danger of deportation. So, you will have to make sure that you apply for and get an appropriate visa – an immigrant visa – if you are to stay in the country.
You might get a job that is not commensurate with your Nigerian educational qualification. Being a Bachelor's degree holder in Nigeria may not translate to the same in the American system. It is not unusual for Nigerians residing in the U.S to work long hours for meager sums which may not be enough for them, talk less of sending some back to Nigeria. That being said, you will need to upgrade your education when you arrive in the country if you want to earn more.
Acquire a skill before traveling. This cannot be over-emphasized. Only your educational qualifications from Nigeria may not be able to land you a job, hence, the need to get a skill such as barbing or electrical repairs before traveling. Moreover, you will find out that the Americans value skills and are willing to pay for it.
The cost of living can vary across cities. Cities like Los Angeles or Washington may not be the ideal starting point for you if you want to settle down quickly in America. So, before you finally decide on travel make sure you do your due diligence and choose a befitting city to reside.
Get to know about the U.S laws. Every country is guided by laws so as to maintain order. Familiarizing yourself with the U.S laws will be helpful in a lot of ways. This is because certain things that we tend to do in Nigeria are actually illegal overseas. An example of an illegal act in the U.S is sports gambling, although it may be legal in some states.