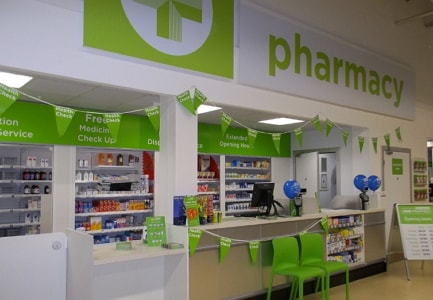 How To Run A Profitable Pharmacy Shop, Drug Store Business In Nigeria… A Step By Step Guide
By Our Reporter
A pharmacy is simply a retail shop where drugs are sold. In addition to the sale of drugs, a pharmacy is also known for the sale of medical supplies such as toiletries.
Setting up a pharmacy or "chemist" store (as is commonly called) in Nigeria like in most other countries requires that you are first a licensed pharmacist. If you don't have the license you cannot run a drug store, at least legally. However, there is a way around it – not illegally though – and that is what we aim to do with this article.
Types of pharmacy stores
There are two major categories of pharmacy stores in Nigeria as explained below:
Government-owned pharmacy stores.
As the name suggests, these are drug stores which have been set up by the government in government hospitals. One common thing about this type of pharmacies is the fact that they are almost always under-stocked. It is one of the reasons why people rarely think about them.
Private/community pharmacy stores.
These pharmacies are owned and operated by private persons. They are usually situated in the communities, hence, the name community pharmacy. If you are to set up a drug store, then this is the type that your sights should be on.
The benefits of starting and running a drug store in Nigeria
Starting and running a drug store in Nigeria is a highly profitable business venture when done correctly. Since people will always visit the hospital and doctors will always prescribe drugs for patients, it is almost certain that you will never be out of business.
You get to address a pressing need in the nation.
It is important to state here that the number of standard and registered pharmacies in Nigeria is very few when compared to the demand. Most of the "chemists" you know are either not properly registered or they sell substandard drugs or even both. By starting a drug store anywhere in the country you will be helping to fill a deficit in the health sector.
The challenges facing drug store owners in Nigeria
Stocking substandard drugs.
Most drug suppliers in Nigeria are filled with substandard drugs which makes it difficult for customers to get the original products.
The location of your drug store will determine the success of the business as we'll get to know later on. If your drug store is in a bad location you may struggle to make any profit from the business. Before you decide to go into this business, you should be aware of the strong competition. As such it may take a while before you break even in the business.
Based on research, you will need anything from 3 million Naira upward before you can think of starting a pharmacy in Nigeria. This is because of the high cost of quality drugs which should be about 2 million Naira for your startup, N500,000 for rent, and another N500,000 for sundry/miscellaneous expenses.
How to start a community, local pharmacy store in Nigeria
There are three major ways of entering into the pharmacy store business in Nigeria that includes:
Setting up your own pharmacy brand.
This involves you starting the pharmacy without any partnership with a drug store. For this method, you will need to be a certified pharmacist, or have a certified pharmacist as your business partner.
Partnering with an already established drug store to operate under their brand name.
This is called starting your business on a franchise. For this purpose, you will have to agree with the terms and conditions laid down by the franchiser. This is the least expensive method of getting into the pharmacy store business.
A complete buyout of an already existing drug store.
Instead of partnering with an existing pharmacy, you can take over the entire business by buying out the store. This is arguably the most expensive method of starting a pharmacy store business in Nigeria.
Steps to take when setting up a drug store in Nigeria
In order to start your own pharmacy or drug store [from scratch] in Nigeria, you will need to follow the steps given below:
Step 1: Do a feasibility study
Carrying out a feasibility study on the pharmacy store business is the first step in determining whether you should invest in the business or not. By conducting a feasibility study, you will get to know the costs and requirements of running the business.
Step 2: Register your business
This is a very important step; please don't skip it if you want to be able to operate your drug store for long. To be able to legally run a pharmacy in Nigeria, you will need to register with two bodies. The first is the C.A.C (Corporate Affairs Commission) where you register your business as a legal entity, and then P.C.N (Pharmaceutical Council in Nigeria) where you register your business as a pharmacy. P.C.N only gives licenses to trained pharmacists, so if you are not one you will have to involve a qualified pharmacist.
You will have to present the following documents during your registration with the P.C.N:
Memorandum of Association and Article of Association
Inspection report
Application letter for registration
Certificate of Incorporation
A valid annual license of Pharmacist to practice
Completed forms B and J
Appropriate registration fee in bank draft
After registering with P.C.N, you will be issued a license to operate.
Step 3: Find a good location for your store
Like most other business ventures, it is imperative that you choose an ideal location for your drug store before commencing operations. Most successful drug stores are located in areas close to a medical facility. Starting a pharmacy in a neighborhood where there is none is also a great idea as it affords you a good patronage. So, before you rent a space for your drug store make sure it is in an ideal location.
Note, however, that you cannot set up shop until after gaining approval from the DPC (Department of Pharmacy Council). The DPC has guidelines which must be adhered to before siting a pharmacy. Some of these guidelines are:
The location of any new pharmacy must be at least 200m away from an already existing pharmacy.
As a private/community pharmacy, it cannot be situated within the premises of a government hospital
The pharmacy store should not be situated in a market or a bus stop.
Step 4: Get the necessary tools and equipment
After renting or acquiring a good space for your drug store, the next step is to furnish the store with the necessary tools and materials. The essential materials/equipment for any drug store include but are not limited to the following:
A computer
Benches/chairs for customers
Cash register
Shelves
A generating set
Step 5: Purchase drugs
Since the drug market is flooded with substandard drugs, it is important that you deal with a regular and reputable drug supplier. All your drugs must be approved by NAFDAC (National Agency for Food and Drug Administration and Control) and NDLEA (National Drug Law Enforcement Agency). The quality of the drugs you sell will determine whether you'll remain in the business for years to come or not.
Step 6: Hire some staff
Yes, you will need to hire some staff to help in running the pharmacy. This is because of the fact that you may not be able to run a standard pharmacy by yourself alone, especially if you're not a pharmacist. Even as a pharmacist, there might be times when your daily schedule gets tight that it can prevent you from running the store, hence, a need to get someone.
You can employ any or all of the following to help in running your drug store:
A store manager
A pharmacist
A cashier
Note: Before now, you need to have employed a superintendent pharmacist or ask your partnering pharmacist to stand as one. This is because the P.C.N can visit your drug store at any time for inspection and it is the superintendent pharmacist that will stand for your business during such times – that is if you are not a pharmacist.
Step 7: Advertise your business
Unless you are operating your drug store on a franchise – operating with a license from an already established pharmacy – you will have to advertise your business so as to increase patronage. There are various marketing strategies at your disposal for this step including the use of social media platforms and email marketing. Don't forget to put down a conspicuous signage indicating your business name.
Starting a pharmacy store business in Nigeria requires a lot of inside knowledge; as such you need to be aware of the dos and don'ts of the business. Nevertheless, the venture is a highly profitable one if successful.
By following the above-mentioned steps in this guide, you should be on the right track on establishing an auspicious venture that will reward you duly and in due time.