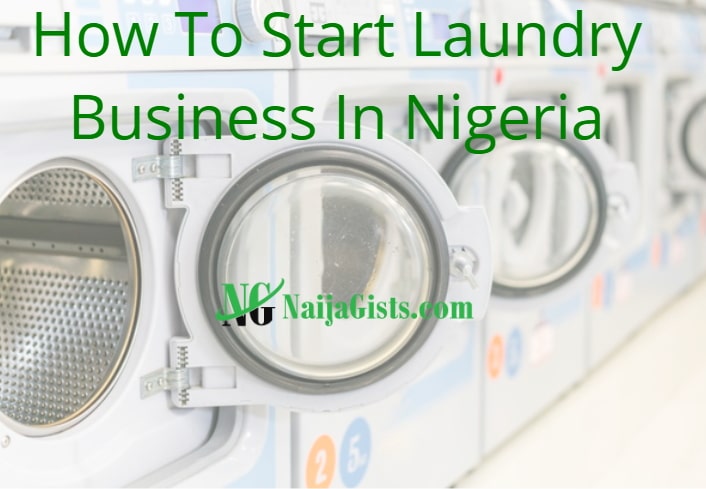 Laundry business is fast gaining ground in Nigeria, especially in major cities of the country. Laundry work involves the washing of textiles and fabrics. Most times it includes the washing of clothes, drying and ironing the clothes. Whether you call it laundry or dry cleaning, you are saying the same thing.
The business can be a second-tier for someone while it is a major source of income for another person. In this era of job cuts, right-sizing, and downsizing, the wise are taking to this simple but lucrative investment. The business is leveraging on the tight schedule of most city dwellers. Some hops between two jobs while others have the traffic to contend with.
Unfortunately, the weekend is choked with social and religious activities. Children that could help with the laundry are loaded with school and lesson assignments. So most people are therefore at the mercy of the dry cleaners.
Is laundry business profitable in Nigeria?
Do you wonder if the laundry business is profitable or not? My straight answer is yes. Below are a few of my reasons why you should consider going into the laundry and dry cleaning business.
You can do it on a full time or part-time basis.
You can start with zero Naira.
It is both indoor and outdoor services.
It can be done manually or with a machine.
Your services are universal.
You can start in your home if you don't have the financial muscle to rent a shop.
You are your boss. That gives you the liberty of time, money, and the desired rest.
You can charge base on the customer's status.
How to run a successful dry cleaning business in Nigeria
Dry cleaning is one of the few businesses you can run in Nigeria without any serious hassles. The followings are a few things you need to put in place to get the result.
Decide the location of your business. Location matters in every business. Since the laundry business is also about the people, you must consider location your shop where you have enough aspiring customers. The class of people where you cited your shop will determine your profit margin. You are not likely to make headway if you are surrounded by local people or those who may not value your type of business. Therefore, look before you leap when citing the location of your business.
Put up an advert. The place of the advert in business cannot be overemphasized. The good news is advertisement doesn't cost arm's length. As a starter, the cheapest means of publicity of your laundry business is word of mouth. Start to tell your friends, family, relatives, neighbors, and members of your religious association.
Another cheap means of heralding your arrival in dry cleaning work is social media. With your presence on social media such as Facebook, whatapps, LinkedIn, Twitter, etc, your business is in front of several would-be customers. A small flier for distribution is also another means of advertisement. Besides, you could print a complimentary card for distribution to your friend's neighbor. At social functions, you can also share your handbills and complimentary cards. You can't tell, a single contact can lead to several other contacts
Get the needed materials. As I have stated, get the needed materials for your work. These include your iron, washing basins, buckets, drums, washing machines, table, and shelf
Build a good reputation. Your goodwill is a major factor that will guarantee your success in the laundry business. Building a good reputation implies you are regular and punctual to your place of work. Added to this is your ability to deliver exceptional service. Once you show professionalism in your business, you can be sure of constant patronage. From the onset decide to deliver on your promises whenever you get a job from a customer. If your word is your bond, you'll keep your customer.
Build a good human relation. Business is about a relationship. A successful business is about a good relationship. A good relationship begins with how you address your customer and their needs. A major factor to success is treating your customers as kings. The key to getting to the heart of your customers is to think like them. That means you emphasized with their plight. Once you remember you cannot satisfy a human being a hundred percent, you will treat their seemly unreasonable demands with caution. Sometimes you play the fool to retain some of them. Though you deserve to be treated with a level of respect, demanding your right always will send your customer away.
Give a kobo to gain a naira. Giving out part of your gains back to your customer may reduce your profit in a short time but the gain is immense. As a rule of thumb, factor gift, promotions, and discount into your business plan. This also includes a festive period of appreciation for your customers. This way, you are building a good relationship. Except you are not sincere, you also love gifts like every one of us. You will use that opportunity to reward your faithful customer while it is a bait for potential customers.
Equipment needed to start a laundry business in Nigeria
One good thing about the laundry business is it could be done manually or with a machine. Thus, for a start, the equipment or tools you needed is your hands. Most dry cleaners start off using their hands to do the washing before they graduated to using washing machines. In reality, some tough stains on fabrics will require a little effort to remove with hands.
Washing machine. To make your work easier, you need a washing machine. You can start with a fairly used washing machine. But if you are financially capable, you can buy a new one out rightly.
Containers. The other tools you needed are some buckets, basins, and drums. You needed the drums to store water since you are not sure of the constant electricity supply to pump water. This becomes your water reservoir.
Pressing iron. Next is your charcoal, gas, or electric iron. Those having challenges with electricity use charcoal iron, especially for colored textiles. Sometimes burnt electric iron or local irons are used on a blue flame gas burner.
Table for ironing. The last part of laundry and dry cleaning is ironing of the fabrics. You needed a flat table that is fairly big enough to take big clothes without dragging them on the floor.
Plastic or rubber hanger and nylon for packaging. The hangers are used to hold the clothes on the rack before packaging. The nylon is used to preserve the clothes from dirt and wrinkles from handling. Classic launderer uses custom made polythene to package the clothes for their customer. Their company's name is printed on the bag. This is a way of publicizing your brand.
Shelf and tags. You keep the ironed clothes on the shelf while the tags are used to indicate each customer's clothes. This will make you organized and save you the time to search for customer cloth.
Receipts. To be a corporate dry cleaner, you need a receipt to keep the tab on your customer and prevent arguments on the transaction.
A generating set. Since electricity is not dependable, you'll need a powerful generator to power your pressing iron to iron the clothes you washed.
The best detergent for a laundry business in Nigeria
There is an array of detergent in the Nigerian market beckoning for recognition and acceptance as laundry soap. Some of them are bar soap while others are detergent. Still, we have liquid soap that is good for laundry. The bar soap for laundry is meant for those using hands to wash their clothes. Hand washing laundry is peculiar to those who are starting afresh. Though not in a particular order, the following detergents rank high among other detergents for laundry in Nigeria.
Waw. This is one detergent that needs no introduction to those already in the laundry business. It gives you value for your money in terms of quality and the cleaning power.
So klin. This particular brand is good for washing white fabrics and textiles. It removes stubborn stains in one wash.
Good mama. Choose this brand if you want a detergent that is mild to your hands and textiles. Its cleaning power is equally unrivaled.
Sunlight. This brand resurfaced after several years of break. This time, it comes in three variances. Apart from its cleaning power, it leaves your clothes with a lasting fragrance. After the wash, your skin will thank you for a job, Weldon.
Omo detergent. I am not sure if you are in Nigeria if you claim not to know omo multi-action detergent. This is one of the launderer's favorite detergent. A little wash so much. It also leaves you with healthy hands and a sweet fragrance
Bimbo. This detergent is synonymous with all washing. You can be sure of outstanding results whether you use hand or machine wash. I believe it is the friendly cost that made it a household name in laundry detergent in Nigeria.
Ariel. You are save with your colored clothes when you use this detergent. It seems the producer has the common man at heart when formulating this brand.
Dry cleaning machine price in Nigeria
There is no fixed price to a dry cleaning machine in Nigeria. The price you buy a washing machine is determined by several variables. These include the type (domestic or industrial), the size, the brand, and the store you are buying from. But on the average, a domestic dry cleaning machine for a starter ranges from #30,000 to #300,000. Industrial washing machines range from #600, 000 to #8,000,000
It is enough complaints about the lack of job in the nation. Now that I have delivered into your hands how to start a laundry business in Nigeria, you will not only have a job but create employment for others. As you graduate you can also add the washing of rugs and carpets to your laundry business