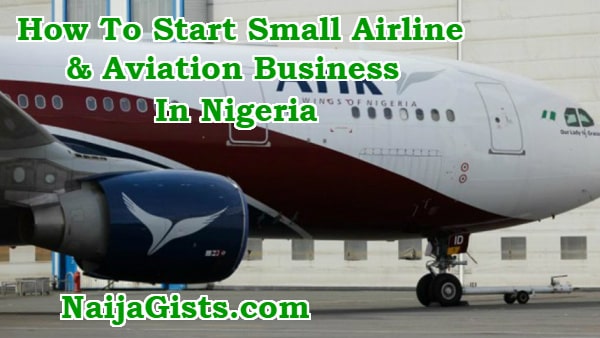 How To Start A Small Airline Company, Aviation Business In Nigeria
Starting and maintaining a successful airline company especially in Nigeria can be quite a challenge. Challenges may arise not only from the high amount of start-up capital the business requires, but also from the general costs of maintaining a successful airline business. But if one is able to take the leap and find a way around these issues, owning an airline company may prove to be profitable.
How To Start An Airline Company In Nigeria
Research The Aviation Industry
Before diving into this industry, it is best you arm yourself with information to understand what you are getting into. You should research, study and properly digest materials which educate you on the inner workings of the aviation industry. Go for information that can be trusted from recognized and approved aviation sources.
Study The Regulations Of Your Location
You will be required to properly study and understand the diverse laws guiding commercial airlines, local and global regulations regarding air space and things like that. This business is capital intensive and you do not want to run into trouble for not adhering to one form of law or the other.
Also have adequate knowledge on the available aviation programs which could be of benefit to your business.
Structure A Business Plan
Your airline company would require a solid business plan. It should be thorough, containing growth and management strategies, your market analysis, brand and nature of the business, possible challenges and the risks which could be encountered, the funds needed should be documented too. Drafting a proper business plan for this kind of business is important. To make sure things are in the proper order, you could get in touch with aviation agencies to help take a look at your business plan.
Acquire Capital
It is no news, owning an airline company big or small requires large sums of money for start-up and subsequent maintenance. This finance will most likely be gotten from different sources, as it may be too much of a burden for a sole individual. So make the necessary arrangements to organize and secure the needed capital for your airline operations. Your business plan will most likely come into play when soliciting loans and funds from various agencies.
Securing Airplanes
Airline business will definitely mean the acquisition of planes. The kind of planes to be secured will most likely depend on the amount available and the best choices for commercial flights. The airplanes gotten could be new, fairly used or leased. Your airplane picks have to be in line with what is best for your brand. A good agency to get in contact with for guidance in this wise and the general airline start-up and growth is the Boeing Consulting Team.
Challenges Of Airline Business In Nigeria
Air travel is one the fastest and most comfortable means of transport. Although more expensive than other means of transportation, it proves to be worth the money. However in Nigeria, airline businesses face quite a number of challenges which you may need to be prepared to take on.
Discouraging Government Regulations And Policies
The government is responsible for coming up various airline laws and policies. Some of these policies which the Nigerian government comes up with make hard demands on airlines.  Rather than come up with policies and programs which could better assist airline business owners; the government instead comes up with policies which have been said to put airline owners at a disadvantage and sometimes cripple these businesses. These laws have been termed responsible for the closing of some airline businesses and the withdrawal of others from Nigeria.
Lack Of Adequate Aviation Knowledge
The nature of Nigeria and generally African countries is that of consumers rather than creators. Nigeria lacks people with solid knowledge on the manufacturing and maintaining of airline facilities. Airlines frequently have to enlist the expertise of professionals to help train their pilots, engineers, the general workers and bring them up to speed with recent knowledge and innovations in the aviation world. These aviation trainings are mostly handled by foreign institutions, as scarcely available local institutions lack the required expertise. These trainings are necessary and also cost airlines a lot of money which is often paid in foreign currencies.
Lack Of Proper Facilities
Nigeria lacks proper airline/airport structures and the facilities which are available, are hardly up to the required standards. Almost all airports in Nigeria are owned and managed by the government, despite this, airport structures still remain in a poor and under-developed state. The lack of proper aviation equipment like airport cooling systems, adequate lighting for night landing and sub-standard air fields are just some of the facilities the Nigerian air industry lacks.
High Exchange Rate
This is quite a challenge as most Nigerian airlines generate their income in local currencies. The purchase of everything required for proper management and maintenance usually has to be done in foreign currencies. These airline maintenances are a necessity and cannot be overlooked. Due to the fact that Nigeria is not a manufacturing ground for any aviation equipment, these equipment and maintenance personnel have to be paid for, using foreign currencies; as we are well aware, the exchange rate in Nigeria is quite worrisome. This eats deep into the pockets of these airline businesses.
Purchase Of Aviation Fuel
Fuel for aircrafts in Nigeria can sometimes be a challenge to come by and when it is gotten, it is usually purchased at very exorbitant prices. Again, aviation fuel is a necessity and therefore has to be purchased no matter the cost.
Poor Management
Most airline businesses are usually out for the fastest way to make money and pay less attention to the quality of their services. Bad management is very often responsible for the collapse of many Nigerian airline businesses.
Best Airlines In Nigeria
Nigeria currently has no flag bearing airline to its name. But a couple of privately owned airlines run flights operations within and out of Nigeria.
Air Peace
This is currently one of the leading airlines in Nigeria, privately owned and created in 2013. It is Lagos based and flies regional as well as domestic flights. It makes several daily flights to well travelled routes like Abuja and frequent weekly flights to major airports in Nigeria. It also makes regional flights to countries like Dakar and Banjul and is still working on expanding its reaches.
Arik Air
Arik Air is yet another popular airline choice amongst Nigerians, also based in Lagos at the Murtala Muhammed International Airport. With a fleet of over 20 crafts and still counting, Arik Air makes flights to major airport locations within Nigeria. This airline is a common Nigerian choice for regional and International flights as well.
Dana Air
Well known for domestic flights, Dana air plies the air routes of major cities in Nigeria. It began operations in 2008 and has encountered a number of problems along the way leading to a few suspensions. However, it seems to have overcome these challenges. It owns about five crafts and is said to provide adequate services.
Med-view Airline
Though established in 2007, it only began offering domestic flight services in 2012. Prior to that time, the airline was known to mostly convey its passengers to hajj locations. Med-view now makes a number of domestic and international flights and boasts a growing fleet of aircrafts.
Aero Contractors
Its operation headquarters is at Lagos precisely at the Murtala Muhammed International Airport. It is believed to be partly controlled by the government. It operates local and international flights and has about 17 aircrafts for its flight operations. Charter and helicopter operations are also other services this airline provides. It is quite an old airline established in 1960.
Kabo Air
Kabo airline does not presently offer domestic flights but it operates charter, plies hajj locations and makes international flights to other countries like Dubia. The airline has recorded some accidents in the past, but fortunately no casualties. It is privately owned and was established in the Kano in 1980.
Azman Air
It is known for domestic flights and has its headquarters in Kano. Its flight routes basically cover every Northern Nigeria location and major city locations like Lagos, Abuja and Port-Harcourt as well as several other well travelled flight routes within Nigeria. Azman airline boasts of standard air services, with commendable customer relations. It was founded in 2014, has steadily grown and seems to have great potential ahead of them.
Dornier Aviation
This airline reportedly has it base at Kaduna Airport. It has a fleet of about 17 crafts all of which are said to be of the Dornier brand. Other than making domestic flights, it is known for its unique operations of providing medical and agricultural services. It has also been in business since 1979 and still maintains good standards.
A number of International airlines are known world-wide for their leading flight services some of which include: the British Airways, Egypt Air, Air France, Qatar and Turkish Airlines.
Investing or starting up an airline business in Nigeria could prove risky due to the nature of the Nigerian environment. But with careful planning and clever management, it could prove to be a profitable endeavor.