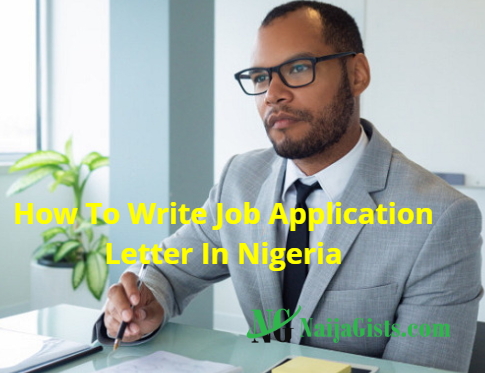 How To Write An Application Letter In Nigeria
A lot of us at various points in time have been required to pen down an official letter. If not a letter of application for employment, then definitely an application letter for some other thing. If you truly haven't, then be sure you would require this knowledge sometime in the future. Here are some pointers which could guide you in writing a job application.
How To Write An Application Letter In Nigeria For A Teaching Job
For a teaching job application, your letter may be put under more scrutiny, I mean, it is a teaching job after all and it requires competence. Every application letter should preferably fit into a page and be divided into neat paragraphs.
First at the top left, make sure you have the proper address format penned down correctly.
Your Address
(Name, email & phone contact,
Residential address and date) 
Recipients Address
(Official title, company name)
Subject/ letter title
Dear (name of hiring manager)
The first paragraph should signify your interest in the teaching position available and the avenue through which you got to know about the job opening.
The second paragraph typically contains your certified qualifications. You should mention the specific certifications qualifying your for that position. Don't forget to communicate a passion for good education and a general love and interest in children. You can split these into two paragraphs.
In the final paragraph, express appreciation for the consideration of your letter and your anticipation for a favorable reply. Yours Faithfully or Yours Sincerely are the most acceptable terms to use at the end of your letter.
Cover Letter Nigeria Style
A cover letter acts as a means of introduction. It is meant to convince the reader in your absence, to grant you an interview. It is the first impression an employer gets about you. So it should be clearly written and have the ability to capture the interest of the employer.
Therefore, the more creative and original you are with this letter, the better. Your cover letter should be addressed to a specific person. Make an effort to get the name of the person in charge of hiring.
The address format from the previous teaching application is acceptable here as well. In the first part, you should go straight to the point stating the position you are writing to apply for. Indicate how you got to know about the vacant position.
Your next paragraph is more like the main body of this letter. Here you get to express the qualifications and skills you possess that make you perfect for the slot. It would help a lot if your give practical and short examples of how your knowledge and experience can aid the growth of the company you are applying to. The body of your letter should be done in about 2-3 paragraphs
Your conclusion is next and it should have a strong and confident tone to it. Strength and confidence are the two things you are going for, not arrogant and disrespectful, so beware or your tone. Speak with a level of assurance of a feedback and the promise of a follow up.
Your name
And
Signature should follow.
How To Write An Application Letter For A Job Vacancy In Nigeria
The standard procedure when applying for a job is to begin with the correct addresses. In some formats, your address appears on the right, while the employers address is put on the left. In other formats, both addresses are placed on the left hand side, with your personal address being the first.
Whichever one you choose, both formats seem acceptable. Your address should contain your name, email, residential address, contact phone number, and then your date.
Directly under your address, your addressee's information should follow the official position of the employer, as well as the name of the organization. After this, a salutation Dear Mr. Julius Chukwu: making an extra effort to find out the name of the person who will be reading your letter seems to be an added advantage these days.
Moving to the letter proper, indicate your interest in the available position. It also seems to be standard procedure to state how you got to know about the job you are applying for, from the company website, news advert, from a staff, state it in the letter. This should cover the first paragraph.
In the next paragraph you get to state your certification and general qualifications. Here you let them briefly see why you are suited for the position in question. You should make your letter as convincing as possible make an effort to research the company you are applying to. What are their visions, what goals do they have? And then find a way to align your qualities with what the company needs and stands for.
In the following paragraph you could chip in a sentence or two of a useful skill or knowledge you possess and how resourceful you can be.  Inform them of attachment of the necessary documents if any.
Then your closing paragraph should come afterwards. Let them know you await a reply and plan to stay in touch. Make the necessary closing remarks, give your name and sign.
Sample Letter Of Employment In Nigeria
A Nigerian employment letter sample will look something like this
(COMPANY FULL NAME)
(Company Address And Contact)
Your Name
Date
Your Address
LETTER OF EMPLOYMENT INTO (NAME OF ORGANIZATION)
It is with pleasure I write to inform you that you have been offered the position of Administrative Manager at this profound organization. You are entitled to a salary of One Million Naira
(N 1,000,000) per annum. Your appointment takes effect from the date in which you resume your position in this organization which should be on, before, but not later than 17th March 2020.
You are required to adhere strictly to the laid down rules, regulations and general guiding principles of this company.
You are to provide an official letter of acceptance of this position to the company head office within 14 days of the receipt of this letter. The provision of a certified clean medical bill of fitness and two letters of recommendation are required criteria's upon which this appointment is subject to.
If the company for one reason or the other no longer requires your services, an official one month notice will be given in writing and in a case of immediate termination without notice, a one month upfront salary payment will be made following your termination of appointment. In the same vain, should you wish to terminate your appointment with this organization, a one month notice is mandatory.
Signature
Name
Position Occupied
How To Write An Application For A Hotel Job In Nigeria
When beginning a letter of this kind, you should communication a lively personality. Something like:
It is with excitement I write this letter to apply for the advertised position of Assistant Manager of the Hilltop Hotel Group. I have watched your prestigious establishment in admiration over the years, as it has grown to the mega height at which it currently stands. For decades I have nursed the idea of being a part of your incredible legacy.
Your following paragraphs should see you stating in short specifics what qualities make you the person for this position. Do you have catering related or customer relations experiences? Whatever skills you have that falls in line with the job requirements, put it down. Because of the nature of a hotel job, be sure to communicate how good you are with people relations.
My years of experience in  handling people makes me well attuned to the inner working of the human mind and I dare say this has made me quite knowledgeable in strategies to employ, when serving various personalities.
After this, you bring your letter to a close with the proper conclusion, closing remarks and addresses.
Application Letter For Sales Boy In Nigeria
An application for this sort of job doesn't require much but it is still good you make the best impression you can with the perfect letter. After you have gotten your address and employers address right, your subject of course will be Application For The Position Of A Sales Boy.
Express your interest in the job being advertised and the medium of advertisement through which you got to know. Then follow it up with your certifications and what you have to offer. I have a Senior Secondary School Certificate and a diploma in Sales from the Institute of Management Okene, Kogi State. I have three years working experience as a sales boy and I know I can carry out my duties efficiently.
Should you have any attachment of documents then mention them. After this you can close your letter. I would be honored if you seriously consider me for this position. Thank You. (your name & signature).
Sample General Application Letter For Any Position
Your Address (name, email & phone contact, residential address and date)
Recipients Address (name, official title, company name)
Subject/ letter title
Dear (name of employer)
I wish to express my interest in the position of (state position) at your reputable organization. I got to know about the availability of this position from your advertisement in the (medium through which you got to know).
 I possess a B.A in (state course) as well as an MSC in (state course). With a job experience of (state number of years), I am quite convinced your establishment will most definitely require my unique skill set.
I acknowledge and identify with the reputable standards or your organization and indeed believe my core values and visions align with that of your company.
For your perusal, copies of the requested documentations are attached to this letter. I look forward to your positive feedback.
Thank You.
Yours Sincerely,
(Your Name)
(Signature)
How To Write A Job Request Letter
A job request letter is another name for a job application letter, written to signify interest for a position in an organization, so the same rules which apply for an application letter applies for a job request letter as well. The letter gives you an opening to advertise what you are bringing to the table, which makes you well deserving of being part of the organization.
The addressing of such a letter is basically the same as previously mentioned address formats (your address), then (employer's title and address, subject of your letter and such). After this is done properly, feel free to leap into your reason for writing to the company and express your passion and enthusiasm to work with them and what drove you to apply for the position.
State concisely and clearly what your skills and qualifications are and how it will be of help to the organization in question. Be sure to mentions skills and experiences of relevance to the company's needs at the time. Do all these in a proper and official writing style.
Accompany your request letter with all necessary documentation to ease the process. Give the required concluding remarks and official closing
Thank You.
Yours Sincerely
Full Name
Signature