Hot Gists
How Top Oil Mogul Wrecked Kate Henshaw's Marriage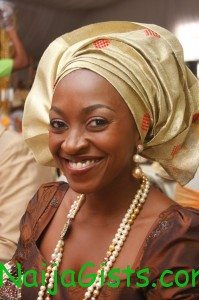 Dec 1st, 2011 – How Top Oil Mogul Wrecked Kate Henshaw's Marriage
According to News of the people, it came like a rude shock last week when the news hit town that Nollywood star actress and ex Globacom ambassador, Kate Henshaw has parted ways with her husband of over a decade, Roderick Nuttal. What made it so surprising to people that the marriage, which was contracted twelve years ago between Rod, a British and Kate a Nigerian from Cross River State, could hit the rocks, is that just four months ago, it was a very happy Rod that was by the side of his wife, Kate during her 40th birthday party held at The Civic Center, located at Ozumba Mbadiwe, Victoria Island in Lagos. naijagists.com
That day, the couple was the cynosure of all eyes and if any prophet has prophesied it that day that the marital bliss evident on the couple's faces that day will just take less than four months to vanish, the prophet would have been stoned to death and labeled evil messenger but as the saying goes "anything can happen", so it is in the case of Kate and Rod who already has an 11 years old daughter to show from their marriage.
Information reaching this magazine however has it that apart from the fact that distance was one of the factors that prevented the couple from enjoying matrimony; Kate is always on the move, from one movie location to another, endorsing this and that products and gracing A list events, Rod on the other hand is also a very busy person working hard to drive home his products, Jack Daniels and Piper Hiedsiech Champaign, which he sells under his Ledrop Nigeria Ltd where he holds the post of a Managing Director, there is also the allegation of infidelity hanging on the estranged husband and wife.
While Rod is said to have an appetite for black girls which she is said to have in droves, Kate on her own was said to have met a billionaire oil magnate who hails from Rivers state. The oil magnate who is said to be a mister for petroleum resources designate at a time developed interest in Kate and the two of them became friends. They later became close friends and later things started happening. It will interest you to know that the said oil magnate was present at the 40th birthday party of came and he came with a convoy of his friends to honour his friend, Kate.
A close source to the oil magnate explains "kate is a known face here. We that we work in Oga's inner cucus knows very well that Oga and Kate are very close. She comes here to see Oga but hardly will you know except for those of us that we are close to Oga and she cant see Oga without seeing us first. The relationship has been on for a while now but people don't know. I am very sure that Oga will be willing to have her as one of his wives if she so desires". naijagists.com
While this issue of the oil magnate fingered as being responsible for Kate's crashed marriage, both Rod and Kate have decided to be mature about the whole saga and go for a peaceful and amicable settlement if not for anything but for the sake of their beautiful daughter, Ella as they are now in talks with lawyers in order to perfect their divorce case which has already been instituted as you are going through this. naijagists.com
It has not been a very easy ride for the multiple award winning actress, Kate since the beginning of this year. Just this year ago, she lost the bid to retain her ambassadorial post with telecommunications giant, globacom. While the dust raised by that is just settling down then her 12 years old relationship crashed right before her very eyes. (Dotun Olanibi)