Crime News
"I Just Gave Her A Blow & It Touched Her Face" – Man Who Batters Wife Over Missing N500 In Ikorodu Lagos Confesses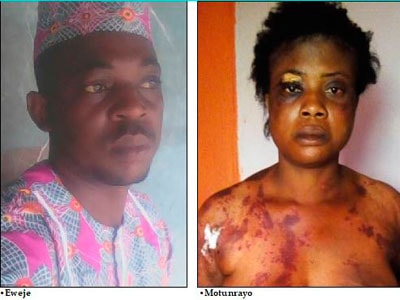 By Olatunde Odebiyi, The Nation
"I Just Gave Her A Blow & It Touched Her Face" – Man Who Beat Wife Up Over Missing N500 In Ikorodu Lagos Confesses
A woman identified as Motunrayo Eweje has accused her husband, Ayoyemi Eweje, of battering her over his missing N500.
35-year-old Motunrayo said the incident occurred last Tuesday after Eweje couldn't find the N500 note he kept in a carton on the refrigerator in their Baiyewu, Ikorodu residence.
She said she was making a customer's hair on June 27, when Eweje, a generator repairer, accused her of taking the money. He ordered her to go and look for it, so, she returned to her customer. When she finished, he refused to let her into the house.
Motunrayo told The Nation that the next day, Eweje ordered her to pack out of their home, following which she left with her two children, aged 11 and 5 years, to her friend, Mrs Blessing Jacob's place.
According to her, last Tuesday (July 3), Eweje trailed her to Jacob's place, beat her up and threatened to kill her and her friend.
Motunrayo said: "My husband was looking for N500 that Wednesday. I was making someone's hair outside the house when he told my children to call me. He asked for the money. I told him I didn't know anything about it and I went back outside to continue making the hair. When I finished, I returned home but the door was locked. I had no choice than to go to Mrs Jacob's place that night.
"The following day (Thursday), I went back home to take care of my children, and do some house chores but the door was locked. I went to where he was to get the key; he returned to the house, opened the door, sat down, crossed his legs and told me to pack my things. I did as he said because I was already tired of the marriage and I went back to my friend's house with my children.
"Last Tuesday, he came to my friend's house around midnight and knocked on the door. My friend and I thought he came to settle the quarrel but he entered the house and beat me seriously, leaving me injured.
"I am tired of this marriage and I want it to end. It has been full of quarrels, beatings and arguments. I am not in love again. My husband does not take care of me; he only pays the children's school fess and house rent. I am the one that takes care of my children both in feeding and clothing. He does not give me money for food," she said.
Mrs Jacob corroborated Motunrayo's claims.
She told The Nation that Motunrayo was her close friend, saying she allowed her come to her house because her husband fought with her.
Jacob said: "I quarrelled with her that she should go back to her husband (before the day he came to beat her) and make peace with him, but she said the man didn't want to see her again, that her things had been thrown outside, that if she went home, he would kill her. That was why I accommodated her.
"I went to her husband to beg on her behalf and that he should accept her, but he refused.
"He came to my house that Tuesday around midnight. When he was knocking the door, I thought he came to make peace, and to take his children and wife. When he entered, he embarrassed me, saying I was the one discouraging his wife to be wayward. He said he wanted to take his children and suddenly, he started beating his wife.
"I told the woman to run out, but he said he was going to kill her, that no police could arrest him. He said I should call whoever I wanted to call. He said for accepting her in my house, he was going to kill her, and kill me as well."
But Eweje, who admitted beating his wife, told The Nation that it was a mistake. Recalling the incident, he said she asked him for money for food but he told her he did not have.
Eweje said: "I later remembered that I put N500 in a cartoon on my fridge in the house. I asked the children for it but they said they did not see it. I also asked her for it, she said she did not take it, I told her no one else could have taken the money and that she should go and look for it; but she turned her back on me and left the house and she never came back home till the next day. I wanted to give her that money for food."
He denied asking her to pack out of the house.
Eweje said: "When I was at a meeting she came to meet me to come and open the door for her. I opened the door and the next thing was that she carried her load out. I did not tell her to pack.
"I know that I made a mistake to have beaten her. I am crying now because I have beaten her and I am saying that this will not happen again. I want you to help me ask her if she still loves me or if there is no more love."
"My wife was not like this before we moved to Ikorodu, and it is because she is now rolling with people that are bigger than her and they are not advising her to do the right thing; I know she has a man friend.
"My mother and her mother are now fighting because of this matter. My father has told me to come home, my wife and I are both form Ondo State."
He, however, denied being cruel to his family in their over 11 years of marriage.
"My wife is lying that I have not been taking care of the family. Did you not see how big she is? And she says I am not feeding her. Which work is she doing that she is using to take care of the family? I have a shop where I repair generator and I also earn a salary. I still love my wife and I want my marriage back. I have beaten her before, but since last year I have not beaten her. I beat her that night because I went to her friend's house to get my children back home, but she was dragging the children in my hand; that was why I beat her; I just gave her a blow and it touched her face."
Eweje, who was arrested last Wednesday, told our reporter that he was released on Friday on bail after paying N30,000.