Hot Gists
"I Wish To Marry A Man Like My Father " – Chika Ike Says As She Blames Self For Marriage Crash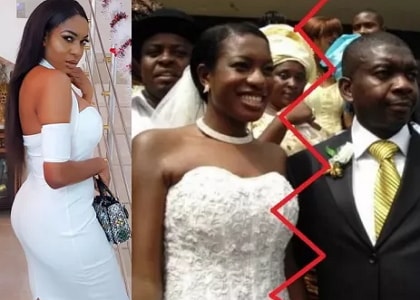 "I Wish To Marry A Man Like My Father " – Chika Ike Says As She Blames Self For Marriage Crash
In this interview with Lanre Odukoya, Nollywood actress Chika Ike speaks about her failed marriage, family and sundry issues.
See excerpts below:
You revealed a lot about your family issues in your new book, what steps did you take to reconcile with your father?
Despite the rejection by my father, everything that happened is a result of courage that has shaped me into the woman that I am today. Although my father is dead now, I was able to do that (reconcile) with the help of my mother. We had a good relationship before he passed on about three years ago. We had that moment where we had to sit down and make amends.
Do you now have a good relationship with other members of your family after?
Definitely! One of the reasons you have to read the book to know how we got to that point. I think it's what happens to a lot of people because most time you don't know what you are doing until you are confronted by what you have been doing. My father was a wonderful man and good husband to my mother; looking at their relationship always made me to want to get married. My father was full of surprises and he made me believe that marriage is beautiful depending on who you are getting married to.
Some have argued that women like to marry men with the qualities of their fathers; do you desire a man like your dad?
Yes, if I could have a husband like my father because he was a perfect gentleman and husband to my mother.
You talked about your previous marriage, is there any part of the book where you addressed finding love again?
Of course; in the book I mentioned my past marriage and everyone is aware of it because it was all over the social media. Also there is a part of the book where I also took part of the blame and all that.
Are you in a new relationship now?
I think you have to wait for the big announcement to come when it's due.
Having spoken about your past relationship in the book, are you not scared that you may be dragged to court for revealing a bit too much?
For me, all I wrote in the book is equally all that have been addressed in the court and in the media, there is no defamation of character at all because it's all there in the media. The court knew why I left my marriage because it is legal as it was due to domestic violence which was obvious. I don't have a terrible relationship with my ex; I have forgotten and let go all that happened and moved on.
What will you miss most about your late mum?
I will miss everything because my mum was a very strong woman, passionate and don't forget she was a pastor. She was educated and a very outspoken philanthropist. She was my pillar; like I always say to people, when your parents pass on, God becomes your father and mother and he will surely be there for you always.
How do you feel when your vulnerabilities are highlighted?
The normal reaction because of course nobody wants his/her vulnerabilities to be played upon. But at this point in my life it's a two-way street, life is either good or bad. You embrace the truth and leave the bad; at this point I think I am strong and for me to write this book, it showed that I am ready.
How were you able to overcome those turbulent moments in your life?
I think one of the greatest challenges so far for me was when my parents passed on. For two years I was living, but I was not myself because I was going through a lot of emotion. Six months after mum died, I lost my sense of being; what I mean is that I could not think straight because I was going through a moment of depression. I never knew that the loss of a parent or a family member could make you pass through this but at the end, I prayed, went for counselling and I got better.
How affordable is the book?
Very affordable, as a copy can be got for a token of N5,000 but in a short while, I will be doing lots of promotions. You have to stay tuned to benefit from it.
You equally said you took some blames in the book; some would be curious to know what part of the blame you took and how you were able to resolve it…
You have to read the book to understand all the phases I went through. Truth be told, I took blames that were mine, and how I overcame is one of the reasons you have to read the book.
You ventured into real estate at 20, why then did you delve into acting?
I have always loved to act because acting is my first love; it makes me wake up in the morning feeling happy. My latest movie is titled 'Small Chops' and it will be out in cinemas across the country. Real estate on the side is equally one of my ventures because I am a business-oriented person and acting has given me that platform to get favoured and be involved in several projects.
With the book you titled 'Boss Up,' should we expect to see it adapted into a movie or TV series?
Let's keep our fingers crossed and just see how things unfold because I'm very sure I will pull a Beyoncé on all of you. Currently, I am looking at all the opportunities that will come with it, but on the movie aspect I have not thought about it yet.
What is the scariest experience you have had in acting?
I was on crutches at some point and what made me to use that is part of the reason you need to read the book. That was one of my scariest moments because I thought I was going to lose my legs because the doctor told me I won't be able to do some things for some years. That was my breaking point in Nollywood.
Did it happen during a movie set?
Yes, it was on a movie set.