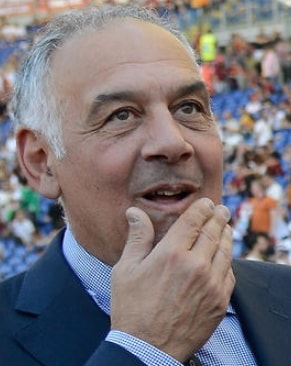 Italian FC Roma Owner James Pallotta Fined For Jumping Into Water To Celebrate Club's Win Over Barcelona FC
American business man who owns Italy's biggest football club Roman found himself in hot water after doing a back-flip into a Renaissance fountain in Rome to celebrate a historic win.

James Pallotta, the president of AS Roma, tumbled into the fountain in Piazza del Popolo, one of the capital's most celebrated squares, after his team pulled off a stunning comeback to knock Barcelona out of the Champions League.

As he took the dip late on Tuesday night, just after the match had ended, fans cheered, clapped and chanted "Forza Rome" (Go Roma). But the exuberant stunt was met with indignation by some Italians, with a prominent consumer group demanding that Mr Pallotta, a businessman who leads a consortium that bought Roma in 2011, be fined up to €500.

Codacons said the football club owner had set a deplorable example to fans, as well as to tourists visiting the Eternal City. "This was an inconsiderate gesture and an ugly example for millions of young people who follow football and who should be taught how to respect cultural heritage," they said in a statement. "There is a €500 fine for anyone jumping into historic fountains in Rome. Hundreds of tourists have been sanctioned in this way in recent years and the same treatment should be meted out to the president of Roma".

On Wednesday, 60-year-old Mr Pallotta called the mayor of Rome and apologised for the night-time immersion, saying he would pay any fines issued by the city. Virginia Raggi, the mayor, accepted the apology.
"He did it in a moment of excitement, but he's recognised how important it is that he sets a good example," she said. "He'll pay the fine." Mr Pallotta then went a step further and pledged to donate €230,000 for the restoration of a historic fountain outside the Pantheon, the ancient Roman temple that was converted into a church in the seventh century.
Source: Daily Mail UK