Jada Pollock: Wizkid New Baby Mama & 'Emotional Manager'
Nigerian music star, Wizkid is currently embroiled in a serious domestic feud with two of his baby mamas. The family feud reached a new low on Thursday, September 20, 2018, when his first baby mama revealed some hard-to-ignore evidence against him, to back up her claim of Wizkid's negligence of her and her son.
This recent development, was a follow up to the consistent accusations, he's been subjected to by the second baby mama, Binta Diallo over the past few weeks. Binta Diallo has labelled Wizkid a 'deadbeat' dad and an irresponsible father, who neglects his son.
However, among the barrage of insults and curses, there seem to be a fortress of refuge for Wizkid, in the loving/protective arms of Jada Pollock, his third baby mama and manager. Jada Pollock has always stood up for Wizkid, against the other two baby mamas. She seems to be, not only his career manager but also his emotional manager. So who is this Jada Pollock?
Jada, formerly known as Jada Styles, is the 34-year old manager and baby mama of  Nigerian music star, Wizkid.
She was born in the US, in October, 1983. She later moved to the United Kingdom for her secondary and university education before heading back to the US to develop her career.
Professionally, she is a successful manager, who has previously managed the likes of Pia Mia (the famous singer), Chris Brown and Bu Thiam (Akon's Younger brother) among others. She is also a trained stylist and she had a brief stint with the Italian apparel giant, Gucci.
She's currently a member of Wizkid's management team. She technically oversees the music star's daily schedule and activities. Hence, they see each other a lot and are very close.
Their relationship graduated from professional to personal, shortly after they started working together. Within a short while, she became pregnant for Wizkid and had her baby towards the end of last year. The baby was named Zion.
Zion is the third kid of Wizkid, making Jada Pollock his third baby, behind Binta Diallo and Shola Ogudu.
Wizkid recently announced his plans to name his upcoming album after Zion, to celebrate his 1-year birthday.
 Relationship with the Other Baby Mamas
Wizkid having another baby, with another woman doesn't quite sit well with the other baby mamas. In fact, there has been rumours that they don't get along at all.
She once drew the ire of the other baby mamas, when she posted on social media, heralding Wizkid as "the best dad in the world". Both Binta Diallo and Shola Ogudu would have none of it and they lambasted her for calling Wizkid, who they claim is a deadbeat, the best dad in the world.
She obviously sees herself beyond just Wizkid's baby mama. She's been able to prove that, given her successful career.
It is evident, that both Shola Ogudu and Binta Diallo, the first and second baby mama are earnestly seeking Wizkid's attention, as well as affection. Unfortunately, they are not getting it neither are their kids. This is, no doubt, the prime cause of the feud going on.
Furthermore, while the two other baby mamas are not getting enough attention and affection , for themselves and their sons, Jada Pollock seems to have it all in that aspects. This, no doubt, must have bred jealously and envy in those women.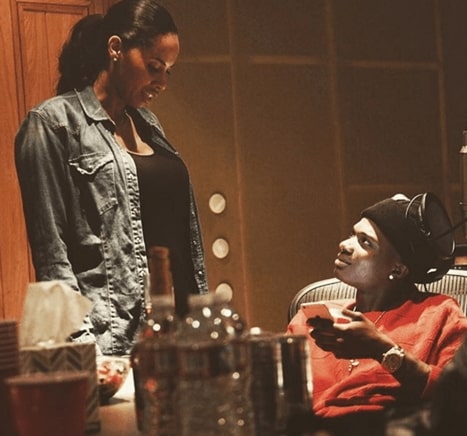 Hence, from all indications, it appears this woman, Jada Pollock is the not only the executive manager of Wizkid's professional but also the emotional manager for his personal and romantic affairs.