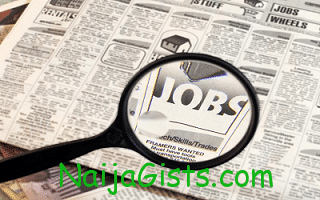 March 24, 2012 – Jobs in Nigeria 2012: Latest Nigerian Jobs For Today
Before you continue please keep in mind that scammers and fraudsters are using Nigerian Jobs websites to collect people's information for fraudulent use. In order to avoid them, be careful when applying to jobs with gmail , yahoo, hotmail, live .com email addresses.
A reputable company will either leave their phone number or their company's email address.
Haven't said that, find below the latest jobs in Nigeria for 2012 from www.nigeriajobstoday.com
Jobs, Vacancies & Positions in Nigeria 2012
Jobs in Nigeria By Category
Above are just few of the job positions in Nigeria visit www.nigeriajobstoday.com 
Congrats to those of you who sent us your success email keep in mind persistence and focus is the main key to securing a job in Nigeria.
Lots of love (NaijaGists.com)!