Entertainment News
John Mikel Obi, Russian Wife & Twin Daughters Make First Family Visit To Nigeria [PHOTOS]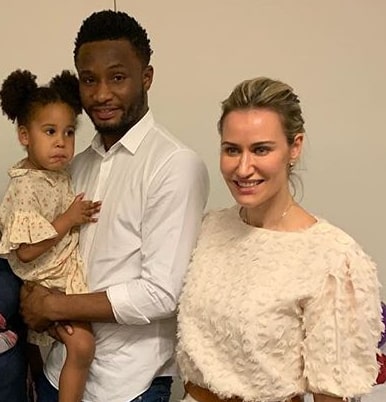 John Mikel Obi, Russian Wife & Twin Daughters Make First Family Visit To Nigeria [PHOTOS]
Russian Billionaire Daughter Olga Diyachenko Praises Nigerian Women, Says They Have Good Self Esteem
Footballer Mikel Obi's wife Olga Diyachenko who recently paid a visit to Nigeria with her husband and their daughter took to the social media earlier today to write a touching tribute to all Nigerian women.
Olga who shared pictures of some locations she visited in Nigeria wrote:
"Nigeria, what a surprise you've turned out be. But, if I'm to say what impressed me most, it's The Women. So much; grace, charisma and not a shred of insecurity. Nigerian women walk swaying their beautiful hips with their backs impeccably straight, heads held high, knowing their worth.

"Their attitude is strong, yet very sensual, regardless whether it's a wealthy woman walking through a 5 star hotel or a young girl crossing the road at 7 AM rushing to work. Although may I say, Nigerian women do not rush, nor do they fidget, they simply glide.

"The way Nigerian women preserve their culture and traditions is admirable. They don't chase international designers or dress according to Vogue, they wear beautiful traditional dresses, dance the traditional dances and do it all with pride!

"I hope Ava and Mia will inherit the calmness, sense of pride, posture and self worth that I've witnessed Nigerian women posses with such ease. Nigerian Women hat off to you #Nigeria #Pride #Women".
This is her first visit to Nigeria.
What a honest assessment!!. We hope she will be able to say the same thing in the next 10 years.