Crime News
Karen Igho Slapped By Security Guard At Night Party In Lekki Lagos (Smirnoff 3D Party)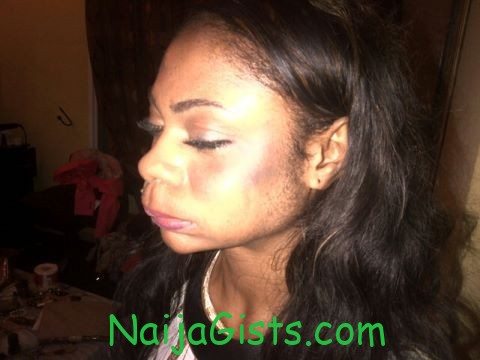 Dec 15, 2012 – Karen Igho Slapped By Security Guard At Night Party In Lekki Lagos (Smirnoff 3D Party)
As at the time of this report, former BBA star (Big Brother Africa), Karen Igho is currently in pain after she was slapped mercilessly by a security guard on Friday night at a party she attended in Lekki Lagos State Nigeria. naijagists.com
According to Karen Igho tweets, the security man allegedly slapped her during the Smirnoff 3D party that took place at Land Mark event center in Oniru yesterday.
Karen Igho said the security man who slapped after she refused to give him money loaded his gun and threatens to shoot her.
The impact of the slap sent her to the floor which made her to hit her head on the ground.
She has vowed to proceed with a lawsuit.
Below are some of her Twitter rants:
Wow I got slapped at a Smirnoff party, by a security guard!!! is it because I'm a woman?
He loaded his gun and put it to my face at the car park, Said he will shoot me if I don't give him money..I said I didn't have. He slap me!!
Now my face is swollen and I'm in pain!!
All I wanted to do was to go support my friend @DENRELE_EDUN who hosted the event
Wow I got slapped at a smirnof party, by a security He loaded his gun and put it to my face at the (cont)
I feel abused and hurt
The slap sent me landing on the floor and hitting my head
My team are on this
Called my lawyer
Even my father has never slapped me like this and the loading of the gun to shoot me wow am in shock
I know I have a good heart but I won't let this go with out fighting for justice cos he might do it to someone else
May be this is an indication that she should reduce her night clubs attendance. Seriously this lady loves to party.
Nothing in this world should justify the abuse she suffered. What a jungle justice!
We wish her quick recovery.