Hot Gists
Lagos Bans Vehicle Number Plates From Other States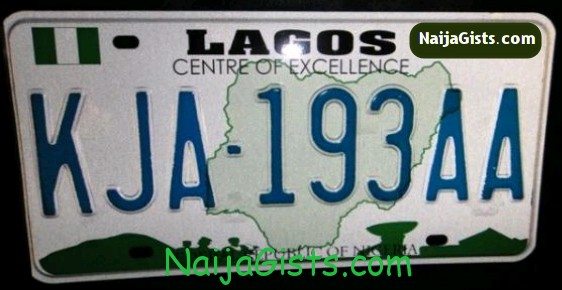 Oct 4, 2012 – Lagos Bans Vehicle Number Plates From Other States
Effectively immediately, the Lagos State Government has announced the ban of vehicle number plates from other Nigerian states. naijagists.com
People with private number plates are to modify it to reflect the fact that they're living in Lagos State.
Mr Gbolahan Toriola, the Vehicle Inspection Officer Director said the move is aimed at achieving safety and security standards as specified in the new road traffic law.
Here is what he said:
"There is nothing wrong in bringing commercial buses from other states. But if you must use it in Lagos, you have to change the colour and re-register it with us so that we have your information in our database
"This is a standard procedure. As a matter of fact, it you have lived in a state for about three months, you are no longer a visitor and therefore you must change your number plate to reflect the state. It is done in America and other developed nations.
"Of course, this provision did not affect inter-state vehicles carrying passenger from other state. But we don't expect them to pick or drop passengers at every bus stop. There are dedicated bus stops and parks for inter-state vehicles. If they violate this and we get them, they will face our law.
"You must put waste basket in your buses; there must be first aid box; you must carry extra tyres. These are what our law stipulates." (punchng)
Passengers drivers are to apply for special marshal status at the transportation ministry office.
Drivers are advised to comply with the new law for security and safety.