Crime News
Robbers Attack Houses In Lagos; Housewives Forced To Cook Delicious Meals For Them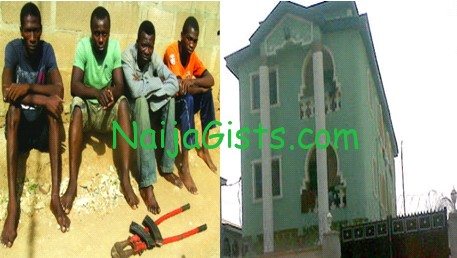 Oct 4, 2012 – Armed Robbers Attack Houses In Lagos; Housewives Forced To Cook Delicious Meals For Them

In a bizarre twist to robbery, some armed robbers recently attacked several houses in Okokomaiko area of Lagos state Nigeria and during the attack, some of the housewives were forced to prepare delicious meals for the robbers. naijagists.com
According to vanguard report, they particularly struck at 2, Charley Pace Street, broke into the flats and tied their husbands together while the women were compelled to bring all they have in their kitchens. As the women were busy preparing delicious dishes for them, the bandits ransacked their apartments and collected over N235, 000 including their valuables.
Victims said their operation started at about 7.00pm in the evening and ended at about 10:30pm.
Crime Alert learnt that before their operation, four members of the gang sneaked into a two-storey building at about 6.00pm and hung around the pent house which no one occupies for about an hour. One of the tenants in the building was reported to have seen them but could not confront them thinking they were visiting a co-tenant. It was also discovered that the robbers used a neighbour that is familiar with the tenants to penetrate each and every flat in the building.
When Crime Alert visited the scene, different accounts of the victims were taken. The first eye witness, a tenant who pleaded anonymity said: "I was lying down when I saw one of the robbers loitering around and I challenged him, asking him what he was doing in front of my flat.
He replied me aggressively and brought out a gun, so I surrendered to him. He told me that he will not hurt me if I cooperated with him and that I should go upstairs into one of my neighbour's flat because that was where other tenants were been kept.
One robbers held tenants hostage
"When I got there, I saw the other tenants in the room. The men had their hands tied and their lips were sealed with tape. It was just one robber that kept us hostage, he was holding a gun while the rest were searching the flats. When we were finally released, I discovered that my flat was turned upside down and they carted away N30,000 from my flat."
Another victim who told Crime Alert that she went out to throw away waste when one of the robbers pointed a gun at her and forced her to go back to her flat narrated her story. She said: "I was going out to throw away waste when one of the robbers pointed a gun at me and ordered me back to my flat.
"He said if I failed to cooperate that he will 'seize my breadth', so I went inside. He asked me to bring all that I have with me and I told him that I had nothing with me, he searched the house, collected my phone and told me to go out and knock at the door of other neighbours of which I told him that I am a visitor and I don't know anybody."
Another victim said that neither she nor her husband was around at the time of the robbery, and that she was returning from the market when she heard a cry for help from the building and quickly ran to the leader of the community security to lay her compliant.
Community security
"I was just returning from the market when I heard a cry from the building shouting thief! thief!! I ran to complain to the leader of our community security who responded immediately but we could not catch up with the robbers who had left before we got there."
The leader of the community security who is simply called "Baba catch", said that he alerted other members of the community security immediately he was informed about the robbery but could not catch up with the robbers.
"I was told by passers-by that the robbers crossed through a wooden bridge that leads to another community and that a suspected boy in a military camouflage was caught some minutes after the robbers crossed the same bridge but was released after some interrogation.
"I alerted my boys immediately I was informed by a tenant of the building that robbers invaded their homes. We did not catch up with them and I ordered my boys to comb the community. Later, we were told that they crossed over to the other community through a wooden bridge. When we got the bridge, we sighted an under aged man in a military polo and we stopped and interrogated him to know who he was and he aggressively responded that he was a solider but could not present his identity.
"I have to call a retired military officer that lives in the community to come and attest to the claims and when he came, the boy later confessed not belonging to the Nigerian army but a member of the boyscout. That was after he was slapped on the face by the angry ex-military officer. However, he was freed after the interrogation."
Okokomaiko robbers sabi food ha ha ha!