Crime News
Libya-Based Hairdresser Asia Rita Arrested While Trafficking Nigerians To Libya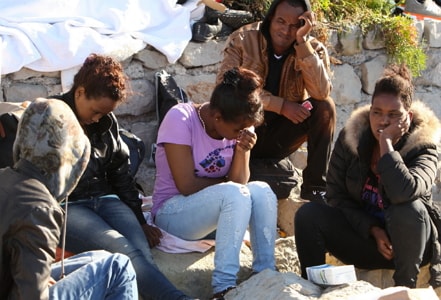 Katsina State Command of the Nigerian Immigration Service has arrested a Libya-based hairdresser for alleged human trafficking.
Rita, a 44-year-old mother of three was paraded by the NIS on Monday alongside 7 suspected human trafficking victims.
They were intercepted at NIS control post in Jibia Magama while making their way to Libya where Rita operates a salon and food joint.
The victims between the ages of 11 and 44 were from Oyo, Lagos, Ogun and Bayelsa state.
Rita who possesses Libya's residence visa is a frequent traveller who regularly comes to Nigeria to take victims to Libya as indicated on her passport.
She has been handed over to the NIS in Abuja for investigation.
In an interview, Rita who denied knowing the victims said she was taking her 3 children to join her in Libya after 9 years of separation.