Crime News
New Set Of Libya Returnees Arrive Lagos Nigeria Today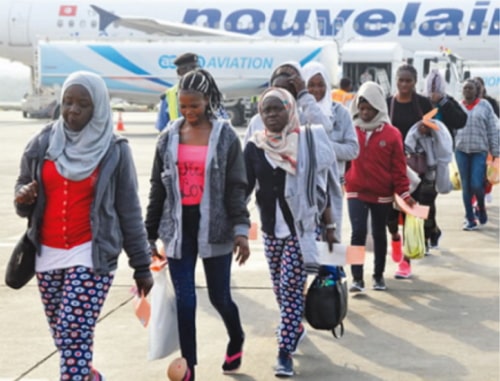 File photo
NEMA Welcomes New Set Of Libya Returnees Home
At least 180 Nigerians stranded in the North African Country – Libya, were today deported to the country through the Murtala Muhammed International Airport, Lagos.

The returnees according to sources were received by official of the National Emergency Management Agency (NEMA).

The returnees , the source added were flown in aboard Buraq Air with flight number UZ 189- 190 .The aircraft was marked with registration number 5N- DMG. It departed MJI Airport Tripoli, Libya and landed at the cargo wing of MMIA.

The Returnees comprised of adults female 82, female children two and female Infants 11 while the adults male were 79 with one male child and 5 five male infants making it a total of 95 females and 85 males.