Columns
Life In Nigeria Today: Idleness & Mismanagement Of Human Capital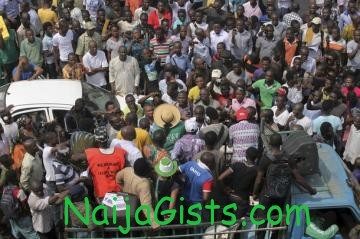 Oct 23, 2012 – Life In Nigeria Today: Idleness And Mismanagement Of Human Capital
On several occasions when I had reason to go into some of the side streets in Lagos, I always saw a disturbingly large number of young Nigerians hanging around doing what can at best be described as nothing. The number of young Nigerians one sees in one pursuit or the other on a daily basis would give the impression that most young Nigerians are gainfully pursuing one thing or the other.
In a particular area of Ikorodu Road in Lagos State, I always marvel at the speed with which young men assemble whenever there was a breakdown of a commercial vehicle on the road. I found it strange that they would quickly gather and make a lot of noise demanding to be settled by the driver of the vehicle without offering any form of assistance to the driver in distress.
A recent visit to Warri also showed a large number of idle Nigerian youth.
I also came across a large number of idle youth in Benin. This not a good omen for government and for Nigerians. It gives reason for inquiry especially as these young people are known to have a taste for the good things of life.
A nation where much of its workforce population is idle is breeding a generation of criminals and the few decent and hardworking Nigerians will never know peace because of the growing generation of criminals. It is clear that many of these idle youth are not pleased with being idle but they believe they are helpless because of difficulty in changing their status.
Government must come to terms with the fact that if these people are constructively occupied by government, there would be further reduction in the increasing crime rate in Nigeria.
There must be a way that the government can involve young Nigerians in the business part of government; many of these young people see nothing wrong in hanging around when able bodied men and women are out pursuing one venture or the other. They also see nothing wrong in taking to a life of crime; on the contrary, they feel that they are using what they have to collect what they want mostly by force. And in applying force, they feel that the society has been unfair to them and they would stop at nothing in getting back at the society.
The effort of the Lagos State government in adopting and employing many young men and women in state agencies like Kick Against Indiscipline (KAI) and Lagos State Transport Management Authority (LASTMA) would have been a perfect example save for the dent by the resurgence of violent armed robbery operations by a group which the police has identified as 'one million and one boys' of Ajegunle.
A state like Delta would do well to create agencies like what obtains in Lagos State as a way of helping many more young people to feel the impact of government in their state. All states in Nigeria that are experiencing incidence of crime would do well to embark on programmes that would directly involve and occupy young people to ensure that they are not made to feel 'left out.' In addition, several calls have been made for young Nigerians to participate in reviving the prosperity of the Agricultural sector by taking to farming. Government would do well to provide every support to young Nigerians who are willing to take up farming.
Police detention facilities are bursting at the seams with the number of young people who are being held in detention and courts that have cases brought before them are also being over-stretched.(culled from DailyPost)
GOD bless Nigeria.