Hot Gists
Fans Want Lilian Esoro & Ubi Franklin Back Together As Their Son Marks 2nd Birthday
Even though estranged couple Ubi Franklin and Lilian Esoro have already started a divorce proceeding in court, their fans have not stopped calling for a reunion especially after new photos of the couple and their son emerged online today.
Their son, Jayden had his second birthday a couple of days ago and his parents once again put their differences aside to celebrate their son.
Few hours ago, Ubi shared photos from the birthday party and their fans have been begging them to come back together, the divorce not withstanding.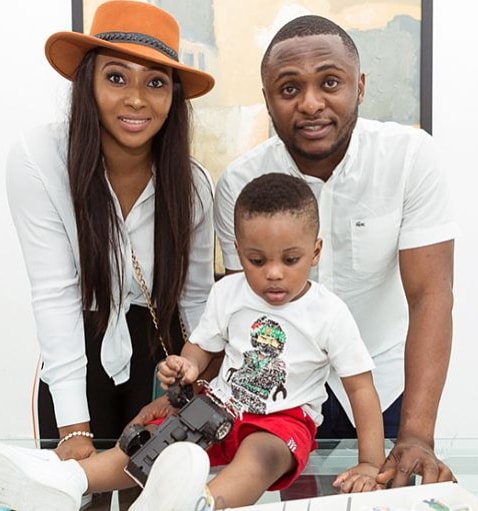 See fans comments on the photos below
obothelen71@ubifranklintriplemg and @lilianesoro Christ in his infinite mercy will give both of you peace in every side according to his word, ur marriage will b sweet again in Jesus Name dont listen to anybody d best advice is from God just seek HIM . Jesus LOVE seeing u too together, just do all u can to bring ur wife back n GOD will stand by u till all is done happy marriage life once again. Jeyden u r favoured n bless among ur peers happy birthday to u dear
tracy.edwinPerfect match @lilianesoroo & @ubifranklintriplemg de love i see in the pictures are so intense . I love please let's go & come back as one
omoagah
bbiodunwilliams@stannebor I know you can still see the love!
sparkles_and_stonesYou guys should just get back together already
ugobellaYou both earned a massive respect from me for this. As in I salute you both.
julian_jdjrThe boy is too beautiful.
theoseoluwakemiI won't be surprised when Jayden gets a sibling from u both sha!! I will be super happy though. A baby gurl as beautiful as mama jay cos jay don resemble papa jay.
umutoniwase250What God put together no man can separate I rebuke the spirit of division over this family in Jesus name amen . God please bring them back together I'm sure they know now where they went wrong
---
Mere looking at the photos one can tell that Lilian and Franklin still have feeling of love for each other.
We hope they both make the best decision for the good of their adorable Prince.