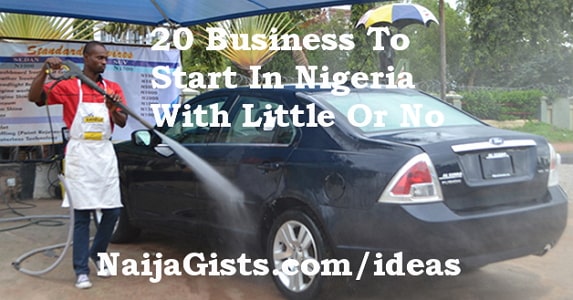 20 Lucrative Businesses to Start in Nigeria With Small Capital, Low Investment
While talking about the lucrative businesses in Nigeria that require only little or small capital, we have a number of them that anyone  can venture into and start earning dividends in few weeks or months of start up.
Most Nigerians are creative thinkers and, thus, are business entrepreneurs to the core. Nigerians are well-known all over the world as hard-working people and, thus, are intelligent when it comes to dealing in entrepreneurial businesses.
Typically, Nigerians are potential entrepreneurs and can venture into any entrepreneurial business, be it kerosene selling, oil selling, car dealership, coal dealership, gold mining, car wash business and lots more. We shall be elaborating on some of these lucrative businesses in Nigeria that require only little or small capital in this very article.
Below is a list of the 20 lucrative businesses run by the common Nigerians which require little or small capital:
Kerosene Selling: This is one of the most promising lucrative businesses run by many Nigerians that do not require much capital at all. Hardly will you pass through any common street in Nigeria without seeing a kerosene dealer or seller. Sellers and dealers of kerosene are found in all the streets of Nigeria and the business is worth it as the largest percentage of the Nigerians use kerosene for cooking, burning of refuse and for other similar purposes. 
Oil Selling: This is more lucrative than kerosene selling in the sense that all our vehicles including cars, Lorries, trailers, pick-up vans, and motor-cycles use the engine oil for servicing, and owners buy this product at frequent intervals in order to keep their vehicles in good conditions. If you've been an oil dealer or seller, then you would have been the best person to talk about the profit potentials. 
Car Dealership: Car dealership is also a lucrative business in Nigeria as it's not required to spend your own hard earned money before you can start selling cars to the people. Most car dealers in Nigeria actually connect with the car selling companies in Lagos and agree to sell cars to the people at a profit while they remit the actual purchase value of the cars to the company. 
Coal Dealership: If you're interested in selling coal, it's a lucrative business run by the common Nigerians too which requires only little or small capital. It's such a business anyone can start with as little as 10000 Nigerian Naira. 
Car Wash Business: I've seen a lot of jobless graduates in Nigeria who started this business with 30000 Naira buying the needed materials like soap, plastic water tanks, hose and lots more. Though there's an engine that helps to pump water into the tanks from the streams, you may start without the use of this engine and later graduate into that. 
Gold Mining: Though the gold mining business is equally lucrative and highly profitable, a few Nigerians are involved in it, particularly the Northerners. 
Recharge Card Selling: This is a lucrative business you can start in Nigeria whether you're wealthy or not and, with 10000 Nigerian Naira or less, you can start selling recharge cards in Nigeria. 
Online Registration: This is now run by the most Nigerian youths and it requires little or small capital. With 30000 Naira, you'll be able to start this business helping students register SSCE and JAMB exams in Nigeria as well as earning lots of cash from the checking of results. 
Cyber Cafe: Most people do think they have to invest millions of Naira before they can set up a standard Cyber Café, whereas this is not so. With 50000 Naira only for the purchase of 1-2 computers and an internet modem, you can set up a basic Cyber Café and graduate to a standard one at a later time. 
Business Center: This is another lucrative business in Nigeria which requires little or small capital. You only need about 2-3 computers, a printer and scanner to start with. 
Estate Agent: This involves helping the people who are in need of accommodations, or portions of land secure those things easily, without walking around the streets at all. Estate agents usually pocket 10% of what they receive for the acquisition of the asset or the rent of the accommodation. 
Cloth Selling: This is one of the most lucrative businesses run by the common Nigerians in the marketplaces. Some of these sellers deal in the different kinds of clothes and they earn huge profits from the sales. 
Used Book Selling: Sometimes, sellers of the used educational materials like textbooks make more profits than those who sell new books. This is because most homes are suffering from poverty in the country and such parents would prefer to go for used materials instead of not buying at all. 
Bar & Restaurant: This is a business that involves the cooking and selling of fast foods to consumers. It does not require much capital and can be started with as little as 50000 Naira only. 
Rental Services: This is another lucrative business most people think would require heavy capital, whereas it does not. For a start, you may get a few dozen chairs, tables and some plastic drums which may not cost more than 50000 Naira altogether and later graduate into taking out more costly rental equipment. 
Spare Part Dealers: This is a lucrative business and the most suitable one for those who have got much experience in engines and repairs such as motor engines, generating plant, motorcycle engines and the likes.
Cake Making: Cake makers are known as the silent money makers as they can make hundreds of thousands of Naira in one contract sometimes. It depends on the type of occasion for which they may be hired to make ceremonial cakes. 
Music Studio Running: If you've learned how to play some musical instruments like Guitar, Piano, Saxophone and many others, you may commercialize this business and make lots of cash from it. It also requires only little or small capital. 
Tutoring: If you're passionate about teaching in the various fields such as Mathematics, Physics, Chemistry, Biology, Further Mathematics and others, you can make a lot of cash, and this does not require much capital at all. 
Daily Contribution Collecting: You can join the community of those who go about the streets collecting daily contributions from the petty traders. You can make a lot of money from that business too.