Entertainment News
Majid Michel Biography & Net Worth: Life Story, Family History & Education Profile Of Ghana Most-Loved Actor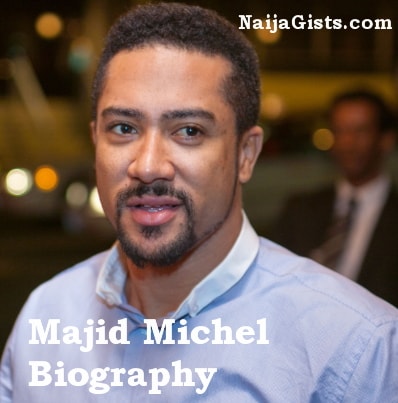 Majid Michel Biography & Net Worth: Life Story, Family History & Education Profile Of Ghana's Most-Loved Actor Of Lebanese Origin
By NaijaGists.com reporter
Ghana is home to many of the best talents to ever come out of Africa. One of such amazing individuals is the multi-talented award-winning star, Majid Michel. The actor who is of Ghanaian and Lebanese origin has written his name in ink on his country's wall of fame and has recorded a very successful career, with his works traveling beyond the shores of Ghana and Africa as a whole.
Majid Michel's story is one that always thrills fans, and it is of no wonder that the famous actor has managed to stay relevant over the years. Surpassing his peers both on the local and international level. His career spans different professions, all in the entertainment scene. From street performances to studying the arts in a University and breaking into the limelight, Majid Michel is a man to reckon with in the entertainment industry.
Not only is he one of the biggest male actors in Africa but he has also managed to capture the heart of mostly female fans being one of the 'famous trio' of Nollywood's lover boys. He has had his fair share of fame and controversies and is well known for making headlines for his erotic roles in movies, which often lead to several controversies over the years.
He has a few awards to his name both on the local and international level and is one of the few lucky actors that came up at the right time and was able to break into Nigerian movie industry, Nollywood. He has since then been on an upward spiral in his career, breaking new grounds and widening his horizon over the years. Without doubt, Majid Michel is one of the biggest stars to ever come out of Ghana, and he has done well to make his name known and presence felt through his exceptional work.
Majid Michel Life History & Educational Background
He spent all of his childhood days in his home country, Ghana. He was born on the 22nd of September 1980 to mixed origin parents which consisted of a Lebanese father and a Ghanaian mother, a factor which has been considered to be the major reason for his exceptional good looks. Majid Michel had six other siblings and had his place of origin at the Cantonment, a suburb of Accra, Ghana's capital.
The famous actor was one that always nursed a passion for the onscreen life and had started showing interest in acting from his childhood days. He had his primary education at the St. Theresa Primary School in Accra Ghana and was well known for being an active member of the school's drama team from the onset.
After his primary education, Majid Michel subsequently went on to get his secondary education at one of the most prestigious schools in Ghana named the Mfantsipim School. A school that is famous for producing world class renowned elites such as the former Secretary General of the United Nations, Kofi Annan and his soon to be future colleague and A-list actor Van Vicker. Although Majid Michel was a very promising and brilliant individual, he had a set back as he suffered from dyslexia in his early childhood. He soon overcame this condition and had a successful experience at the Mfantsipim School. He won the Best Actor Award for his school's drama presentation for the celebration of Emancipation Day, a national celebration in Ghana.
He later decided to further his education by enrolling at the University of Accra where he studied theater arts. One could say he managed to kill two birds with a single stone having developed his intellectual capacity while also working on his skills to increase his prospects as a successful actor in Ghana, and the whole world at sight.
During his stay at the University of Accra, Majid Michel was quite famous for his dramatic acting skills, and he played important roles having been a member of various drama groups in the school. He was famously called 'King of acting' by his peers as he always managed to steal the spotlight when given a chance. One could say Majid Michel was always made for the spotlights as he had already started receiving awards since his early school days.
Majid Michel Career, Awards & Net Worth
Majid Michel is one of those lucky individuals who were fortunate to have found their passion from the childhood days and was given a chance to nurture and develop it. He started acting from his childhood days and by the time he was an adult ready to enter into the 'real' world, he was a box of talent waiting to set the world on fire.
After a period of engaging in local drama at the Mfantsipim School, Majid Michel decided to follow his passion and studied Theater Arts at the University of Accra. He subsequently went on into modeling after his university education. A choice that set him up for success in the entertainment industry. He has on various occasion shown gratitude to his longtime friend who encouraged him to try out for the modeling Agency which was called Super Model Agency.
The actor began to rise among the ranks, and his fame increased after a brief stint as a model, and it did not take long for him to get his breakthrough into the movie industry. Majid Michel made his first headline in the movie industry when he played the role of a sweet mouthed waiter "Shaker" in the television series 'Things We Do For Love'. The series was one demonstrating lives of teenagers and the challenges they encounter. It was a big success, and it put the actor into the limelight.
After a successful time as one of the favorite acts on the series Things We Do For Love, he became more sought after and it didn't take long for him to get his first major movie role in a movie titled Divine Love. Coincidentally, the movie was also the debut for his A-list colleagues Van Vicker and Jackie Aygemang. This is quite astonishing as the trio are currently one of the biggest stars in Ghana and Africa as a whole
Speaking of fortune, Majid Michel was one of the lucky Ghanaian stars to benefit from the Frank Rajah Arase of Nigeria and Venus Film Productions of Ghana contract. Frank Araje was a popular Nigerian director and showed interest in bringing Ghanaian stars into the Nigerian market. The deal was a successful one, and its movies were also major successes that helped take many of Ghanaian stars to the peaks of their career.
The actor went on to feature in many commercially successful films under the partnership. A major turning point in his career was when he had his Nollywood debut, playing a lead role along with Nigerian superstar, Genevieve Nnaji. The actor had claimed on several interviews that he was starstruck when he met the beautiful actress, and he enjoyed his time with her.
Due to his good looks and charisma, Majid Michel played mostly romance roles in movies and was a favorite among ladies both inside and outside the industry. This came with its benefits and negative consequences as well. Some of his movies under the Araje contract include The Game 2010 and Crime to Christ 2007, just to mention a few.
By 2010 the famous actor was already one of the most paid in his profession in Africa having being paid about $15 000 to feature in movies. His career was one that was characterized with success having become an household name in his home country Ghana, Nigeria and Africa as a whole with several reputable awards and nominations to his name.
Majid Michel has always been a golden boy from his early days, but he won his first major award on the international stage in 2012 when he won the Best Actor in Lead Role at the Africa Movie Academy Award after three previous unsuccessful nominations. An award that is believed to have had a positive boost on his career both at home and abroad. He has several other minor nominations and awards.
Having had a very successful career, Majid Michel is one of the biggest stars in Africa. He has managed to build a fortune that is bound to exist for a very long time, and his significance in the Ghana movie industry cannot be overemphasized. He is one of the highest paid actors, and this combined with his several endorsements have earned him an estimated Net Worth of $1.5 million
Majid Michel's Family & Relationships
Majid Michel is regarded as one of the sexiest actors in Africa, and this has earned him a large female fan base over the years. He has been the victim of several controversies, and his romantic roles in movies have been a flame to the fire. But despite all the female attraction, the actor is happily married to his wife of 13 years Virna Michel.
The actor has always used every opportunity gotten to hail his wife, often attributing his success to her and God. This is of no surprise as one would be amazed at how his wife stayed with him despite the unwanted attraction from the female fans and controversies that came along with it. The couple got married in 2005 and had since then managed to build a strong relationship, having three beautiful girls from the union.
The name of his daughters are Kiera and Michel, but the name of his youngest is unknown. His fans believe that the actor is not ready to expose her to the public due to her young age. Without doubt, Majid Michel is a dotting dad and tries to create time for his family, especially since he decided to make a permanent move to Ghana. A move that was believed to have been forced on him.
His relationship with his wife and children continue to foster strongly. The actor once released a statement online in 2015 claiming she was extremely supportive and understanding of him and his career. He also claims none of the rumors and allegations are true and he has never had an affair with any of the Nollywood stars. Majid Michel is a good family man. He has managed to keep his personal affairs separate from his professional life and develop both individually, with success at that.
Majid Michel's Biography Conclusion
Although the actor was at the peak of his career a decade after he started acting, he decided to make a move to Ghana although his main projects were in Nigeria. Many of his fans believe this was a result of threats he received from his Nigerian counterparts who were jealous of him because of his fame. He then took that time to play active roles in the local Ghanaian movie industry, an industry he once claimed was dead. After a brief stint, he returned to the major airwaves and had since then gone to feature in several blockbuster movies.
Apart from professional life, Majid Michel claims to be born again and has taken on the full responsibilities of pastoral work. This came as a shock to his fans as this would stop him from doing many things such as playing romantic roles in movies, which is something he built his career on. Nonetheless, the actor said it is a serious decision, and this can be confirmed by his pastoral ordination and gospel outreach activities. He is a strong critic of premarital sex and masturbation, having claimed to have been a victim himself.
His newly found lifestyle has been a major deterrent in his career as he his most popular for his romantic scenes. He also claims many of his friends abandoned him due to the change, but the actor seems to be doing pretty well. He has featured on some of the recent blockbusters such as Shattered Life 2016, The Department and award-winning 30 days In Atlanta.
Away from the onscreen and pastoral life, Majid Michel is on philanthropic activities and is one of the vibrant entertainers working with international organizations such as UNO to develop ailing sectors in Africa. Majid Michel is also working on developing the Ghanaian movie industry, and possibly has Hollywood in sight.
As the popular phrase goes thus "He has paid his dues and deserved some accolades".
Majid Michel has made an immense contribution to the African movie industry and has been one of the few actors who showed the African talent to the outside world. He is an excellent family man and most importantly, he is one that always follows his passion. One can then say that Majid Michel is one in a million and one of Africa's greatest blessings.
Copyright © NaijaGists.com. All rights reserved.

This material, and other digital content on this website, may not be reproduced, published, broadcast, rewritten or redistributed in whole or in part without prior express written permission from NaijaGists.com.