Crime News
Man, 47 accused of raping 12-year-old girl four times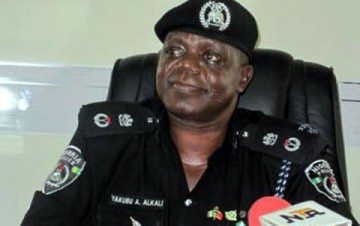 Feb 22, 2012 – Man, 47 accused of raping 12-year-old girl four times
Just like any observant parent, Mrs. Kehinde Oduntan became concerned when she wanted to wash the clothes of her children and noticed what looked like semen in her 12-year-old daughter's underwear. naijagists.com
She quickly summoned her husband, Peter, and informed him of her discovery. Peter confirmed that what she saw was actually semen.
The parents questioned their daughter (name withheld) and after much threat, she told them their 47-year-old neighbour, Mr. Lateef Amuda, was the one that had sex with her.
"We asked her how many times he had had sex with her and she refused to tell us," the mother stated.
It was learnt that the girl later told nurses at a hospital that Amuda had had sex with her four different times.
When our correspondent visited the family at their home in Meiran area of Lagos, the girl maintained that the man actually raped her four times.
Her mother said, "We were angry; we could not fathom why Amuda, whom we have always seen as a family friend, could do such a thing to a young girl. My daughter said Amuda would come to our apartment and ask her to follow him. She said those times he slept with her, my husband and I were not around.
"She told us the last time he slept with her, she was sleeping on the bed and Amuda entered our apartment, woke her up and asked her to follow him.
"We then reported at the Oke-Odo Police Station and the police arrested him. While Amuda was locked up, his relatives came to beg us to get him released.
"They apologised to us to forget about the matter, that what had been done could not be undone. We were furious. I told them I was not a fool that the police would decide what to do with him."
It was learnt that Amuda was arrested on February 2 and was released five days after. Since his release, the suspect had not returned home.
When our correspondent visited Amuda's apartment, his wife and 15-year-old daughter refused to grant him audience when he identified himself and stated his mission.
The victim's mother told reporters that she took her daughter to the hospital for tests, including HIV and pregnancy tests. She said although the results were negative, there was need to repeat the tests based on medical advice.
"The hospital said we might have to come back for more tests in the near future because some things might not manifest in her body for now," she said.
Amuda reportedly insisted on his innocence throughout the time he was locked up at the police cell.
However, he purportedly wrote a letter to the victim's parents, in which he promised to pay the sum of N15,000 for the girl's treatment.
The letter, shown to our correspondent was written in Yoruba and purportedly signed by two of Amuda's relatives; Bose Adesan and Taju Amuda.
"I, Lateef Amuda, promise as a result of the incident at my residence, where I was accused of raping a girl, that I would pay the sum of N15, 000 to the family of Peter Oduntan for her treatment by the end of February," the letter stated.
"We are angry that he has been released. The police said there was not much they could do on the case," the girl's mother said.
When our correspondent called Amuda on the telephone, he denied raping the girl.
Amuda said, "That girl is too young for me to do something like that to. I don't know why she kept mentioning my name.
"I decided to pay the money on the orders of the police and my relatives. The IPO said I should go and apologise to the family and my relatives followed me to apologise.
"When we got there, the girl's family told me that if I admitted that I raped her, they would drop the case. So, I said I did it because I did not want to prolong the matter. More so, my relatives told me not to argue with them and agreed."
When asked why he had not been home since he was released from police custody, he said, "I have been feeling ashamed. You know when something like this happens, the whole neighbourhood would be making jest of the person accused."
However, a source at the police station denied that the police advised Amuda to apologise to the girl's family.
The source said, "God would judge him if he actually went to tell such a lie. I was infuriated when the mother of the girl informed me that Amuda had written an undertaken to pay the family some money.
"When I asked him, he said it was his family that told him to write the undertaking and apologise to the family. Nobody here (police station) is related to the family in any way. Which policeman would do such an unprofessional thing?"
The source said investigation was still ongoing on the case and that the medical report had not been delivered. (culled fr punch)