Crime News
Man Accuses Wife Of Committing Adultery For Refusing To Use Vibrator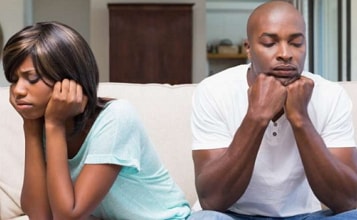 Man Accuses Wife Of Committing Adultery For Refusing To Use Vibrator He Bought For Her While Travelling Abroad
By PM Express
A woman and her husband simply identified as Okwy (surname withheld) engaged in a fight over 'unused sex vibrator'. The incident happened at Idimu area of Lagos where they resided before the husband, Okwy travelled abroad and left her with their three children. He reportedly bought a sex vibrator for his wife, Nonye while he was traveling abroad for greener pastures.

According to P.M Express, Okwy ended up spending five years abroad and when he returned he met the vibrator still intact in the pack just the way he bought it as his wife refused to use it for those years. He became angry and accused the wife of having committed adultery while he was away.
It was gathered that the wife explained to him that she did not use the vibrator to satisfy her sexual urge because she was afraid to use it and so she decided to abstain until he came back. However, the husband did not believe her and has threatened to sack her saying that she must have slept with other men when he was not around.
It was gathered that the man stopped eating her food, sleeping with her and insisted that he will not have anything to do with her until she confessed what she had purportedly done and certain rituals performed.

The matter became open when the wife could not bear her husband's attitude. She decided to confide in his close friends in order to intervene and resolve the matter but to no avail. It was gathered that when the wife tabled the matter before his close friends, the man still refused insisting that he will not have any conjugal relationship with her until she confessed and certain rituals were performed in line with their culture and tradition in Enugu State.
It was gathered that it was the general belief in their community that when a man marries a wife and she slept with another man, that it was a sure way for a woman to kill her husband. That was what the man was said to be avoiding but the wife insisted that she did not sleep with any man throughout the years the husband was away but the husband refused to believe her.
It appeared that the matter will not be resolved so soon as the man had insisted on confession and sacrifice but the woman maintained that there was no need for that because she did not sleep with any man when her husband travelled abroad.