Crime News
Mary Konye Jailed: Nigerian Naomi Oni's Acid Attacker Sentenced To 12-Year Prison Term
March 21, 2014 – Mary Konye Jailed: Nigerian Naomi Oni's Acid Attacker Sentenced To 12-Year Prison Term
The evil lady who attacked a London-based Nigerian lady back in 2012 has been jailed.
Mary Konye, a jealous girl who attacked her best friend because she called her ugly in December 2012 was handed 12-year imprisonment on Friday at a court in the United Kingdom.
The 22-year-old attacked Naomi Oni with acid while she was returning home from work on that fateful evening.
The attack left beautiful Naomi badly disfigured, the scar on her body has left her with a lifetime of pain.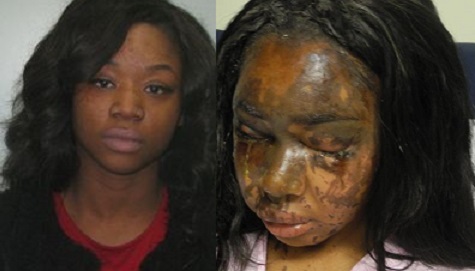 Mary Konye on the left
Mary Konye wasn't in court today due to health reasons….
This is Naomi Oni's current look