Entertainment News
Mercy Aigbe: "Yoruba People Are Not Tribalistic…They Are Warm & Fantasic"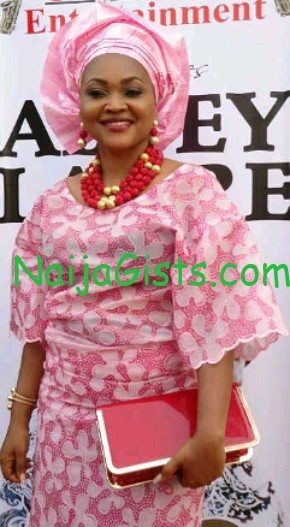 Feb 8, 2013 – Nigerian Actress Mercy Aigbe: How I Become A Nollywood Star
Popular Yoruba movie actress and producer, Mercy Aigbe-Gentry has said it was sheer determination and hardwork that got her to the top in the Nigerian movie industry.
The Edo State- born actress who is set to release her latest movie, Komfor, following the success of her blockbuster, Gucci Girls, disclosed this in a chat with Entertainment Cafe. When Aigbe-Gentry started acting, she could not speak Yoruba fluently but she later mastered it and succeeded in the Yoruba genre of Nollywood.
"I remember a day I was on set. Abbey Lanre was directing and I started speaking Yoruba. He asked: 'Why is this lady speaking Yoruba like an Igbo girl?' My Yoruba was not fluent then. But because of the passion I had for acting, I had to learn the language on the job. I am a goal-oriented person. Whatever it takes to learn any language, I will go all out to learn it so that I can give meaning to the character I am playing," she reminisced.
Aigbe-Gentry, who loves playing challenging roles, also said the kind reception she got from the artistes in the Yoruba movie industry aided her climb to the top.
"I have been really lucky because when I came into the Yoruba movie industry, they all accepted me. The people I met there are fantastic. They are warm. They don't want to know to know where you are from. They are not tribalistic. As long as you are good at your job, they give the opportunity," she said.
Aigbe-Gentry's road to the top was not devoid of setbacks. She remembers the day she cried when she was paid N2,000 after spending more than two weeks on set
"I already had a car and my own business. I had a cosmettics shop.I was alreay doing well. For me to be paid N2,000 was an experience I cannot forget. It has really helped me because it shows that I have paid my dues. It has also made me a stronger person," she said.
Asked why she loves playing challenging roles, she said such roles stirs her creattve spirit and brings out the best in her. She said Omotola Jalade Ekeinde is one of her role models because she has proved thar one can be married and still succeed as an actress.
Aigbe-Gentry's forthcoming movie, Komfor, will be released soon. It tells the srory of a lady whose kind gesture latter turned bad.[PMnews]