Hot Gists
My Mother Told Me She Is A Witch Using Witchcraft To Protect Me – Afflicted Man Cries Out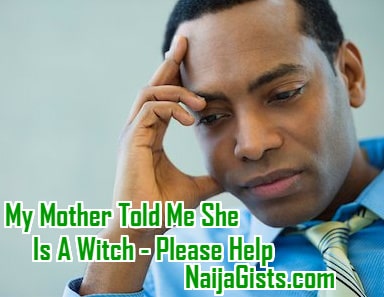 My Mom Confesses To Me That She Is A Witch Using Witchcraft To Protect Me… What Do I Do?
See the content of a scary email NaijaGists.com received from a visitor few hours ago.
---
My name is Bryan,  a mixed Nigerian based in Spain, I got to this website while making some researches on the search engine and I have decided to contact you. Can you please help me post this on your website to see if anyone has gone though or is presently going through what am facing.
My mother is a Nigerian from the South South. I have battling an affliction since childhood and everything I did failed up till now so I decided to take to the internet to do some researches.
You see, I live with my mother but stay in a separate part of our home.
Something happened to me over the weekend while I was doing some researches on my illness and I read a particular article that stated that my condition was caused by witchcraft.
So I called up my Spanish father who told me specifically that he left my mum because she practices witchcraft.
This happened just last month.
Since then I have been researching what witches do and all that.
So on Sunday I went to my room downstairs and while I was researching about witches mum, I heard a knock on my door.
I was afraid at first because my mother was not at home at that time of the day and I didn't hear any footstep prior to my mother knocking my door so I knew right away her witchcraft spirit might have come to manifest or attack me.
At that point, I knew am in trouble.
Lo and behold as I opened my door, I saw my mum who at that time was laughing hysterically.
At that point, I knew she will either kill me or turn me into another creature.
Before I could query her motive for showing up in a strange manner, she told me point black that she's a witch who has been using her witchcraft power to protect me since childhood.
Just as I was about asking her more question, she disappeared right in my presence.
I thought I was seeing a vision but alas I came to my senses about an hour after that encounter.
Since that time I have been trying to see how I can get myself off her web.
I called up a couple of friends who told me to come to Nigeria for deliverance.
Do you guys think this will help me.
How do I get myself free from this oppression.
I'm 35-year-old, I don't have a job, nor a girlfriend.
All am nursing now is an excruciating pain on my left leg which has been there since childhood.
Please can somebody deliver me from this woman before she finally sacrifices me to the devil kingdom.
I have never been more afraid than this.
Is it true that witches sacrifice their children.
Is she planning to sacrifice me to the dark world.
Someone please tell me am I in trouble.
Is there any hope of survival.
Can I ever get free from this bondage.
How do I get delivered?.