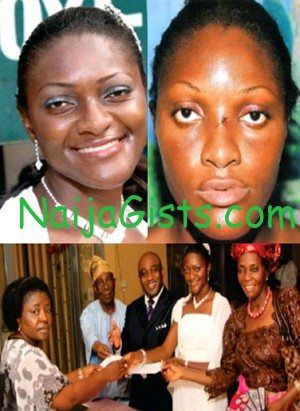 Feb 8, 2013 – Newly Married Nigerian Bride Locked Up & Beaten By Her Siblings A Day After Her Wedding

A newly wedded bride, Mrs. Eteoghene Owumi is seeking justice against her siblings for kidnapping, assaulting and depriving her of her liberty 24 hours after she got wedded to her husband.
In addition to the wounds, trauma and captivity, her siblings forcefully took the sum of N45,000 from her and had to drive her to the bank to use her ATM card to make some withdrawals.
She was on honeymoon with her husband who visited from the United States of America (U.S.A) for the marriage when the incident happened and the enraged husband is seeking justice in the matter as his told National Daily that his in-laws spoilt what should have been the happiest day of their lives.
"For the first time in my life, I am regrettably ashamed to say I am Nigerian by birth. No woman anywhere should have to suffer horrible physical, emotional and mental abuse at the hand of no one. The cultural mindset and lack of a true justicesystem in Nigeria has made it possible for such unspeakable act of violence against my wife to happen and I will make sure justice is done. I will go after all the people that did this to my wife with every arsenal at my disposal," he said.
National Daily investigations revealed that Jude Owumi, who resides in Atlanta, Georgia in the U.S had arrived the country in December to finalize the marriage rites on his heathrob, former Miss Eteoghene Okpu and the two got wedded at the Ikoyi Registry on the 15th of December, 2012 with representatives from both families present including the bride's mum.
But the eldest brother of the bride, Mr. Justin Ochuko Okpu, who resides in Abuja, was absent and had been making frivolous demands from his prospective in-law before the wedding.
According to a sworn statement of affidavit by the victim, Mrs. Okpu, she had gone to Abuja to inform her eldest brother as tradition demands of her intention to get married to her fiancé.
"I made it clear to him (Justin) that I had made up my mind was made up and that I was making the right choice. At the end of the discussion, Justin said okay he has heard and I should tell my husband to come over to Nigeria, that the marriage rites would take place in December. Though he pretended to agree to my marrying Jude, he later said we shouldn't do anything till my husband comes around to Nigeria and I should not tell anybody about our discussion because he wants to" show my husband some difficulties." On hearing this, I became very uneasy and returned back to Lagos," she said.
She went on to disclose to her family about the ace up the sleeves of his brother and they asked him to inform her intending husband to come for her hand in marriage. But she further revealed that her brother has on several occasions been making demands on her fiancé.
"Before now, my husband called him (Justin) on three occasions just to interact, be friendly and also to let him know of his intention towards me for marriage. Instead of my eldest brother to welcome him and reciprocate, Justin became demanding of my husband in doing things for him. This attitude made my husband to withdraw and almost ended the relationship. My brother demanded that my husband should send him his American documents, divorce papers that Jude was planning to send to me for him to keep and also asked my husband to send him an open letter of invitation to America to join him first and also do the same for my other sibling. He told my husband has to do all these before he can be considered to marry me. I was very embarrassed," she said.
After the exchange of vows at the Ikoyi registry on the 15th of December, where her mother, Mrs. Agnes Egoyibo Okpu, stood in for her in signing the marriage certificate in the witness of well wishers, family members and close friends, the couple went for the reception and then proceeded to Mountain of Fire (Prayer City chalet) for their honeymoon. But Justin, who had his air ticket bought for him by his new in-law, called the next day that he was boarding the flight and demanded that her sister, now married, should keep his money for him.
"My brother called and said he was about boarding the plane and that I should get his money ready as he would like to have the money before meeting with my husband. I told him that I did not inform my husband and sis not have the money but he called again when he landed. By then I had informed my husband who said the agreement was for him to buy him a one-way ticket not return and I told him that. He asked me to come and see him. We chose where we lodged so that I can be near my elder sister's house, Uche Uyi-Okungbowa, in Mowe, ogun State." She said.
On reaching there, her brother Justin in the presence of her elder sister, Uche Uyi-Okungbowa, started beating her; slapping and kicking her until she fell down, then he dragged her by the feet into a room before locking her in one of the room inside the house. She was locked up till the next day when the husband came with some officers from Mowe Police Station.
"After a while, I heard noise around the house. I was praying for someone to come and rescue me. Suddenly my eldest brother, Justin< came into the room screaming that my husband brought policemen to arrest him and started beating and hitting me again until I started bleeding. He forced me to make false written statements against my husband that he was luring me into marriage for human trafficking. He later took N5000 from my purse and with the help of my elder sister, they drove me to the nearest bank and forced me to withdraw N40,000. Justin took the money and left on a bus to Abuja," she said.
Confirming the incident, the Divisional Police Officer (DPO) CSP Abayomi Oladipo, in a police interim investigation report with reference AB:4099/OGS/IBF/VOL.4/1,08 and dated 3rd January, 2013 confirmed the incident. He stated in the report, a copy of which National Daily obtained, that the wife of Jude Owumi was actually held hostage on arrival at the residence of her sister situated at 48, Alhaja Ajaebi Street, Mowe town. Which was the residence of her assailants and there was mark of visible violence on the face of the victim and she was released from captivity based on pressure mounted by the police. Oladipo also stated that the pepetrators of the crime are on the run and the case has been kept in view pending when they would be apprehended.
National Daily contacted the sister of the victim, Mrs. Uche Uyi-Okungbowa and she responded that she does not wish to speak on the matter.
An email exchange obtained by National Daily emanating from Uche's husband, Uyi Uyi-Okungbowa, did not mention Uche being part of the assault.
"For your information, your 'wife' lived with me and my wife Uche for thirteen and a half years. During this period, my family did not only treat her like a sister but rather like a daughter with love and care that was envious of both her family members and outsiders. We clothed her, fed her, trained her, put a roof over her head and made life comfortable for her even when it was not convenient for us and am sure all of this you saw that made you consider her good enough for a wife. As I read through your writeup, all I could imagine was that life is indeed an irony. I don't wish my enemies to ever find themselves in this kind of situation in their lives talk less my friends. It is indeed the irony of life and how good, love and costly sacrifice can turn around to hunt one," he said.
Meanwhile the husband of the victim has vowed to take further action on the assault on his wife. In an email notice he sent to his in-laws, he promised getting the US government into the issue."I plan to petition the Consulate General of the Nigerian Consulate here in Atlanta, Georgia very soon to open a complete investigation into the abduction, assault and theft of money against my wife, and false criminal threat against me while I was in Nigeria. The Consulate General is responsible for the welfare of native Nigerians living here in the United States.
I will copy the State Department of the United States that governs the presence of the Nigerian Consulate General in the United States to put him on notice that this matter MUST be investigated in accordance with the human right laws of the United States.I will also copy the Governor of Ogun State and the Governor of Lagos State of my investigation petition to the Consulate General of the Nigerian Consulate here in Atlanta, Georgia to bring government exposure to this unspeakable crime against my wife," he promised. [Source: National Daily]
Eyah they no want her travel to America……
These people must be brought to justice if found guilty…..