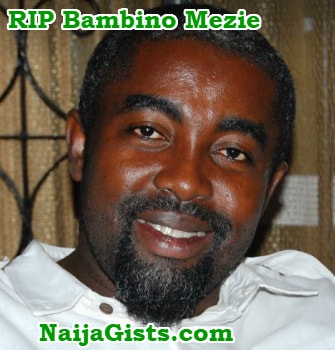 Nigerian Actor, Stand Up Comedian Bambino Mezie Dies In His Sleep In Surulere Lagos Hours After He Tells Friend To Pick Him Up For World Cup
Nollywood lost another icon in Lagos yesterday.
Actor Bambino Mezie passed away in his sleep yesterday the 16th of June 2018 after a short battle with kidney infection.
The actor who last stepped out for  Zafaa Global Awards on the 14th of June reportedly went to bed hale and hearty on Friday but didn't wake up in the morning on Saturday.
One of his church members who was supposed to take him along to a football viewing center near his home for Nigeria and Croatia match got a call from his wife early Saturday morning that he was found in a lifeless state.
Here is what Ben Sodangi Ambi said:
"I am very sad at the moment. I ve just lost one of my best friend today, I was together with him yesterday for a morning devotional service in church yesterday but early this morning I receive the news about his deth….. R I P….. Chukwudi Bambino Anachina , one of the Nigerian finest nolly wood actor
He asked me where we were supposed to watch the supper eagles match today and I told him that I will drive my car straight to his house and pick him up to Elise street, off Agbonyi avenue where we normally Watch football… I am really sad now,."
The deceased is survived by a wife and 4 children.
May his soul rest in peace.