Hot Gists
Nkiru Sylvanus: I Have Been Married More Than 3 Times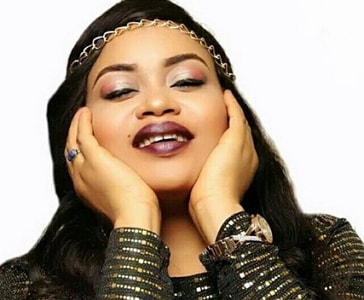 See excerpts of Nollywood actress cum singer Nkiru Sylvanus recent chat with Dupe Ayinla Olasunkanmiu
You recently released an album, 'I'm not Afraid'. What is the idea behind the title?
It simply means that I am not afraid of the powers that be. I am not afraid to express my commitment to God, I am not afraid to let the world know I stand with Christ. It's about time we took the kingdom work more seriously.
What is the album content like?
The album is a bold step at bringing out one of my gifts, which is singing, and it is already on different online platforms. The 15-track album was released on March 25, 2018 by the Record Label, Kisil Entertainment Network.
It has songs like Imela, I Cry to You, Authority, Chukwu Obioma, Awesome God and I'm Not Afraid, featuring Ifunanya. I will begin the first leg of my media tour in Lagos.
With the release of your album, will you be putting movie aside?
They are all art and entertainment, they marry each other, and they complement each other. For me, going into gospel music is a passion that has been subdued for too long and it's about time I came out and used the talent for the purpose it was given. None will give way to each other but I hope and pray to use both well.
How do you intend to push yourself with gospel music, especially considering that you don't have a strong stand against secular music?
Gospel is gospel. I am not competing with anyone; all I pray for and would work towards is to create my own space. Whether secular or gospel, we all have a message to deliver; how you deliver yours is what matters.
How long do you intend to pursue music as a career?
I wish for this to last as long as my breath can take me, hence I am taking it easy because I plan to stay here long enough and be able to give out quality message while doing the work of my Father in heaven.
Having been off the movie scene for a while, how do you think people will react to the new you?
I have always been with the people, and amongst the people. And I wouldn't say I've been off the screen, because I still do movies. But you can say that you haven't been seeing me quite often. Right now, I am back full time, because that is my first love
What kept you busy while you were off the movie scene?
It's been work, work, and work. For me, there is never a dull moment. I'm one who always wants to engage myself positively. I do not have time for show off or stories. I just work.
Tell us about working as a public servant to the people of your state?
I grew up with working for the public, because entertainment is for the public. For me, it wasn't anything extra ordinary. It was discharging my duties in a different form to the public and taking orders, putting in my best as I would every other thing I venture into.
Why haven't you been functional in movies like in the past?
I never left the scene in the first place.
Like most of your colleagues are doing, do you harbour any plan to become producer too?
I am a producer already and I have produced some movies and will keep producing more. I have my own entertainment company.
Was being typecast one of the reasons you took a break?
I don't understand this, because I got my break in the industry with my first major work.
There have been several reports on you being married. Is there any truth to those reports?
We need to ask the rumour mongers because I am as confused as you are. It's all rumours from idle people. It's all lies. For me, my private life is my personal affairs. So whatever decision I take tomorrow, it's totally my responsibility. If it turns sour, I face it alone and if it turns sweet, I face it. It's my life. I do what makes me happy. I've been married on the internet more than three times! They first got me married in 2008, then they got me married again in 2011 and then they got me married again in 2014/2015. I'm beginning to ask, why do they like to get me married? If I was already married in 2008 and in 2011, why again should I be getting married in 2015?.
But there were reports that you got married to your colleague's hubby?
Which colleague? Because the last time I checked I am not married to anybody's husband.
It is believed that you got your political appointment because of your personal relationship with the governor. And you left because of his wife. How true is this?
Appointment is like employment. You are employed to work, not to sit and eat. You work to put food on your table and also acquire more knowledge. Appointment isn't an achievement that one would sit back and beat his chest to say I have arrived. What could be so special with 'come and work' that people will make so much fuss about it? We should focus our energy on more productive things. My boss is my boss, nothing more and the wife is like a mother to me.
What is your reaction when you come across these stories?
I don't pay attention to things that don't add value to me, so I barely notice them.
What then is holding you back from taking the marital vows?
It will happen in due time, and when the time comes it won't be a hidden affair; you will all be invited. When the right man come calling and if I'm satisfied within my soul that this is the man I'm going to spend the rest of my life with. I've worked hard as a young lady that, right now, I don't want just any man but a man that will be there for me. A lot is being said about me, and I know.