Entertainment News
Nigerian Actor Who Died Of Spiritual Attack After Mother's Burial In Akwa Ibom, Oliver Duke Remembered!!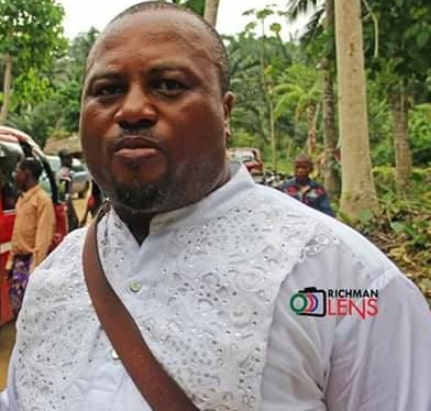 Nigerian Actor Who Died Of Spiritual Attack After Mother's Burial In Akwa Ibom State, Bishop Linchung Oliver Duke Remembered!!
…….Nigerian Celebrities Remember Nollywood's New Death Victim
Condolence messages have started pouring on the official Facebook page of comic actor Oliver Duke who passed away yesterday while returning from his village, Ibedu Atai in Akwa Ibom state.
Check out the touching tributes his colleagues, family members and friends wrote for him on the social media.
Icewater Aruocha writes.
Lack of this & that, but same crop of guys go out there and see how it's been done but will refuse to implement same in our country.
'Business as usual' has killed lots and many more will still kiss the dust, if it's not your time or mine today, it might just be a matter of time.
How long shall we continue to wallow in this self distraught?
What's the worth of an average Nigerian?
Naija Gal (Blogger) writes;
Africa i hail ooo no wahala RIP Bishop Linchung Duke Oliver only seed of Duke…
So u go East just to give Ur mother a befitting burial and barely a week u say RIP to Ur mama na you the world dey say Rest in peace to now? Is well may Ur soul RIP… So painful.
Imevbore Imonah writes;
WE ARE ONLY SURE OF TODAY!
I was planing a live chat with my friend and his team long time no see, we decided to wait till he returned and then this… ?
RIP – Bishop Linchung Duke Oliver
Emilia John writes;
We were very close,he used to call me Uyai,we we neighbours when he was still living in Omole phase 1,he never stopped telling his friends that came visiting him about my vegetable and achi soup,he never stopped telling me how beautiful I am,he never stopped teasing me every evening when I return from work,he never stopped telling me how beautiful and wonderful our God is,you gave me so much hope,you told me never to give up that all shall be well,you never stopped accommodating people in your house even when the space was not enough for you,you never stopped sharing the little you had with those who do not have,GODDDDDDDDD,WHY DO BAD THINGS HAPPEN TO GOOD PEOPLE?, WHAT A WORLD
Azeez Kayode Eletu writes;
I cry from now till thy kingdom come will not bring my guy mc linchung aka Sylvanus of Do Good on african majic back as his lying hopelessly in the mortuary with d whole of his body badly injured…… entertainers don't die cos their works will keep speaking for them, let me celebrate him cos he impacted lots of lifes even when he wasn't appreciated by many, a lot are condoling but turned their back against him in times of tribulations, diff blogs carrying the news of his death but did not advertise his great jobs like comedy skit nd all even when we post and tagged them……hmmmm ile aye full of eye ? service, he was far older than many including me as he was to turn 50 this year but yet humble and served people like he was younger to them, his always there for you to help carry your activities like his own and deliver to the best,
His father was attacked and killed in a fetish way while he was still very young, I witnessed the mother's own and now the only child of his parent has been sent to Mother Earth, A whole family lineage has been swept under the carpet, Now the Pple behind it are rejoicing leaving the fact we all owe it to death someday….. I rest my case here as your legacy speaks blood mi, my close friend and bestie, good adviser and a strong Christian….. Good night Bishop Linchung Duke Oliver
He was indeed a very very jolly good Fellow one should Recon with….. I Eletu say so
Rose Kewe Awhotu writes;
Why is it that you have to go, why is life so cruel? I wish you could stay with us forever.Rip Bishop Linchung Duke Oliver.
Olori Covie Nsehe writes;
I got a call this morning asking if you were ok and I said lemme call you that I'll get back to the caller. I called all your numbers, none connected. Then called your buddy who confirmed the news that you were gone. I'm still in shock. I never knew that the last time I spoke to you 25th March was the last. How do we explain this one?
After all you've been through?.
Your mother is barely one week in mother Earth then this? I am saddened.
The entertainment industry as lost an exceptional talent.
All morning, memories kept rolling. My multi-linguist.
Oliver Duke, So what happens to the projects we had at hand? Who is going to execute them since you are gone?
Lord have mercy!!!
Bishop Linchung Duke Oliver aka Sylvanus rest in peace!!!.
Nourish Bite writes;
What a shocking news! Never knew, i would be writing this, u went home for ur mother's burial, you were the only child. You did your best to give your mother a befitting burial. Then on your way back to Lagos you had an accident and death snatched you away just like that Bishop Linchung Duke Oliver the last time we chatted i never knew it was going to be the last i will be hearing from you why did u have to leave so soon? Who will replace you on ur popular Tv program DoGood? You were such a hardworking man, humble easy going and a very happy person.
Richman Ukpong ur camera man who was in the car with you is in a critical condition may God preserve his life. Rest in peace Duke Oliver.
Here is his late mother's burial programme.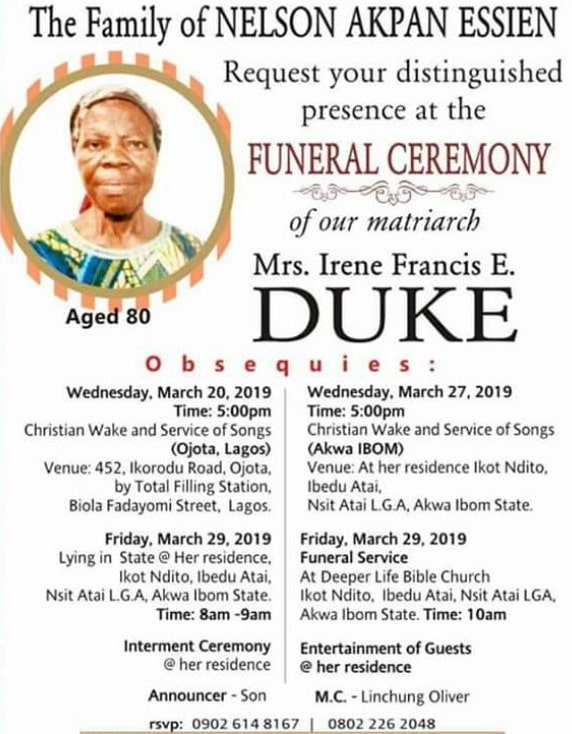 From comments gathered from the social media, it is believed that "winch winch" people from his village killed him.
What a loss!!
May his soul rest in peace.