Top Nigerian Entertainers With History Of Drug Trafficking Crimes
On the back of the nationwide disappointment, which trailed the arrest of 20 Nigerian citizens for various drug-related offences in Saudi Arabia, we have come up with a compilation of notable Nigerian entertainers (old and contemporary), who, at one time or another, have been involved in drug-related crimes.
Drug-related crimes basically entail "use of narcotics" and more significantly, "trafficking of hard drugs".
While the former is a menace, which has spread across every nook and cranny of the country, the latter is a more serious crime.
Drug trafficking could earn offenders years of prison term, and in some cases, even the death penalty.
It is an open secret that a good number of Nigerian entertainers are drug users; in fact, many are unrepentant drug abusers, colloquially known as "Junkies".
And despite their relatively high wealth and social standing, a number of them have had run-ins with the law, with respect to drug trafficking, distribution and intent to sale.
In this piece, we'll be showing you a list of top Nigerian entertainers who have history of drug-related offences.
Top Nigerian Entertainers With History Of Drug-related Crimes
Babatunde Omidina
Nollywood comic act, Babatunde Omidina, who is fondly called Baba Suwe, was arrested some eight years ago in 2011, at the Murtala Mohammad International Airport in Lagos. He was taken into custody by the National Drug Law Enforcement Agency (NDLEA), after the airport's scanning engine revealed traces of ingested wraps of cocaine in his belly.
After running several tests and even allegedly going as far as introducing several stimulants to force out the non-existing cocaine, nothing was eventually found. Hence, he was released, after three weeks in detention.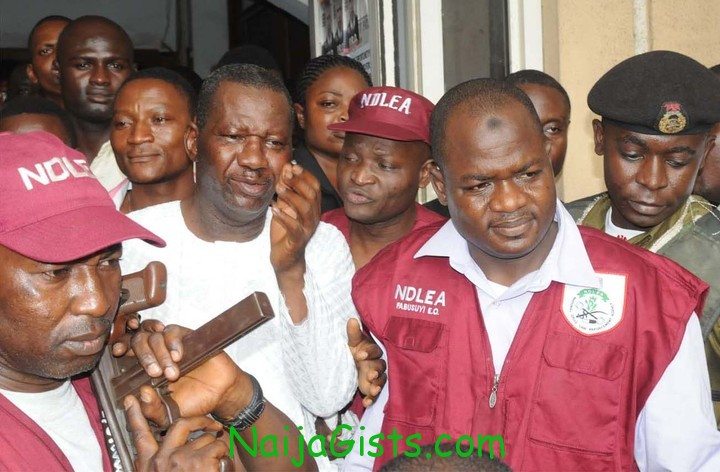 Upon his release, the popular Yoruba comedian/actor charged NDLEA to court, for unlawful detention and public humiliation among others. The presiding Judge, who heard the case, ruled that the actor be paid the sum of 25 million Naira in damages, and also tender a public apology to repair the reputational damage done to the actor.
However, till date, NDLEA is yet to obey the court judgment and pay the actor the 25 million Naira sum. They've continuously appealed the case, in a bid to frustrate the judgment and possibly evade it.
The actor, who is currently battling chronic diabetes, has attributed his current predicament to the fate he suffered during his illegal detention way back in 2011.
While the actor remains clean in the face of the law, his run-in with the men of the NDLEA would remain a topic of interest in every notable drug-related crime story in Nigeria. In any case, the veteran comic act was (and remains) one of the most revered personalities in Nollywood.
Uche Odoputa
Uche Odoputa is another top Nigerian entertainer with a history of drug-related crime. In fact, unlike Baba Suwe's case, Odoputa was actually convicted of cocaine trafficking.
The popular actor was arrested by men of the National Drug Law Enforcement Agency (NDLEA) at the Murtala Muhammad International Airport (MMIA) in Lagos. He was taken into custody while he was about boarding a flight to the UK. In his possession was 1.34kg of cocaine, which led to his arrest.
Odoputa was charged to court and was subsequently sentenced to prison on a 2-year term. The actor accepted his sentence in good faith and felt remorseful afterwards. In his words, "greed and desperation forced his hands and pushed him into drug trafficking". Upon his release from prison, he narrated his ordeal, and voiced his disappointed and regrets, especially with respect to the impact of the conviction on his fast-rising career in Nollywood.
While the actor was a relatively prominent upcoming actor prior to his conviction, he hasn't been able to forge his way up the ladder. According to the actor, most of his former colleagues severed ties with him after his incarceration, with the exception of Mr. Ibu, Amaka Igwe and few others.
Uche Odoputa has served his time, but the stain on his reputation would remain forever. More importantly, the truncation of his career, which was brought about by the act and the consequent incarceration, would continue to serve as a lesson to other so-called celebrities who are involved in the drug game.
Akinwande Hassanat
The most popular drug trafficking story concerning a Nigerian entertainer is probably the conviction of popular Yoruba actress Hassanat Akinwande, who is fondly called Yetunde Wunmi by her admirers.
The veteran Yoruba actress was taken into custody at the Murtala Muhammad International Airport by men of the NDLEA. She was caught by the airport's electronic scanner, which revealed traces of foreign objects in her stomach. This drew the attention of the drug enforcement officers at the scene, and the actress was subsequently taken into custody, where she eventually excreted ingested cocaine wraps, numbering in excess of 90.
Consequent to this, the actress was charged to court and was eventually sentenced to 2-year imprisonment, with an option of a 1 million Naira fine. The lenient penalty was allegedly attributed to the "humane remorse" that the actress showed during her trial. As gathered, the actress reportedly bursted into tears as she was arraigned before the judge, who in turn, felt pity for her.
Yetunte Wunmi, as the actress is popularly called, somehow managed to get a light sentence for a rather serious crime. However, the incident left an indelible mark on her reputation, which she is yet to, and may never, recover from.
Fatoke Abiodun
Veteran guitarist, Fatoke Abiodun, who, in his heyday, was the lead guitarist of Juju maestro – King Sunny Ade – is one of the few notable entertainers with drug-related criminal history.
The guitarist was arrested in January, 2013, at the Murtala Muhammad International Airport in Lagos, while he was about boarding a flight to Italy. He was reportedly trying to smuggle 1.5 kilogram of cocaine in his luggage. Unfortunately for him, the electronic scanner picked up the drugs, which were aptly concealed inside his luggage.
The popular guitarist was charged to court and was subsequently sentenced to 3-year imprisonment, having pleaded guilty to the charges brought against him by the drug enforcement authorities.
Fatoke Abiodun's incarceration for drug trafficking cost him more than just his time and reputation, he also lost his place as King Sunny Ade's lead guitarist, as he was ignobly dismissed from the Juju king's band.
Allen Esegine
Popular Nigerian musician – Allen Esegine – who is popular called Orezi, reportedly had a run-in with the authority for a drug-related offence some time in 2011. Rumours have it that the artiste was arrested in Dubai, UAE, for possession and intent to distribute narcotic products.
This rumour was vigorously denied by the musician and his team. According to the artiste's former manager, the story is a fabrication and an underhand attempt to tarnish the image of the musician. While the rumour dissipated afterwards, many still remained unconvinced.
As the saying goes; "there is no smoke without fire". And the singer has had to deal with banters from several quarters regarding his unverified history with narcotics distribution.