Entertainment News
Nigerian Born Hollywood Actor Ofu Obekpa: My Wife Is Asian American, She Knows How To Cook African Food & Speaks Idoma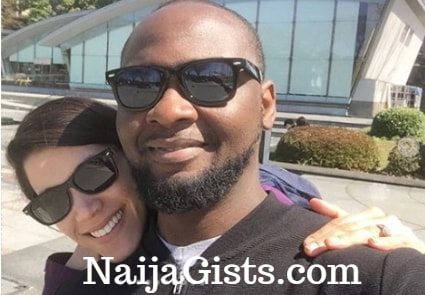 Nigerian Born Hollywood Actor Ofu Obekpa: My Wife Is Asian American, She Knows How To Cook African Food & Speaks Idoma Language
US-based Nigerian actor Ofu Obekpa is currently in town for his new movie Klippers.
In this tell it all interview with Odulaja Adedayo, the filmmaker and Hollywood actor spoke about his inspiration for the movie and his optimism that Nigerians will love the action movie.
See the interview excerpts below:
Who is Ofu Obekpa apart from being an actor and producer?
Of course I'm an actor and filmmaker, I'm also a God-fearing man who loves to make great movies that transcend the barriers of culture.

What's your background like in terms of how you got moved towards acting?
I started in the United States where I reside. I've been acting since I was a kid and only stopped when I was in college studying Business. I was running away from this to be honest, you know, my mum used to be a stage director, my sister read Theatre (Art) too and that is a major part of my life. My dad was preaching science to me like most Nigerian parents which wasn't fun for me. So, I went to college, in the University of Maine, just a little over two and half hours from Massachusetts and I studied Business Administration/Marketing. When I graduated, I went to a school for film, a recording studio and institute. They have different locations and I went to the one in Atlanta, undergoing mentoring under Kelvin Christopher at Right Media Studios where I had a hybrid programme studying production and post-production including editing, colour grading and all that.

You said you were running from acting and then you changed your mind all of a sudden, what changed about you?
I think that was when I came to a full circle. I was running away from it but I think God called me, I think this is a calling. At my early age, I enjoyed dancing, back when I was a kid down in Benue State, along with 2Face and Blackface who were also members of the Dramatic Club. We were in the junior classes but they were around four years our seniors and I think a seed was planted right then that is still blossoming right now.

How would you dwell on the movie, in terms of concept and evolution?
For me, it's just struggling for survival. What would happen to you when your back is pinned against the wall? What would you do? Would you fight back, what steps would you take? How would you react and all that? It's just about life and I think we can all relate to it on different levels. You know, even Bill Gate faces obstacles, just on different levels. So, it's me projecting that to the world and telling them that "hey, fight!"

In terms of inspiration, what led you to producing the movie?
I was inspired to do this as a way of showing what I could do on my own. There are issues I don't want to go into but bottom line is I like to finish what I started. It was about time to tell a story and this movie is the result of all that. I had a lot of learning to do on Hollywood sets including Captain America, Black Panther as well as some independent shots along with commercials.
What informed that title of the film, Klippers?
The title actually came from the scripts as the movie is about killing. It is basically from the sound, I usually pick titles first and then write the scripts. All we had to do was change the 'c' in clippers to 'k' and move on. Sometimes I have working titles and I go back and change the name to something better. There is a TV show called Clippers which I later saw and I am telling you it had nothing to do with that, it was just a coincidence.
The Nigerian elements in the film are very obvious. Is that intentional?
It was on purpose. We don't really do that in films I've seen in Nollywood and I think it's about time we Nigerians put ourselves out there for something different. You can look at the dialogue, the dialogue is very intensive action.
How did you arrive at the cast?
We had our casting director and we had auditions to get actors and actresses. How did I get Kevin Nash, who is a celebrity? We selected about six celebrities or seven, they liked the script and wanted to be part of it. We got Kevin Nash eventually because he was easy to work with. He's humble, very humble and it's not about the terms. He's a millionaire in dollars. He has everything yet he wanted to be a part of my film. I was blown away because he is huge yet he is so humble. As director, I had to be in charge and he exhibited the right vibes throughout, I had butterflies but hat is why he is where he is.
How would you compare this movie with other projects you've worked on?
I don't want to say apples in oranges but I consider this as something different. It would look like competing against myself but how I see it is that this is something different.
How long did it take to work on this project?
About two years now. You know the writing, editing and bringing it here to Nigeria. It's been fun. It's not a child's play with the amount of work and intensity of it all but I enjoyed it.
What's the budget of the production?
It is still an ongoing process when you talk about budget. So, you cannot draw a line yet.
What point are you trying to score by bringing this film down to Nigeria?
We had a focus group of audience members who are Nigerians and they embraced it. They enjoyed it so much and suggested that I should bring this home. I think Nigerians will enjoy it, it has huge Nigerian elements, it's different from the regular Nollywood films, the action is good and it's real. That's why I brought it home, backed with the belief that we Nigerians keep an open mind. I think it's something to recognise right now.
What's the next step for you as regards this project?
The film will open at the cinemas across Nigeria.
Do you have plans to shoot movies in Nigeria and work with Nollywood figures?
If the opportunity comes, I'd be right there. You can see my specialty, my specialty is combat. I have martial arts experience. Those fighting scenes in the movie, I choreographed them. That I can say that I'm really good at. I like the people I work with and I like to add value at every point and I am open to different genres so why not?
Which Nigerian actor would you like to work with?
I'd like to work with 2Face. He's better known as a musician and his songs are loved by everybody but I tell you he is an actor because I saw him for years from close quarters. We were members of the dramatic club back in secondary school.
What sort of role would you like to cast 2Face?
He could be in the role of a funny guy or pretty boy. I'm sure he's got it naturally and if he is committed to the character and he digs well enough, he would find it.
Apart from 2face, is there anyone you're familiar with?
I know RMD, I've also heard about others but I'm also going to do my research but RMD, anyone, I'm open to anyone who is good.
Do you have good relationship with other actors in Nollywood like Chiwetel Ejiofor, John Boyega and the likes?
I don't know Chiwetel Ejiofor or John Boyega personally but I know Hakeem Kae Kazeem, he is a big guy and I have his number.
You said you can fight, you have the martial arts experience. Do you think you'll ever take that up professionally?
Yeah, I've thought about it a couple of times. My dad was in the military and my sister is a cop here in Nigeria as well. I think it's in me, sometimes I think about it but it's a mindset thing but I have not taken it up.
How long have you been in Nigeria and how long do you plan to stay for?
I'm here, I'm everywhere. I've lived here half of my life and my family is out there. My wife is Asian-American but she knows how to make Egusi and speaks Idoma language.
---
Please support this lovely actor by watching his movie , Klippers in cinema today.