Crime News
Nigerian Boy Kidnapped From Parents Home At Amuwo Odofin Estate Miles 2 Lagos Freed, Loses Memory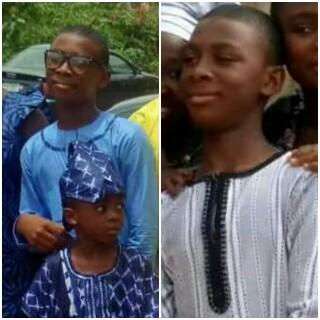 May 2nd, 2015 – 12-Year-Old Child Davido Olupitan Kidnapped From Parents Home At Amuwo Odofin Estate Miles 2 Lagos Released, Loses Memory
Another young boy kidnapped from his parents home at Amuwo Odofin Estate in Mile 2 area of Lagos has returned home.
The victim identified as 12-year-old David Olupitan got kidnapped on Monday the 20th of April.
After over 10 hours in the den of his kidnappers, he has returned home to his parents.
By noon the following day (April 21), Olupitan strolled back into his parents home at the Amuwo Odofin Housing Estate at Mile 2, Lagos. The story he told shocked everyone.
This is what David Olupitan remember on the day he was kidnapped.
"I only stepped out of our apartment to feed my dog, Rex (a German Shepherd)," .
"All I remember was that after I fed the dog, I found myself on a street at Mushin," David said.
"I did not know how I got to Mushin. I tried as much as I could to understand how I got there but I did not remember anything.
"I started walking until I found a security guard in front of a compound. He called me and asked me my name. When I told him, he asked for my parents' names. He asked me the name of my school and how much my parents even pay as school fees. I told him I did not know how I got to Mushin.
"After all his questions, he then took me into a room and I slept there. In the morning, I woke up and could not find him. I was afraid, so, I went outside, opened the gate of the compound and started walking.
"I still could not remember what happened to me at the time but my mind was on the road. I kept walking and as I moved I found that I knew the way back home."
Around noon on Tuesday when David eventually got home, his desperate family erupted in screams of joy.
Asked if he felt any pain in any part of his body as he left Mushin that day, David said he did not feel any different.
"I was fine. But I was hungry. Along the way, I begged for water because I was tired and thirsty," the boy said.
A week after the boy returned, he still remembered nothing of the period between feeding his dog and when he found himself at Mushin. "I cannot remember anything or any face I saw," he said.
His father, Afolabi, told our correspondent that he had not been able to make a total sense of what happened and that all he was sure of was that God came to the rescue of his family.
The Olupitan family is a deeply religious one, our correspondent learnt.
Afolabi said, "Normally, David feeds his dog around 9pm every night. I work through the night most of the time but that day, I was the first to sleep in the house.
"David and his 14-year-old sister, their mother and their aunt were still awake. I did not initially believe that he could have been kidnapped when they roused me from sleep and said that David was missing.
"We searched everywhere possible in this estate but could not locate him. That was when we resorted to prayer all through the night."
David's mother, Tonye, told our correspondent that David's disappearance was first noticed by his sister.
She said, "My daughter came to me to complain about her quarrel with David; about who should wash plates but I insisted that she should wash them.
"David had gone downstairs to feed the dog at the time. But not long after that, his sister came to tell me that David had not come back from feeding the dog, wondering what he was still doing downstairs.
"When she checked and did not see him downstairs, she came back to ask if I sent him on errand but I told her I could not send him on errand at that time of the day."
The mother, who at that time, still thought nothing of her son's disappearance, went outside their apartment and called out to his son. But there was no response.
"I went to search the place where we source pawpaw leaves which we use to feed the snails we rear but I did not see him there. I still believed at that time that my son could not possibly be missing," she said.
The family gradually became frantic as minutes passed without seeing their boy.
They asked neighbours, who told them they saw nothing. Along with a crowd of residents who came out to find out the cause of the noise outside, the family searched every corner possible in the very large estate. But David was nowhere to be found.
When it became apparent that something had happened to the boy, the family reported to the police who told them that they could not declare the boy missing until after 24 hours.
While frantically asking around the neighbourhood, showing residents the picture of their son, a resident told the Olupitans that he saw the boy "willingly" following a young man, who could not be more than 30, leading him down the road.
A search party went to the area where the resident saw the boy with the stranger but found nothing.
A neighbour who lives on the ground floor of the two-storey building in which the Olupitans live, said around the time David went to feed the dog, she heard a muffled "Mummy! Mummy!" but she thought nothing of it, assuming that the boy was only drawing his mother's attention to something.
But Tonye told our correspondent that her son never calls her 'mummy.' She said the only person their household addresses as 'mummy' was an elderly woman who lives downstairs in the building. The family believes David was trying to alert the woman to his plight when he was taken because her apartment was closer to where he was.
"We returned home and called everybody close to us to inform them of what we were going through. We went into serious prayer. Still no word about him," the boy's father told our correspondent.
Asked if David knew any of their phone numbers by heart, in case his kidnappers wanted to contact them, they said he knew neither that of his mother or father.
"There is another line I use that only a few family members knew and I thought he should know that. So, I put it on in case his kidnappers wanted to make contact. But they did not until my son walked in around noon that Tuesday," Afolabi said.
The man believes that something fetish could have been used to subdue his son. He also believes that his house must have been under observation for a long time.
"People may see us as rich because we ride a good car. But the truth is that we don't even have money in our bank account. The car was given to us as a gift by our pastor.
"Our family is very dedicated to church activities. When my boy went missing, my thought only was that God would not reward us for our dedication with something terrible. I am happy today because he proved his grace in our lives," Afolabi explained.
For David's mother, the 14 hours her son went missing was the most terrible period of her life.
"I kept thinking about a lot of things like, 'Are they feeding him? Would he come back alive? Are they torturing him? Do they want to kill him?' All I can say for now is that God intervened in our issue."
It was assumed that David was abandoned by his kidnappers at Mushin. The reason for that action would never be known to the Olupitans.
David has been hale and hearty since his return. His parents said nothing has changed in the way he acts and have not seen any physiological or psychological change in their boy.
"He did not even have a scratch on his body when he returned," his father said.
Kidnapping has become a business for criminals in Lagos for a while now.
Within few days following the return of Orekoya boys, a girl was kidnapped in a church at Surulere. That of David is the third reported case since that time.
The spokesperson for the Lagos State Police Command, Mr. Kenneth Nwosu, said the efforts of police have reduced the incident of kidnappings in the state.
He said, "I would not say kidnapping has has become a business in the state. It remains a heinous crime against humanity. This is why we treat it as such and we are doing all we can to combat it.
"I believe kidnapping cases have even reduced due to the efforts of the police. We will continue to crack down on groups and individuals who carry out such crimes."
[Reported By Kunle Falayi, Punch NG]