Top 5 Nigerian Celebrities And Their Houses and Luxury Cars
Nigerian celebrities are known to live the good lives. This shows in the houses and cars they own. Most of them have very exotic cars for their comfort and luxury. Their houses (or should we say mansions) bespoke elegance and class.
[adinserter block="20″]
Celebrities from across every sphere – music, Nollywood, bloggers etc all share these in common. We give you our top celebrities whose houses and cars are breathtakingly splendid:
Wizkid:
Starboy is a celebrity that knows how to enjoy himself. In 2016, he acquired a mansion in Los Angeles in not just any area but on the hills over looking the beautiful city.
The house is built in a typical colonial style and is painted with sandy colours to match the surrounding landscape. There is a white marble staircase whish leads to the entrance and several balconies and windows with terraces which all combine to give it the classic look it has.
[adinserter block="21″]
What is symbolic about the edifice is the view you get from the balcony. There are lanterns on the walls to illuminate it at night. There is also a large court yard and an impressive swimming pool.
The interior of the house is not overt. It is very obvious the star went for simplicity as the decoration is not in excess and they are mostly done in neutral shades. The cost of acquiring a house around this area is put to be around $ 10-15 million so we are guessing it is within this range the star got his crib.
As for cars, the singer has a high taste for them and amongst his numerous accumulation, some of the choicest are the Lamborghini Prime X2 and a Porsche Panamera.
[adinserter block="25″]
Genevieve Nnaji: If you are talking of celebrities with class, style and elegance in all aspect, then Genevieve is there. Her elegance and high taste for comfort and luxury clearly shows in everything she owns down to her shoes.
Her multi-million naira houses at Ikoyi and Lekki are palacial to say the least. It was said to cost a mind blowing #220,000,000. Besides this one which she bought strictly for her parents, she his other houses at Abuja and Accra, Ghana. Our concern is the one at Accra which cost her  $ 4,000,000. From what we gather, it is guarded day and night by a security company. It is said that this is her relaxation spot, a sort of get away from the outside world when she is not working
Her cars are to die for with her favourites being the Range Rover Evogue and the Mercedes Benz G-Class. You are sure to see her cruising in them on a regular.
Davido: To say that Davido is a show-off would be stating the obvious. His taste for outlandish acquisitions shows even in the jewelries he wears at all times (you can be sure to find him wearing at least four blings). Aside from his accessories, the '30 billion crooner' has a house in Lekki. During the entire building process, he kept us up to date by  continuously posting pictures of it until it was completed and he moved in.
It has three floors, balconies, terrace and a large garage for his fleet of cars. There is a smaller inner courtyard where the singer likes to sit out. It is not clear how much he spent on the house but it is estimated to be around # 40,000,000.
His cars are no less classier for their are several in his garage and he seems to be outdoing himself. In 2012, after he won the Headies Next Rated Category, it came with a car prize- a red Hyundai Sonata. Before the end of 2013, he had acquired a Range Rover Sport, Mercedes Benz G-wagon (after he released "Skelewu"), Chevrolet Camaro GS, Audi Q7.
That is not all, there is a Porsche Panamera, and an Audi R8 which he got as a birthday gift to himself in 2015.
His three latest and most expensive cars are Mercedes AMG GLS63 (#45,134,025), Range Rover SV Autobiography (#62,088,390) and the most recent, a Bentley Continental GT (#95,399,304) which he  bought on February, 2018 at the Bentley Office Atlanta, Georgia which also happens to be his birth state.
Linda Ikeji: She is Nigeria's most successful blogger. Recently, she bought a house at Banana Island, Lagos worth #500,000,000. The white three-storey mansion is breath taking and has high tech designs.
The interior decor speaks volume of her sophisticated taste both in furniture and paintings. The colours are mostly ivory, white and brown although some bright ones such as blue and red were also used. There is a courtyard and a swimming pool.
As for her cars, Linda started off with a Toyota Camry in 2011, when her career was still in its early days. Later, she got an Infinity FX35 before a Range Rover Sport, then a Toyota Sequoia (for her father), and a Honda Accord (for her younger brother, Peks).
The one that got us all talking was the one she  bought after she gave birth to her baby in Atlanta, a Bentley which cost her #20,000,000.
Psquare: There is no way we cannot talk about the twin brothers' house. We may even get sued if we didn't and for that we round off our list with theirs. This house is nothing short of opulence, style, class and everything nice. The very expensive mansion in Banana Island cost the twin a fortune to acquire.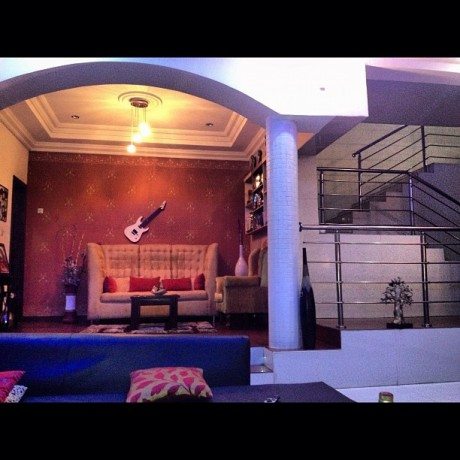 The house is very bright and airy with very  high ceilings. The house is conveniently split to show which is which twin's own. Nevertheless, they share the same elegance and taste.
It has very expensive furniture and beautiful paintings and drawings. The twins showed off their love for balance by painting the interior with with bright (ivory, white) and some not too bright colours (brown, beige and purple). There is a cinema, halls and recreational rooms and a swimming pool. The kitchen is designed with modern and very high tech gadgets.
Their taste for the finest also goes for the cars. In fact, it is said it was the twins who set the pace for other Nigerian musicians to show their affluence. Amongst other cars, they have a Ford Edge, Land Cruiser Jeep, Range Rover Sport and a Mercedes Benz G-Class.
Sadly, the mansion has been put for sale after the group broke apart last year.
Other celebrities who own mansions include 2face Idibia, Don Jazzy, Chika Ike, Omotola Jalade, Ini Edo , Genevieve Nnaji, Tope Alabi and many others.
To view their colourful mansions, use the search button on the top right hand corner of this site to look for them.