Entertainment News
Nigerian Celebrities Promoting Internet Fraud: Musicians Behind Rise Of Yahoo Yahoo Boys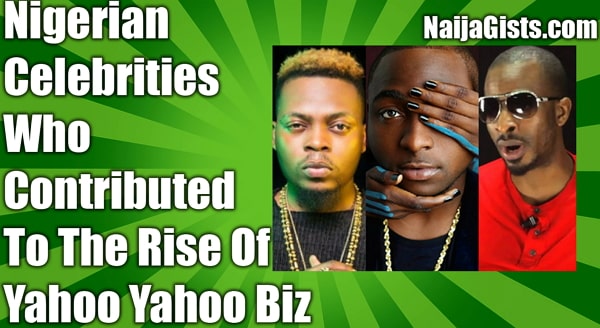 Nigerian Celebrities Promoting Internet Fraud: Musicians Who Contributed To The Rise Of Yahoo Yahoo Boys Through Their Songs
This article brings you a list of top Nigerian celebrities who promote Yahoo Yahoo – the colloquial term for internet fraud in Nigeria.
As the controversy surrounding the arrest and subsequent arraignment of fast-rising Nigerian rapper – Naira Marley – rages on, the Economic and Financial Crimes Commission (EFCC) chief, Mr. Magu, has called on prominent Nigerian celebrities to join their campaign against internet fraud in the country.
This rallying cry from the EFCC chief is a direct affront to certain Nigerian artistes and filmmakers, who are notorious for glorifying Yahoo Boys. Therefore, in this article, we'll be looking at ten of these prominent entertainment personalities; who are promoting internet fraud, instead of campaigning against it.
Top 10 Nigerian Celebrities Promoting Internet Fraud
Naira Marley
The travails of Naira Marley at the hands of EFCC is what inspired this write-up. Hence, he tops our list of celebrities promoting internet fraud in the country.
Naira Marley is a fast-rising artiste, who is known for his thuggish look and rascal-styled lyrics. He was recently arrested by the agency shortly after releasing his latest song titled "I'm I A Yahoo Boy", which featured Zlatan Ibile.
Naira Marley, shortly before he was arrested, claimed to have been arrested on more than 100 occasions in the UK. In fact, a recent report indicated that the rapper is wanted for theft and sexual assault (rape) in the UK. And now he is facing charges on multiple counts of fraud, impersonation and intent to extort under false pretense, in Nigeria
The move against the rapper marks the outset of a daring move/campaign (by the Nigerian government) to weed out internet fraudsters in the entertainment industry, which, hitherto, has been a breeding ground and glorifying hub for Yahoo boys.
Would Naira Marley escape EFCC net unscathed? Time will tell!
Zlatan Ibile
Zlatan Ibile was arrested alongside Naira Marley, but was later released due to insufficient evidence. The singer and Naira Marley were arrested shortly after the release of their collaborated work – I'm I A Yahoo Boy.
Naira Marley & Zlatan
The indigenous rapper, like his contemporaries, fancies lyrical styles and contents that glorify fraud; promote sex and alcoholism; and encourage violence among others.
While he's since been released by EFCC, he still remains a person of interest, as evidence is still being gathered on him. Hence, he could be charged to court at any time.
Olamide
The CEO of popular record label – Yahoo Boy No Laptop (YBNL) – is renown for his streetwise music, which reeks of immorality, rascality, violence and most significantly fraud. Most of his hit songs ranging from Bobo to Wo to Logo Benz (featuring Lil Kesh) has been blacklisted by the Nigerian Broadcasting Commission on major radio and TV stations. Unfortunately, however, this has been an exercise in futility, as some of these songs still dominate the airwaves in the country.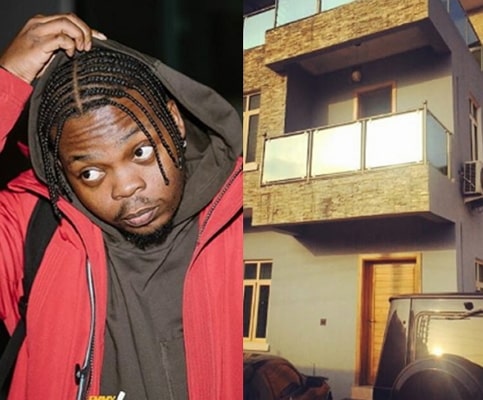 While the popular indigenous rapper is seen as a role model to upcoming artistes and the younger folks in the country, his choice of music has somewhat acted as a trigger for many youths, to perpetrate their fraudulent acts.
Although, Olamide, by many standards looks like an upright individual, his lyrical choice indicates otherwise. And with the ongoing campaign (being led by EFCC) against internet fraud in the country, he has a key role to play; either for or against the campaign.
Lil Kesh
Olamide's protégé, Lil Kesh, just like his mentor, is renown for his vulgar/unethical lyrical choice. His songs are mainly characterized by sexual sensations, alcohol, crime, violence and fraud.
Lil Kesh, whose real name is Keshinro Ololade, is reportedly the son of a pastor. And he was recently chastised by the Nigerian populace for his hit song – Logo Benz – which featured Olamide Baddo. The infamous song centred around the lives of Nigerian Yahoo boys and ritualists, who use female panties as sacrifices, to obtain money from unsuspecting victims, with the ultimate aim of owning Benz rides.
The song was vigorously criticized for promoting internet fraud, and despite the ban placed on the song, it continues to trend by the day.
In light of the ongoing clamp down on fraud and related activities in the entertainment industry, the searchlight is no doubt beaming on the talented Yoruba rapper. And if he's smart, he would join the EFCC campaign train, and not stand against it.
9ice
9ice is another prominent Nigerian celebrity with a track record of glorifying internet fraudsters. His hit song – Living Things – comes to mind in this context. The song, in its lyrical contents, encourages youth to make money at all cost, irrespective of the means. He made mention of Yahoo Yahoo, Wire Wire and other forms of fraudulent activities. Worse still, youths who couldn't or do not involve in these acts were categorized as being "lazy" by the musician.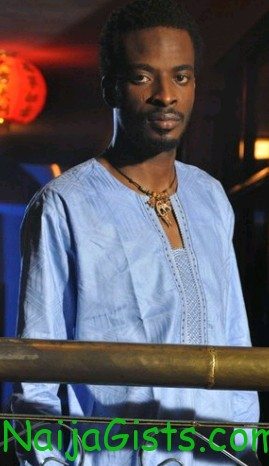 While the song was banned by NBC, it is still making airwaves in the country. And it's quite unfortunate that the magnitude of damage it has caused (and is still causing) can not be quantified, as more and more Nigerian youths are now encouraged to make money or die trying.
In a nutshell, 9ice, whose real name is Adigun Abolore, is a person of interest in the call for a collaboration between EFCC and the entertainment industry, which is aimed at purging out fraudulent acts within the cyberspace of Nigeria.
CDQ
CDQ is another popular Nigerian musician with a rascal-styled choice of lyrics. Although, the rapper lives a less controversial lifestyle, his music has inspired a number of people into thuggery and fraud.
CDQ Olowo, as he's fondly called, is renown for glorifying wealthy individuals with questionable sources of income. And this has propelled more people into fraud.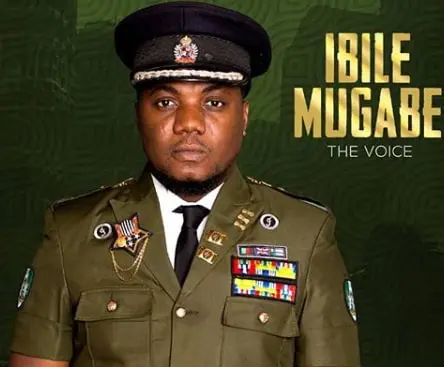 Furthermore, his dress sense, which is characterized by "bandanna-tying", reflects that of a cultist. This has led to insinuations, in some quarters, that the rapper is, indeed, a member of a cult group, who are majorly bankrolled by funds from questionable sources.
With the recently launched campaign against internet fraud, the Nigerian citizens are keenly looking to see if the rapper would join the wagon or not. In any case, he remains a prospective person of interest in the ongoing clampdown in the entertainment industry.
Davido
Surprised? Don't be! Davido, who is arguably the most popular Nigerian entertainer today, has contributed to the rise of internet fraud in the country, albeit indirectly. He has used his money and influence to back/support alleged fraudsters. And even in the ongoing case between Naira Marley and EFCC, Davido has vehemently pledged his support for Naira Marley, without due recourse to what landed him in the agency's net.
During the rapper's arraignment in court some days back, Davido sent members of his 30 Billion Gang, in a show of solidarity with the rapper, who is being charged with multiple cases of internet fraud.
Also, some times back, Davido publicly supported Sinzu, a convicted fraudster, immediately after he was released from a US prison, and subsequently offered him a deal in his music group. This, by all standards, goes against the tenets of morality.
Furthermore, with the political affiliation of the star singer, coupled with his infamous support for alleged fraudsters and his past run-ins with law enforcement, he is largely seen as a prospective person of interest in the ongoing campaign against internet fraud in the entertainment industry.
Would Davido join the campaign train or maintain his street credibility by supporting fraudsters? We'll all find out in due time.
Reminisce
Reminisce is widely regarded as the best contemporary Yoruba rapper today; hence, he is, no doubt, one of the most influential musicians in the country. However, like his close pal, Olamide, he is infamous for glorifying wealthy personalities who have no known credible source of income.
Reminisce, whose real name is Remilekun Khalid Shafaru, allegedly has strong connections with people of questionable income streams, like Opa 6ix, Padi Osha and other so-called Malaysian big boys. The rapper has often used his songs to promote fraud, thuggery and violence, and this has encouraged many, who have now perished.
Reminisce has endorsements with prominent brands in the country, notably Samsung and Origin. And his influence on the lives of many Nigerian youths can not be pushed aside. Hence, EFCC could enlist him as a player in the ongoing campaign; to preach against fraudsters, instead of promoting and glorifying their acts.
Idowest
Davido's DMW signee, Idowest, is also known for his fraud-glorifying songs. A notable mention here is his first hit song – Ji Masun – which featured Davido. The song, though with vague – ambiguous – chorus, encourages youths to stay up at night and "run game". This, to many, is a coded way of encouraging the youths to go into fraud and make money by all means.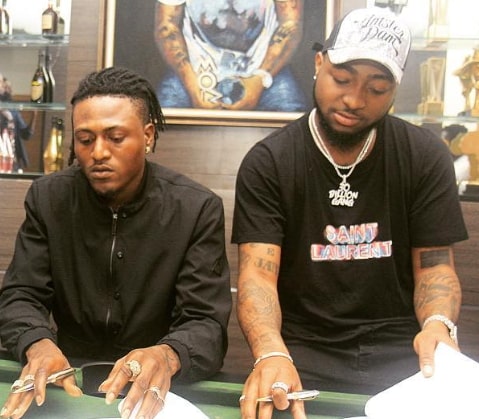 While Idowest is an upcoming artiste, he his riding on the platform of Davido, who is rather in support of fraudsters and not against them. Hence, most of his hit songs, so far, are painted with unethical lyrical contents, which promote fraud and violence among others.
Hush Puppi
The Gucci man, as Hush Puppi is fondly called, has somehow managed to earn himself the tag of a "Nigerian celebrity". He is renown for his flashy lifestyle, which he regularly shows off on social media. Today, he stands out as one of the key promoters of internet fraud in the country, having forced his lavish lifestyle down people's throat, without revealing his income stream, which is thought to be shady.
Unfortunately, despite the fact that Hush Puppi has no known income source, many youths want to live his kind of life. And to achieve this, they are forced to go into various kinds of fraudulent acts, particularly internet fraud, indigenously tagged Yahoo Yahoo.
Kindly share your thoughts with us in the comments section below.