Crime News
Nigerians From Europe In Shock As Customs Officer Kills Civilian Friend While Attempting To Collect Bribe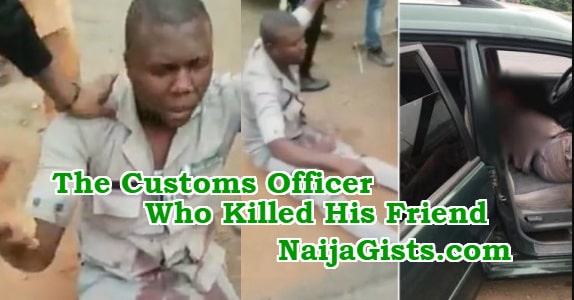 Nigerian Customs Officer Kills Friend While Attempting To Collect Bribe From Travellers From Europe
Nigerians From Europe In Shock As Customs Officer Kills Civilian Friend While Attempting To Collect Bribe From Their Driver
A trigger-happy customs officer in Ogun state is now receiving treatment in hospital hours after killing his friend.
The officer whose identity is yet to be revealed stopped a public transport bus hired by some Nigerians from Europe who came home for vacation.
The friends who arrived Murtala Muhammed International Airport on Saturday evening were being taken to Benin when the overzealous custom officer stopped them.
According to a witness, Oliver Joseph, on getting to Sagamu intersection of the Lagos Ibadan Expressway, they were stopped.
Here is what Joseph told Metro Plus reporter few hours ago.
"The driver stopped and asked them what the matter was. The driver told them that the bus belonged to Iyare Motors and it was pointless to ask him to stop. Immediately the driver parked, one of the officers came and asked who owned the luggage. The driver told him that the luggage belonged to the passengers. The customs officer asked us where we were coming from and we told him that we were coming from overseas and that we were here on a visit.

"He said he had interest in the luggage and needed to check them one by one. We told him that they had been checked at the airport. He replied that he must carry out his job and ordered us to alight from the bus. One of them then called the driver and asked him to give them N5,000 for them to allow us to go. We heard the driver saying that he did not have the money and that we did not have anything illegal. The driver then told us that the Customs officers demanded N5,000 from us.

"We eventually agreed that our luggage be searched and one of us insisted that he would record it so that they won't place contraband in our bags. So, the guy brought out his iPhone 6, but one of the officers demanded to have the phone but the passenger refused, saying that the price of the phone could pay his salary.

"The officer just took some steps back, cocked his gun and fired. Immediately he fired, a man fell down. Before we knew it, one of the two Customs officers in green sweater ran into the bush, leaving the others. We were 10 passengers in the bus and when we took a headcount, we were complete. There was blood all over the victim's face, so we could not recognise him.

"The officer tried to run away, but we held him by the uniform insisting that he had to follow us to the nearest police station."
The victim used to fetch water for the Customs base on the road, he was their friend before he was killed by accident.
Watch the viral video of the heartbreaking incident below
Follow NaijaGists.com on Facebook and Twitter.