Crime News
Nigerian House Maids Fight Over Indian Lover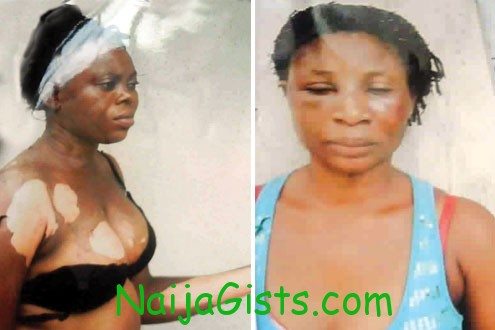 Elizabeth Emmanuel and Patience Okpara
March 15, 2012 – Nigerian House Maids Fight Over Indian Lover
Two Nigerian house maids, Patience Okpara and Elizabeth Emmanuel threw away decency and fought openly at Ilupeju Lagos State, Southwest Nigeria over an Indian man .
Patience was bitter that Elizabeth started having affairs with the Indian she claimd was her sex partner and boss.
The fight resulted in Patience boiling a hot water adding pepper to it and pouring it on Elizabeth and she sustained severe burns.
The incident happened at 17, Sere Close, Ilupeju, Lagos, where both work as domestic servants to two Indians.
Both were arrested by the police at Ilupeju station.
Patience was charged to Oshodi Magistrate's court, Lagos for pouring hot water on Elizabeth after their fight was separated by a security guard in the compound.
Patience, 25, hails from Imo State and Elizabeth, 25, hails from Akwa Ibom State.
According to P.M, Patience was so bitter that Elizabeth left her own man and had sex with her boss.
Patience said when she confronted Elizabeth, she was boasted about it, saying it was her boss that demanded her services that night.
Patience, who is now facing a one-count charge of assault at the court, pleaded not guilty.
The presiding Magistrate, Mrs. Osho Adebiyi granted her bail in the sum of N50, 000 with two sureties in like sum.
The matter has been adjoiurned till 23 March 2012.