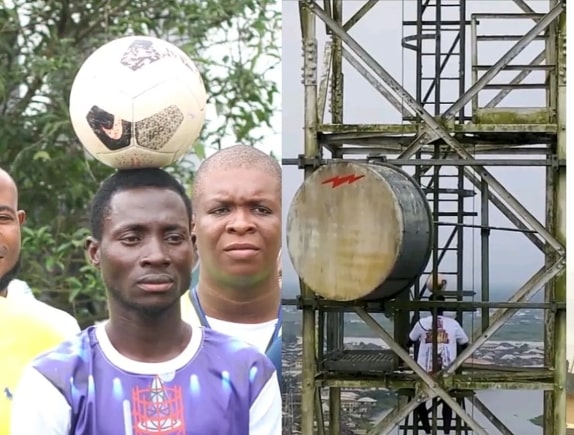 Nigerian Man Tony Solomon Breaks Guinness World Record For Climbing Most Steps On Ladder With Football On Head
In an awe-inspiring spectacle that has not only captivated the nation but has also made headlines globally, Tony Solomon has set an unparalleled Guinness World Record. In a feat that seems to defy gravity, Solomon succeeded in climbing the most steps on a ladder while balancing a football on his head. This miraculous accomplishment took place in Yenagoa, Bayelsa State, on the 10th of August, 2023.
While many can only dream of being immortalized in the Guinness World Records, Tony Solomon has converted that dream into an astonishing reality. On their official website, the Guinness World Records issued a statement to celebrate Solomon's jaw-dropping achievement.
"The most steps climbed on a ladder while balancing a football (soccer ball) on the head is 150, and was achieved by Tonye Solomon (Nigeria), in Yenagoa, Nigeria, on 10 August, 2023," the statement read. "Tonye attempted this record to not only challenge himself but to also serve as a beacon of inspiration for others to strive for greatness."
Solomon's extraordinary display of talent and dedication was not spontaneous. Behind the grand spectacle was a grueling preparation process that stretched over two months. Solomon dedicated himself wholly to training, day in and day out, perfecting his balance, poise, and technique. It was a grueling regimen, but one that he pursued with unyielding determination until he was utterly confident of smashing the existing record.
In a subsequent update on Wednesday, September 13, 2023, the Guinness World Records showcased a snippet of this groundbreaking feat on their official website. The clip provided a tantalizing glimpse of Solomon's intense focus and remarkable athletic prowess, and it has since gone viral, amassing millions of views and creating an unprecedented social media buzz.
The 150-step climb was not merely a contest of physicality but also one of immense mental strength. Each step Solomon took symbolized a climb towards history, as onlookers held their collective breath, aware that they were witnessing a seminal moment in sports history.
Tony Solomon is not new to the world of sports and athleticism. Prior to this, he had already made a name for himself in various athletic pursuits, but it was this unique challenge that catapulted him into the global limelight. The balance, agility, and sheer will demonstrated by Solomon serve as a testament not only to his individual talent but also as a testament to the indomitable Nigerian spirit.
In a country where football is not just a sport but a way of life, Solomon's achievement strikes a chord with millions of Nigerians. This record isn't just a victory for Solomon; it's a victory for Nigeria, for Africa, and indeed for anyone who dares to dream big. Solomon, in his humble yet extraordinary way, has put Nigeria on the global map yet again, showing the world the prowess and potential that lie within this great nation.
"This record is not just for me; it's for every young Nigerian who has been told they can't achieve something," Solomon stated in an exclusive interview. "I wanted to prove that with hard work, dedication, and a bit of Nigerian magic, anything is possible."
And prove it he did. From the streets of Yenagoa to the trending topics worldwide, Tony Solomon's name is being hailed in admiration and awe. His feat serves as an indelible reminder that the limits of human potential can always be stretched, that ceilings are meant to be broken, and that records are set to be shattered.
Tony Solomon did not merely climb a ladder; he ascended into the annals of history, elevating along with him the hopes and dreams of a nation eager for heroes. He did not just balance a football on his head; he balanced the aspirations of millions who saw in him a reflection of their own untapped potential.
And so, as we celebrate Tony Solomon, we are also celebrating the endless possibilities that lie within each of us, waiting to be unlocked. Today, Solomon is not just a man; he's a symbol, a beacon, an inspiration. And his story is one that will be told and retold, a tale not just of athletic prowess but of human spirit, determination, and the audacious power of dreams.
In the words of Solomon himself, "This is just the beginning."
Related Topics:
African Talent, bayelsa state, Football Balancing, Global Recognition, guinness world record, inspiration, Mental Strength, national pride, Nigerian Athlete, nigerian celebrity news, Physical Endurance, Record-breaking Feat, Soccer Ball, Sports Achievement, Sports News, Steps Climbed on Ladder, Tony Solomon, Training Regimen, Viral Moments, World Record Challenge, yenagoa